---

Squeaky@x0: Bringing the War Home
April 16, 2016 @ 4:00 am

–

April 22, 2016 @ 1:00 pm

EDT
April 16th – April 22nd
Julia Dzwonkowski (with Kye Potter), Tony Conrad, Caroline Koebel, Media Coalition of Reproductive Rights, and Tiny Circus
As part of Squeaky@x0
Squeaky Wheel's emphasis on video equaled a strong activist, socially conscious spirit. The works collected this week showcase some of this energy as it has established itself through its history. This Needs to Change, made in a youth workshop by the collective Tiny Circus, is a short animation that looks at disproportionate arrests African-American's are subjected to in Buffalo. Caroline Koebel's FLICKER ON OFF TRILOGY juxtaposes several global traumas with Hollywood blockbusters and her hand-processed film aesthetic. Julia Dzwonkowski's Bringing the War Home has two apathetic characters going about daily household rituals and making casual conversation in the middle of a war zone. Spring of Lies, filmed by the Media Coalition of Reproductive Rites, charts the contentious "Spring of Life" protests that engulfed Buffalo as thousands of anti-abortion protesters picketed and blocked entrances to abortion clinics. Forming a well publicized leg of "Operation Rescue," the protesters were invited to the city by then mayor James Griffin, leading to dramatic moments as floods of protesters and counter-protesters flooded the city. Finally, Tony Conrad's Beholden to Victory turns the war film genre on its head. According to Mike Kelley, in Conrad's unscripted film – the actors were "told only what they were NOT ALLOWED TO DO. Thus the film consists of a series of scenes, of examples of correct behavior." – Ekrem Serdar
Spring of Lies
Media Coalition of Reproductive Rights
60 min, DV, USA, 1992
During Operation Rescue's highly publicized "Spring of Life" campaign in the spring of '92, The Media Coalition for Reproductive Rights (MCRR) was already producing a public access series called "Pro-Choice Planet." With increased media attention on Buffalo during the most violent clinic demonstrations, MCRR was well placed to immediately produce an hour-long documentary of the siege, entitled Spring of Lies. Although Spring of Lies challenges the misleading emphasis placed on "neutrality" in mainstream coverage, it is probably the most holistic statement in video of the events available, highlighting spectacle and analysis was well as personalized viewpoints.
Beholden to Victory
Tony Conrad
25 min, Super 8mm to DV, USA, 1980
Of the film, Conrad states: Beholden to Victory is about what an audience is and does. It uses role reversals to show the audience some of it's own most embarrassing secrets." A war film about 2 archetypical, collective characters: 'the Soldier' and 'the Sergeant.' Starring Tony Conrad, with David Antin, Louis Hock, Mike Kelley, Tony Oursler, Charles Rotter, and others.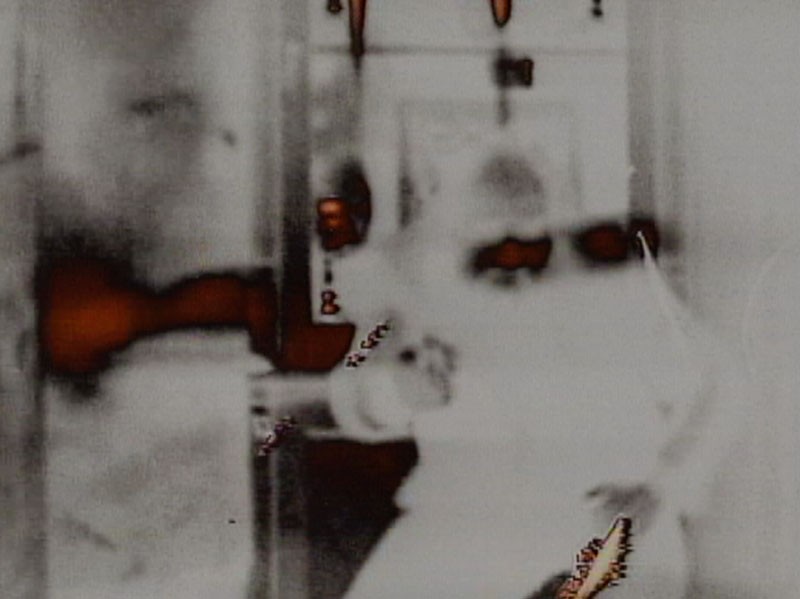 FLICKER ON OFF TRILOGY
Caroline Koebel
REPEAT PHOTOGRAPHY & THE ALBEDO EFFECT
8:12min, 16mm to DV, USA, 2008
SUNROOF (BENAZIR BHUTTO ASSASSINATION)
6 min, 16mm & DV to DV, USA, 2008
ALL THE HOUSE (HADITHA MASSACRE)
6 min, 16mm & DV to DV, USA, 2008
Flicker On Off is a trilogy applying the idiom of experimental film and artist's video to big-budget movies in order to speak about world affairs in what could be described as an alternate essay format.
Part 1: Unlikely suspects converge to reflect upon the havoc wreaked by climate change, particularly global warming's impact on glaciers. Boxing scenes from Martin Scorsese's Raging Bull are re-shot with a Bolex 16mm camera and then hand processed and juxtaposed against NPR reportage and artist Katie Paterson's audio project.
Part 2: Former Prime Minister and leader at the time of the Pakistan People's Party, Benazir Bhutto was campaigning to become Pakistan's Prime Minister again when on December 27, 2007 she was assassinated in Rawalpindi. Enlisting conceptual tactics and experimental sensibilities, Sunroof (Benazir Bhutto Assassination) investigates and reframes the historic event. Gun shootouts in the Coen brothers' Miller's Crossing are re-shot with a Bolex 16mm camera and then hand processed and crossed with nonfiction images of rioting and a multilingual audio collage.
Part 3: Far-ranging source materials are amassed and clashed to ponder the November 19, 2005 killing by US Marines of 24 unarmed civilians in Haditha, Iraq. Featured is ten-year-old Iman Walid, who witnessed the slaughter of her family. The Atlantic City massacre scene from The Godfather III by Francis Ford Coppola is revisited as an epicenter of violence and its aftermath within and beyond representation.
Completed during a residency at the Experimental Television Center in Owego, New York, All the House (Haditha Massacre) takes heed of the long and rich artistic tradition of seeking new forms of resistance to authoritarian paradigms. – CK
Bringing the War Home
Julia Dzwonkowski (with Kyle Potter)
3:30 min, DV, USA 2003
Two American kids in a war zone.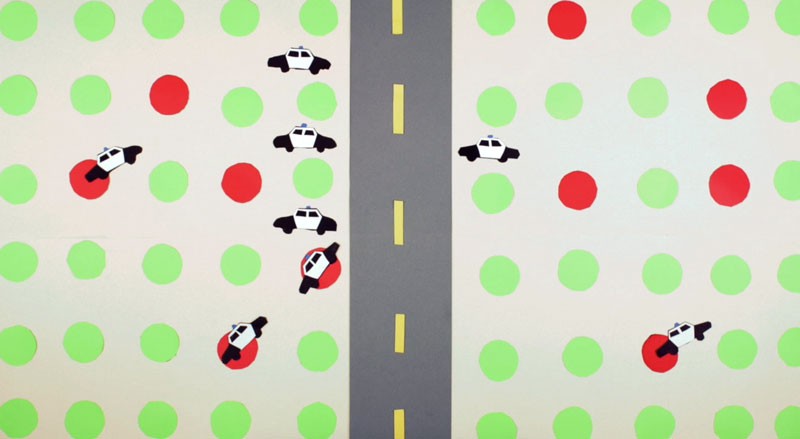 This Needs to Change
Tiny Circus
5 min, HDV, USA, 2014
Each Tiny Circus film begins with a collaborative process. We think up and do our project together, listening to each other and working towards shared ownership and responsibility. In August of 2014, Tiny Circus visited Buffalo, New York and worked with the Buffalo Youth Media Institute and Squeaky Wheel. We started this project by talking about what we would like to change and what we would like to see stay the same in Buffalo. This conversation led us to think about inequality in neighborhoods both around Buffalo and in the country as a whole. When we talked about inequality, specifically racial and social class inequality, we found that we all experienced treatment from individuals in our communities in very different ways. Focusing in on our experiences with police, and prompted by stories and media coverage in Ferguson, Missouri following the shooting death of Michael Brown, we decided to make a project that addressed unequal policing. The content of this video may be rich and full of things to think about, but our conversations were even more packed. Through listening to each other's stories, we found that we had many different experiences (and ways of understanding those experiences) in our group. We also found we had some similarities. This Needs To Change is what came of listening to each other, processing difference, and coming to the center of our circle to find the main thrust of our conversation. We realized that we wanted all of our communities to be treat a film about discrimination, policing, and racial or social class inequality has the potential to be polarizing – we can't guarantee that everyone will agree with what we're saying here. As we figured out what we wanted to say in this project, our main goal became about finding a way to communicate broadly without losing audience members along the way. How else will change happen if we don't keep trying to "bridge the gap" by communicating across lines of difference? 

Tiny Circus now grows to include the individuals that created this film!
Related Events