April 9th – April 15th
With work by the 8mm News Collective, Ghen Dennis, and Brian Springer
As part of Squeaky@x0
The droning never ends. One election ends and the blabber about the next one begins. It could be seen as a sign of political health, or of the media having an intrinsic interest in our electoral process. Instead it is the 24/7 spectacle, a flawed system further compromised by an unending demand of talking points.
This weeks exhibit takes not only our political process, but also our media to task. Burned by the News, the second part of the 8mm News Collective's second episode of their News Diaries series, has members from the collective – including a delightful Jody LaFond and a wig-wearing Tony Conrad – following a TV news crew, interrupting the human interest story they are shooting and being the most charming pests in Buffalo. A different kind of disruption is detailed in Brian Springer's Spin, presented here in an excerpted form, which showcases how political campaigns themselves used the media. Springer focuses on the 1992 Bush vs. Clinton election, and how the Clinton election would pull satellite feeds of rally's and news segments before they aired to respond to and alter them ahead of time. Finally, in Untitled, Ghen Dennis' plays a mournful tune to a report of the Supreme Court decision that led to Bush the Seconds disastrous presidency. The voices we hear under the music have the quality of white noise, a voice so familiar that its time cannot be placed. Just repeated, ad nauseam, every time our decision approaches. – Ekrem Serdar
Spin Alley
Untitled
Ghen Dennis
4 min, video, USA, 2000
Untitled was shot with a black and white surveillance camera for Squeaky Wheel's "Dysfunctional Holiday" screening in 2000 – the year the Bush / Gore election debacle forced its way into the U.S. holiday season. – GD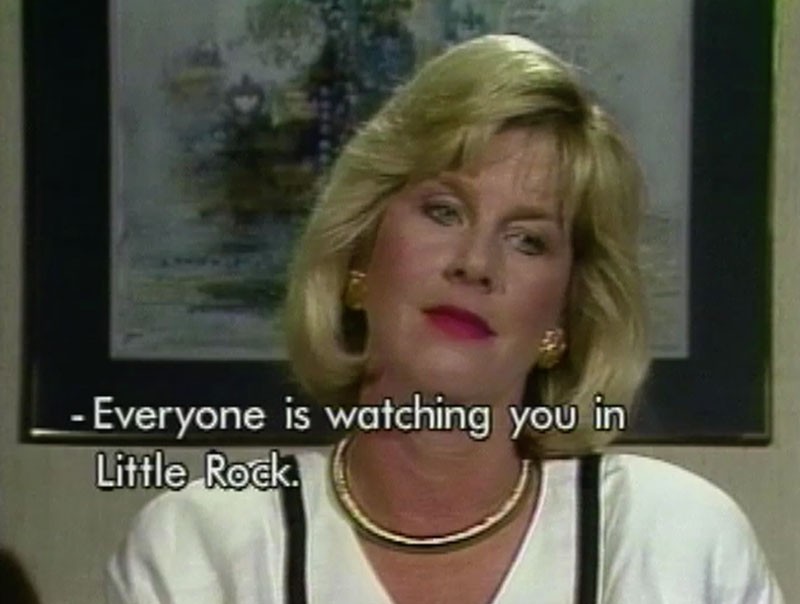 Spin
Brian Springer
9 min excerpt (original 57:30 min), video, USA, 1995
This clip is from one of Brian Springer's most well known pieces. Pirated satellite feeds revealing U.S. media personalities' contempt for their viewers come full circle in Spin. TV out-takes appropriated from network satellite feeds unravel the tightly-spun fabric of television—a system that silences public debate and enforces the exclusion of anyone outside the pack of journalists, politicians, spin doctors, and televangelists who manufacture the news. Spin moves through the L.A. riots and the floating TV talk-show called the 1992 U.S. presidential election.
News Diaries, Part 2: Burned by the News
8mm News Collective
28 min, 8mm video transferred to digital, 1990
"When members of the 8mm News Collective go into a real-life situation in their matching seersucker jackets, they inevitably theatricize it, but also, more importantly, they reveal the inherent theater of the real-life situation itself. In Burned by the News (Part 2 of the series News Diaries), we watch WGRZ Channel 2 news managers play their "roles" at the same time the 8mm News Collective, in a no more outlandish way, performs their 'roles' as provocateurs. In Burned by the News the news station management called the police. They threatened to sue – anything to keep their viewers away!"   – Barbara Lattanzi, FELIX: A Journal of Media Arts and Communication, Spring 1992
Members of the 8mm News Collective have included (but was not limited to): Bruce Adams, Heather Connor, Tony Conrad, Cyndi Cox, Garland Godinho, Andy Goldstein, Jim Hartel, Armin Heurich, Chris Hill, Serena Howeth, Cheryl Jackson, Meg Knowles, Wago Kreider, Jody Lafond, Lisa Laske, Barbara Lattanzi, Lou Mang, Melissa Scott, Brian Springer, Cathy Steffan, Maria Venuto, Richard Wicka, and Julie Zando.