Squeaky Wheel, Axlegrease, the U-Matic years (1987-1999): Digitizing the tapes of Western New York's artist and activist-led alternative media movement
Media contact: martina@squeaky.org
BUFFALO, NY – Squeaky Wheel Film and Media Art Center (a.k.a. Buffalo Media Resources Inc.) is the recipient of the Council on Library and Information Resources (CLIR) 2019 Recordings at Risk grant. The grant will be used to digitize the at-risk u-matic tapes of Axlegrease collection so this collection can be accessible to the public, and be preserved for future generations.
Squeaky Wheel's Axlegrease collection is comprised of video art and documentary films that were created by local and national artists and broadcast on a weekly basis in Western New York and on partner public access cable stations throughout the nation between 1987 and 1999. The CLIR grant will allow Squeaky Wheel to digitize more than 218 hours of content stored on 435 U-Matic tapes, and to make the records available for research and study via published metadata and password protected Vimeo links. Partnering with local cultural entities, such as the Garman Art Conservation Department at Buffalo State College and Lumiflux Media, Squeaky Wheel will produce a documentary and best practices manual based on this project to promote the preservation of at-risk video art in Western New York.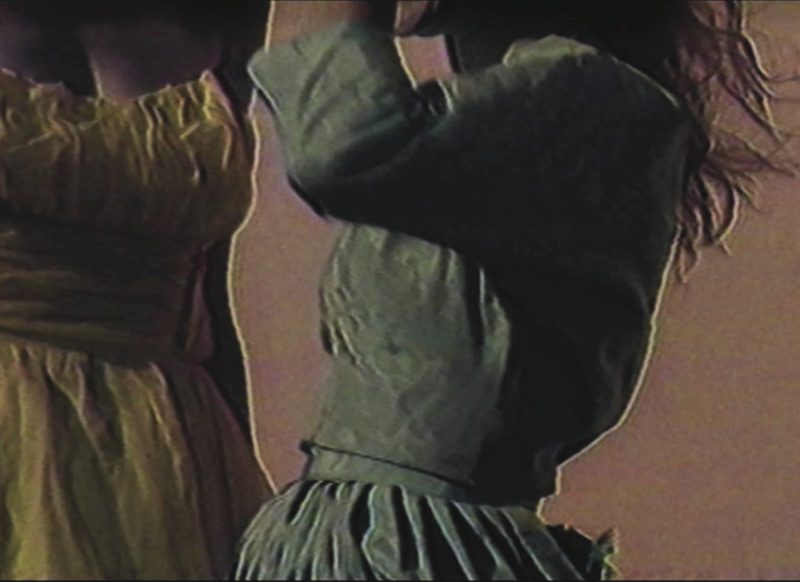 Video still: Julie Zando, Hey Bud, 10:36, 1987
Axlegrease, the U-Matic Tape Years is a unique collection of endangered tapes with significant historical and cultural value. Axlegrease, an affectionate play on Squeaky Wheel's name, was a weekly installment of curated selections of experimental video art and documentary film. While this collection was created for Western New York's public broadcasting systems and channels, the collection includes a diverse and inclusive pool of internationally renowned artists and media artworks. Along with Paper Tiger Television's Cast Iron TV, broadcasting initiatives by Women Make Movies, Dyke TV, and the Ithaca Video Festival, Axlegrease provided a national model for independent video art in the public broadcasting sphere. Digitization of these programs will substantially contribute to the study of this exciting time and place in history, as well as inform present and future public media platform analyses, critiques, and interventions.
Scholars, researchers, teachers, students, artists, and an international public will be able to take a critical look at the content of the past in order to design effective contemporary work that challenges and improves the status quo.
– Maiko Tanaka, Executive Director
As Tony Conrad (one of Squeaky Wheel & Axlegrease's founders) once said, "History is like music – completely in the present." At its core, the show was an experiment in and commentary on broadcast programming forms and functions, a case study that may prove quite useful in today's media climate.
– Anna Scime, Archive Committee Chair
Squeaky Wheel has been a platform to promote production and experimentation in media art. This grant now supports Squeaky Wheel to promote the preservation of at-risk media art, providing a unique collaborative and educational opportunity within the greater Buffalo community!
– Jiuan Jiuan Chen, Associate Professor, Garman Art Conservation Department,
SUNY Buffalo State
This project is supported by a Recordings at Risk grant from the Council on Library and Information Resources (CLIR). The grant program is made possible by funding from The Andrew W. Mellon Foundation. The Council on Library and Information Resources (CLIR) is an independent, nonprofit organization that forges strategies to enhance research, teaching, and learning environments in collaboration with libraries, cultural institutions, and communities of higher learning.
Banner still: Peer Bode, Animal Migrations (and why they don't get lost), 12:00, 1985