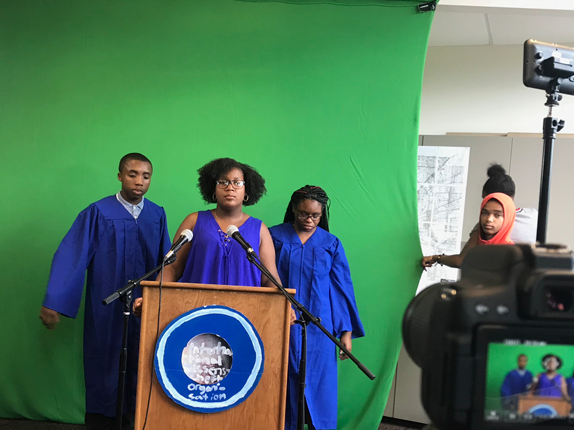 About
Established by Squeaky Wheel in 2005, Buffalo Youth Media Institute builds social capital through the cultivation of critical thinking and 21st-century skills, such as innovation, digital literacy, and collaboration. Through videos, lectures, critiques, and hands-on demonstrations, youth producers work with Squeaky Wheel's lead teaching instructors to learn digital production skills and create self-directed projects.
Out-of-school program
The program takes place throughout the school year on Tuesdays and Thursdays from school dismissal to 6:00 pm and is free for students attending Buffalo Public & Charter High Schools.
Summer intensive
During the 4-week summer intensive, youth work together to design experimental media experiences that explore different social and cultural topics relevant to them and their communities. Final works are traditionally exhibited at the Burchfield Penney Art Center.
Works produced by the students of the Buffalo Youth Media Institute have been screened in over 30 national and international film festivals, earning numerous awards allowing the voices of young Buffalo creatives to be heard in and outside of their communities. 
Join BYMI today, email our Education Coordinator Martina LaVallo martina@squeaky.org
Check out our project "1988"

1988 takes place in a dystopian alternate reality 2019 where everyone is immersed in a stream of television programming. All communications and media channels are controlled by the Obsolete Corporation, which also produces most of the consumer products for the world. The Corporation's signal is jammed by the Activist International, a group of young activists fighting back against this accepted reality by calling out for change. The title of the film is taken from the year when a group of climate scientists spoke to Congress and warned of the impending climate crisis. Through a series of satirical skits and sobering interviews, 1988 delves deeply into the complicated and urgent topic of global warming.
This film is made possible with support from Erie County and the Marks Family Foundation. This project is also funded by the Global Warming Art Project Grant (from Ben Perrone and the "Environment Maze" project donors); administered by Arts Services Initiative of WNY.
---
See what our students have to say!
---
---
Buffalo Youth Media Institute is funded by the National Endowment for the Arts.  Squeaky Wheel's Youth Arts Education Programming is also supported in part by grants and awards from the Cameron & Jane Baird Foundation, Children's Foundation of Erie County, City of Buffalo Cultural Funding, New York State Council on the Arts (NYSCA), Regional Economic Development Council, and The Margaret L. Wendt Foundation, as well as venue and exhibition support by Burchfield Penney Art Center.  We thank all our sponsors for their generosity.