Tech Arts For Youth Summer Workshops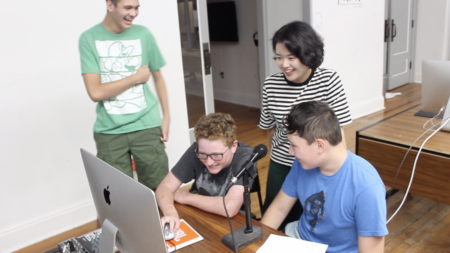 Squeaky Wheel's award-winning youth programs are a perfect addition to your young artists' summer. Give them the opportunity to gain hands-on experience and access to 21st Century skills and tools that empower them to own their mediated space.
Courses are open to youth from ages 11 – 15 and take place in both morning and afternoon sessions for full days of fun! Our instructors are all working artists and experienced educators, and teach topics and skills that are related to their own art practice.
Light snacks and beverages will be provided, but we encourage you to send your student with lunch if they're there for the full day.
Workshops at Squeaky Wheel go beyond simply providing young people with a unique learning experience to expand their knowledge and skills. Each workshop provides us with unrestricted income that goes directly back into our efforts to provide community-focused programing. The majority of funds will go to supporting our teaching artists and support staff to create the best possible experience. 
Summer 2023 Registration is now open!
Click the "INFO AND REGISTER" link below each session for more details and to register. Or, click here to view in our events calendar.
Members receive a 10% discount on all workshops. Not yet a member? Click here to join now, and start using your discount right away!
If you have questions, or if a workshop is full and you would like to be added to the waitlist, please email our Education Director, Caroline Doherty, at caroline@squeaky.org
July 10 – August 4
1 week classes
Monday – Friday
Morning and afternoon sessions
$210 nonmembers/$189 members (10% discount)
Session 1a: July 10 – 14, 9am-12pm
Video Production: DIY Special Effects
Instructor: Joan Nobile
Session 1b: July 10 – 14, 1pm – 4pm
Video Production: Live Stream Experiments – Be a Video DJ!
Instructor: Michael Chernoff
Session 2a: July 17 – 21, 9am – 12pm
Interactive Instruments
Instructor: Bello Bello
Session 2b: July 17 – 21, 1pm – 4pm
Video Production: Color and Light
Instructor: Avye Alexandres
Session 3a: July 24 – 28, 9am – 12pm
Interesting Decisions: Choice Based Game Design
Instructor: Famous Clark
Session 3b: July 24 – 28, 1pm – 4pm
Believe it or not: Hoax Photography
Instructor: Robert George
Session 4a: July 31 – Aug 4, 9am – 12pm
Stop Motion Animation: With Humans!
Instructor: Salem Browning
Session 4b: July 31 – Aug 4, 1pm – 4pm
Animation: 16mm Camera-less Filmmaking
Instructor: Scott Puccio