Buffalo International Film Festival: Experimental Shorts Program
Program time: 81 minutes
Saturday, October 17th
, Squeaky Wheel Cinema,
4:00PM
Free for Squeaky Wheel Members
Online advanced tickets: $10. Door: students/seniors $8, general admission $12
Blurring the edges and breaking the confines and paradigms of narrative and documentary filmmaking, "BIFF Shorts – Experimental" is a platform for exciting abstract expression. From the existential dreamscape of Patrik Ericsson's haunting The Cart to the internal struggles of the mind in Margaret Orr's Mer Depre. Sam Avery's Locomotion critiques masculinity exploring the connection between modern man and his primordial instinct. Investigating past, present, future, family and celluloid Roberta Friedman and Grahame Weinbren present Straight From Birtha, the follow-up to their 2011 short Birtha's Children, in a complex, personal and rich new work. Multimedia artist and filmmaker Christian Svanes Kolding explores the dangers lurking at the internet's edge where one can find anything at The End of the Internet.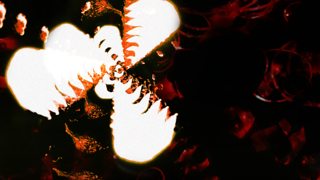 Still Image from Margaret Orr's Mer Depre