September 16th, 2016
6pm – 10pm
@ Squeaky Wheel
Free!
Liminal Labyrinth from Eric Souther on Vimeo.
Eric Souther returns to Buffalo to showcase his VR experience, Liminal Labyrinth! Everyone is invited to sign-up for a ~15 minute session to experience this new project, completed during his residency here in Buffalo!
Choose a time-slot here or go to http://bit.ly/ericsouther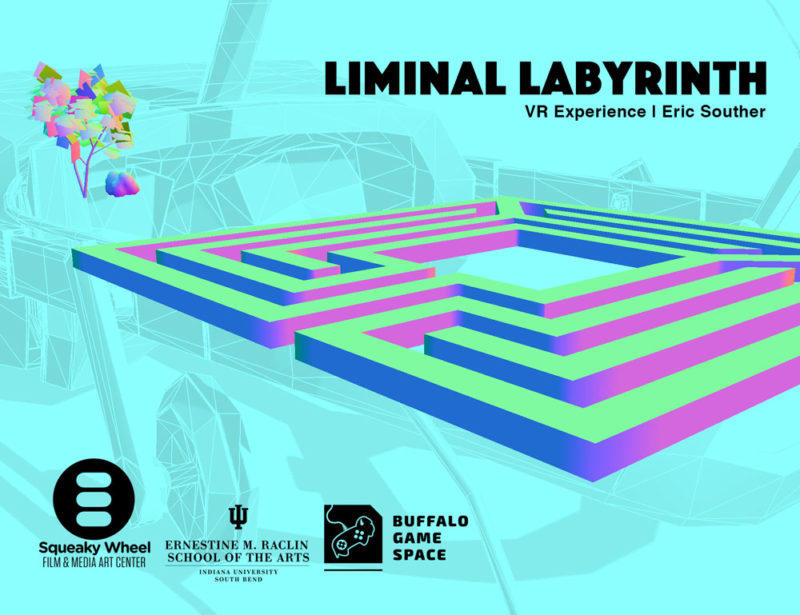 "Liminal Labyrinth is a VR experience that allows you to traverse a spiritual labyrinth set in the woods. Liminal Labyrinth is a collaboration between Eric Souther and Dr. Kevin Ladd. It is both a virtual installation and a psychological look at the interaction of bodies and religious behaviors in digitally augmented spaces.
The Labyrinth works as a spiritual tool; nearly all religions have had some association with these winding patterns: Buddhist Mandalas, Native American Medicine Wheels, and Judaism "Tree of Life." While the specific understandings and roles of these patterns differ across traditions, the labyrinth seems to be used as an aid in thinking about and understanding religion through embodied aesthetics.
I worked closely with Waseque Qazi, a talented Game Developer in Buffalo, NY. We built the game from scratch in seven days utilizing the HTC Vive andUnity. In order to traverse a larger digital space with only a 15ft square physical space, we developed a way for the participant to rotate the world around them so that you can turn around and keep physically walking down the same path.
The project is supported by Indiana University South Bend Faculty Research Grant, Squeaky Wheel Film & Media Art Center Workspace Residency, and Buffalo Game Space. Special thanks to Ekrem Serdar and John Futscher." – Eric Souther
Bio
Eric Souther is a video and new media artist who creates explores the ritualistic spaces of media and develops interactive systems for real-time manipulation of time-based media. His work has been featured nationally and internationally at venues such as the Museum of Art and Design, NYC, Everson Museum of Art, Syracuse, NY and the ART DATA LAB, Beijing. His work has been screened in The Outcasting: Fourth Wall Festival, Grangetown, UK, Cronosfera Festival, Alessandria, Italy, and the Galerija 12 New Media Hub, Belgrade, Serbia. He received his M.F.A. in Electronic Integrated Arts from Alfred University. Currently he is an Assistant Professor of New Media at Indiana University South Bend.