---

I'm So Excited!
February 25, 2016 @ 7:00 pm

–

9:00 pm

EST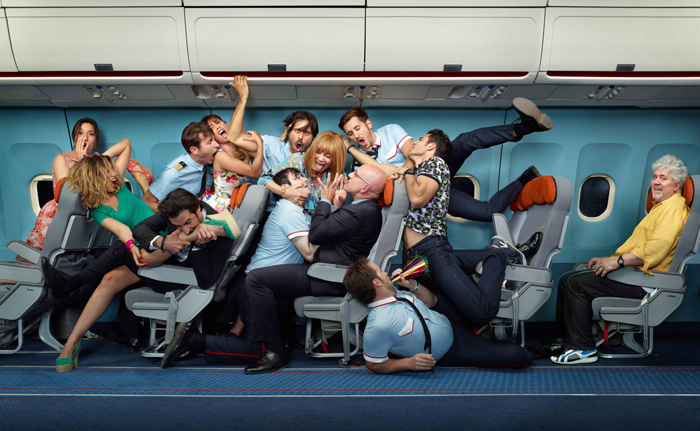 Thursday, February 25th, 2016
7pm
@ Dreamland (map)
Free / $5 Suggested Donation
This month for REEL QUEER – Buffalo's Queer Film Series – catch the 2013 Spanish Comedy film by world-renown and openly gay director Pedro Almodóvar. Set almost entirely on an airplane, three gay flight attendants hope to keep passengers entertained during an impending disaster.
Los amantes pasajeros (I'm So Excited!)
Pedro Almodóvar
90 min, digital, Spain, 2013
A very varied group of people are in a precarious situation aboard a plane flying to Mexico City.
A technical failure (a kind of justifiable negligence, even though it sounds contradictory, but that's what human actions are) has endangered the lives of the passengers on Peninsula Flight 2549. The pilots, hardened, experienced professionals are striving, along with their colleagues in the Control Center, to find a solution. The flight attendants and the chief steward are atypical, baroque characters who, in the face of danger, try to forget their own personal problems and devote themselves body and soul to the task of making the flight as enjoyable as possible for the passengers, while they wait for a solution. Life in the clouds is as complicated as it is at ground level, and for the same reasons, which could be summarized in two: sex and death.
The travelers in Business Class consist of a pair of newlyweds, partygoers, worn out by their wedding celebration; a financier and embezzler; unscrupulous in business but also a father afflicted by his daughter's estrangement; an inveterate Don Juan with an uneasy conscience who is trying to say goodbye to one of his women (girlfriends); a rural psychic; a queen of the gossip magazines and a Mexican with an important secret. Each of them has a project in Mexico City, either to work or to escape. They all have some kind of secret, not just the Mexican.
Their defenselessness in the face of danger provokes a general catharsis among the passengers and the crew, and this ends up becoming the best way to escape from the idea of death. This catharsis, developed in the tone of a riotous, moral comedy, fills the time with sensational confessions that help them forget the anguish of the moment.
Reel Queer is presented in conjunction with Dreamland, a safe space for Queers, Women, and Trans*folk. Dreamland's mission is to provide a cultural alternative for artists and patrons of the Arts in the Greater Buffalo area that nourishes avant-garde philosophies in various artistic mediums. Using models of various cooperatives (co-op housing, "D.I.Y" and punk spaces, art collectives); Dreamland strives to be an inclusive safe space, that is both accessible and comfortable to minorities (sexual, gender-based, racial, physical) and those of disadvantageous economic abilities.
Related Events