---

Media Logging Party: The Stokes Tapes
October 29, 2016 @ 10:00 am

–

1:00 pm

EDT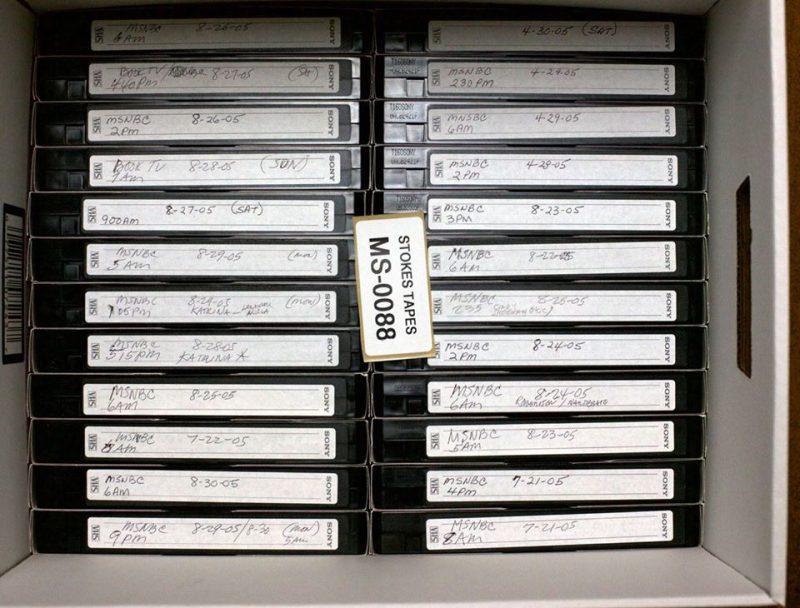 Saturday, October 22, 2016
2–5pm
@ Squeaky Wheel
Free!
With director Matt Wolf skyping in!

Calling all volunteers who want to be part of preserving a legendary archive! We are proud to host a session in our media lab this Saturday to assist in the logging of The Stokes Tapes, a project coordinated by acclaimed director Matt Wolf (Teenage, I Remember: A Film About Joe Brainard). Marion Stokes was an activist and librarian who secretly recorded television 24 hours a day for 30 years, amassing an archive of over 40,000 VHS tapes. The Internet Archive has been working to digitize her entire collection for public access, but need more help; Wolf and his crew are currently making a film about Marion Stokes' life and archiving project, and in that process they are organizing a crowdsourced "indexing" of her full VHS collection. This is where you come in!
Volunteers from all over the world are logging the VHS tape spines that Stokes meticulously labeled by hand recording the channels, dates, times, and occasional notes of their content. Your time and effort to help index these spines will result in creating a database that will help bring this incredible collection to the public, be part of the larger media arts community, and to bring awareness to Stokes' project through Wolf's documentary. Join in the creation of this incredible project! All volunteers will be credited in the resulting documentary.
The logging session will take 2 hours in which volunteers will receive images and instructions to record into a spreadsheet. All participants are required to have a free dropbox and gmail account. Email mark@squeaky.org to sign up and receive instructions. 
Press about this project:
Tribeca Film Institute
This Long Century
About Marion Stokes
Marion Stokes (born Marion Butler, 25 Nov 1929 – 14 Dec 2012) was a Philadelphia, Pennsylvania access television producer, civil rights demonstrator, activist, librarian, and prolific hoarder and archivist, especially known for single-handedly amassing hundreds of thousands of hours of television news footage spanning 35 years, from 1977 until her death at age 83, at which time she operated nine properties and three storage units. (via Wikipedia)
About Matt Wolf
Matt Wolf is a filmmaker in New York. His critically acclaimed and award-winning films have played widely in festivals and have been distributed internationally in theaters and on television. Matt's first feature documentary Wild Combination is about the avant-garde cellist and disco producer Arthur Russell. His second feature Teenage is about the birth of youth culture, based on a book by the British punk author Jon Savage. He is currently making a film about Marion Stokes, who secretly recorded television 24 hours a day for 30 years. Matt has made commissioned shorts for the New York Times, the Whitney Museum of American Art, and various brands and organizations. Matt is a Guggenheim Fellow.