---

Meet our Residents: Emily Watlington, Eric Drasin, Jenson Leonard, Johann Diedrick
August 22, 2020 @ 7:00 pm
EDT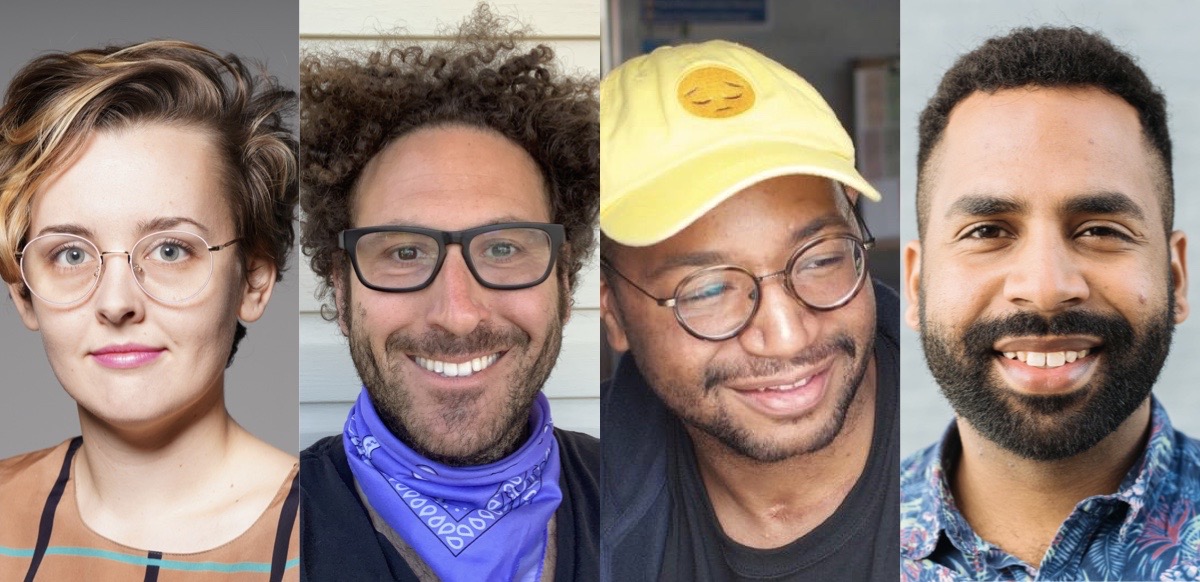 Saturday, August 22, 2020, 7 pm ET
Free or suggested donation. Registration required.
This is an online event. Upon registration, you will receive an email with information on how to view the event. Automatic captioning will be provided.
Register here
Join Squeaky Wheel for a chance to meet our Summer 2020 Workspace Residents and learn more about their past and ongoing projects in this evening of artist talks.
During their residency, Emily Watlington will be working on a chapter for a book on accessibility as an artistic medium, focusing on artistic uses of closed captioning. Eric Barry Drasin will be researching digital art cooperatives vis a vis distributed technologies, online communities spaces, experimental finance, and alternative forms of governance. Jenson Leonard will be filming and editing Workflow, an installation centered around the velocity and momentum of blackness (historically and as imagined online) as it relates to the philosophical concept of acceleration-the idea that the only way out of capitalism is through its intensification. Johann Diedrick will be composing music for Wake, an hour-long sonic performance relating to the local ecology in and around Silo City and its connection to the Buffalo River, and that offers a moment to mourn over the loss of our environment, our world, and ourselves. The Summer 2020 residency was juried by Ekrem Serdar, Martina LaVallo, and Liz Park. Biographies of the residents and juries can be found below.
A brief presentation before the artist talk will update you on how you can take part in the Workspace Residency with the upcoming application period in September.
This event will be streamed live on Youtube with automated captioning. Audiences will be able to ask questions through Youtube's live-chat function.
Emily Watlington is assistant editor at Art in America. She writes about contemporary art—primarily video—often through the lenses of feminism and disability justice. A Fulbright scholar with a master's degree from MIT in the history, theory, and criticism of architecture and art, she has held curatorial positions at the MIT List Visual Arts Center and MassArt's Bakalar and Paine Galleries (now the MassArt Art Museum). Her writing has appeared in publications such as Artforum, Mousse, and Frieze, and she has contributed to numerous books and exhibition catalogues, including Before Projection: Video Sculpture 1974–1995 (2018), An Inventory of Shimmers: Objects of Intimacy in Contemporary Art (2017), and Independent Female Filmmakers (Routledge, 2018).
Eric Barry Drasin is a research-based artist exploring the relationship between art and systems of value. Through emerging blockchain technologies, his current research explores "distributed" processes, objects, and organizations that problematize and reprogram fundamental assumptions about how value is constructed and disseminated. Using contracts and legal frameworks as a platform for enacting collectivity, his work injects cooperation and utopian absurdity into systems designed to consolidate power. The notion of the art object is rematerialized in digital space and expanded to engage notions of cultural production and collective agency. Value is thus performed as a form of disruption, and capitalism itself is the terrain for the refiguration of the economic landscape.
Jenson Leonard
My practice involves the intersection of poetry, conceptual art, and internet memes. Not unlike the earliest forms of oral poetry, memes transmit our cultural memory. I scour the web for these preserves…the copies and reproductions of our collective digital id, dragging and dropping(sculpting) my findings into the Adobe Suite to create a bricolage of text and image that call into question notions of identity and empire. I chart an internet psychogeography that questions the sensorial exhaustiveness of audiovisual capitalism–An art that, in the framework of predictive algorithms and data extractions attempts intervention within the infrastructure of social media.
Johann Diedrick is a Caribbean-American artist who makes installations, performances, and sculptures that allow you to explore the world through your ears. He surfaces vibratory histories of past interactions inscribed in material and embedded in space, peeling back sonic layers to reveal hidden memories and untold stories. He shares his tools and techniques through listening tours, workshops, and open-source hardware/software. He is currently a Spring 2020 technology artist-in-residence at Pioneer Works and a recipient of a 2020 Brooklyn Arts Fund grant from the Brooklyn Arts Council. Along with receiving an Asian Cultural Council grant, his work has been featured in Wire Magazine, Musicworks Magazine, and presented at MoMA PS1 (in collaboration with Jonathan González), Somerset House (London, UK), Social Kitchen (Kyoto, Japan), Common Ground (Berlin, Germany), Recess (Brooklyn, NY), Knockdown Center (Queens, NY), and Pioneer Works (Brooklyn, NY).
Workspace Residency is supported by generous support by the County of Erie and County Executive Mark Poloncarz, the National Endowment for the Arts, New York State Council on the Arts with the support of Governor Andrew M. Cuomo and the New York State Legislature, the Andy Warhol Foundation for Visual Arts, and individual members, businesses, and supporters. Special thanks to Scribe Video Center. See more information about the Workspace Residency here.
Image, left to right: Emily Watlington, Eric Barry Drasin, Jenson Leonard, Johann Diedrick. Images courtesy of the residents.