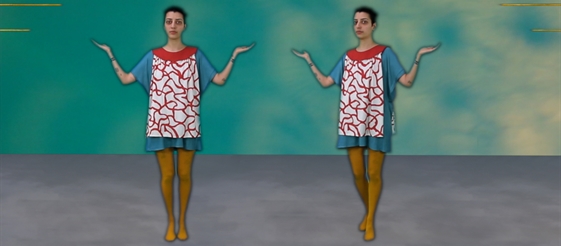 Molly Palmer, Some Shapes Without Edges, 2016
Friday, December 2, 2016
7pm
@ Hallwalls Contemporary Art Center
General $7 | Free for Squeaky Wheel and Hallwalls Members
Guest curated by Herb Shellenberger
Consisting of both contemporary works investigating new technologies and underground films from the era of head-trip psychedelia, this program of artist moving image works depicts alternate realities, cosmic landscapes and humanoid beings. Featuring several films on rarely-screened 16mm prints, and guest curated by formerly London, now Pennsylvania based scholar and curator Herb Shellenberger, Not of this Earth features Steven Arnold's The Liberation of The Mannique Mechanique (1967), Scott Bartlett's Moon (1969), Willy Braque's Amnesie 25 (1967), Nicholas Brooks and Benedict Drew's Sump (2016), and Molly Palmer's Some Shapes Without Edges (2016). This event marks the 4th edition of Squeaky Wheel's OTHERWORLDS sci-fi series. Be sure to join us for a special Q&A with curator, Herb Shellenberger, in person! Special thanks to Hallwalls Contemporary Art Center for co-presenting this screening.
Herb Shellenberger has curated screenings at institutions such as Arnolfini (Bristol), International House Philadelphia, Izolyatsia Platform for Cultural Initiatives (Ukraine), Light Industry (Brooklyn), LUX (London) and Yerba Buena Center for the Arts (San Francisco). He is a graduate of the Central Saint Martins/LUX MRes Moving Image programme, and has previously lectured on artist film and video at the Istanbul Museum of Modern Art and Alternative Film/Video Research Forum (Belgrade). His writings have appeared in Art Agenda and The Brooklyn Rail and he has curated the series "Independent Frames: American Experimental Animation in the 70s + 80s" at Tate Modern in February 2017.
Program (76 Minutes)
Moon 1969
Scott Bartlett
15', 16mm, 1969
"Moon 1969 is a beautiful, eerie, haunting film, all the more wonderful for the fact we do not once see the moon: only the manifestation of its powers here on earth, the ebb and flow of the waters.. fiery rainbows into a cloudy sky… men and rockets transformed into shattering crystals… creating a picture if the cosmos in continual transformation."– Gene Youngblood, Los Angeles Times
"The interrelated convolutions and spasms of image, color, and sound that filmmaker Bartlett creates is the cumulative effect of his pioneer work using negative images, polarization, television techniques, computer-film, and electronic patterns all compressed into a visual punch that directs one where he normally would not go with a film — on a trip in search of the human soul." — Paul Brawley, The Booklist, American Library Association
Amnesie 25
Willy Braque
8', digital, 1967
Some Shapes Without Edges
Molly Palmer
10', digital, 2016
Some Shapes Without Edges is an episodic video sequence about the mystery, complexity and absurdity of being human. How do we absorb and transform experiences that are funny, bewildering and beautiful – confusing, frightening or sad?
The stories are sentimental and comical, silly and serious. Two statues learn about friendship from identical twins dressed as curtains. A girl with a camera multiplies, disappearing with a flash into TV infinity. Static electricity haunts objects and we take a minute to think about walking up hills…
Music, dance and gesture take over when words won't work. Small items grow huge and people shrink. The videos are set in a world where things follow a different logic – where they fit together as they do in dreams and in our heads. – Berwick Film & Media Arts Festival
The Liberation of The Mannique Mechanique
Steven Arnold
15', 16mm, 1967
"This film has a sensitive balance of all its parts and it is realized with masterly control. Each gesture, movement, position, as well as all of the costuming, make-up and props work in a harmony for this under-dream-world of Eastern magicians. Even the bodies of the actors look as though they were designed for the film. There is odalisque fragrance of incense and kief… and behind that, almost imperceptible, the smell of rotting flesh. Arnold has made a beautiful and powerful film poem that is saturated with style." – Robert Nelson
"I've always liked the Liberation of the Mannique Mechanique… a heavy sense of the macabre, the mystical, the twilight world. It was a kind of Rosicrucian gang-rape." – Gene Youngblood, Los Angels Free Press.
"… overt symbolic content… strong black and white photography. I find that Arnold and Wiese are just more sensitive to a certain quality of photographic image than other filmmakers I can name." – Lenny Lipton, Berkeley Barb.
Sump
Nicholas Brooks + Benedict Drew,
20', digital, 2016
Sump somp, soupe….Swelp.
De-Dif-Dis-Di-Dro-
Some ******* ate other ******* and got indigestion. That is the origin of complex _______.
We suddenly saw a world which was populated by groaning things and bothersome articulations and amusing lifeforms with the simple purpose of flashing on and off and machine-animal manifestations that turned into other machines like they were yawning and an ecosystem of functions and dispositions and always no choice but to be what they were and we suddenly understood like never before.
The current is not only
a gigantic cerebral system,
but a substance capable
of thought processes.
SUMP! sss… ss… s…
---
About The Series
From cybernetic futures to voyages across space and time, our Fall/Winter screening series OTHERWORLDS focuses on alternative science fiction, including experimental films, rare documentaries, and cult classics.
Special thanks to Hallwalls Contemporary Art Center.