---

Virtual Event
On the language of anti-Blackness and the Indian Ocean
January 27, 2021 @ 7:00 pm

–

8:30 pm

EST

Virtual Event
Free or suggested donation
Click here to register
Access information:This event will take place over Zoom and feature live closed captions. If you encounter any issues, please send us a text message at 716-427-4125.
What are the afterlives of the Indian Ocean slave trade, and what is the role of music through them? What are the politics of the archive in re-imagining the linguistic and historical connections between South Asia, the Arab world, and the Swahili coast of East Africa?
In this presentation and panel discussion, Hiba Ali, Jazmin Graves, and Beheroze Shroff will explore these questions and share their ongoing research. Hiba Ali will present their in-progress interactive 3D artwork On the language of anti-Blackness and the Indian Ocean, followed by Jazmin Graves who will present on her scholarship on the African diaspora in western India. Beheroze Shroff will present on her documentary and research practice  on contemporary African descended Sidis of Gujarat, their culture and spiritual practice. The three panelists will then be in conversation on the history of the Indian Ocean slave trade, and the terminologies and music for the region of South Asia, East Africa and the Arab world.
This event will take place on Zoom. The event will feature live closed captions that you can enable within the event. Audiences will enter the room with their microphones muted, and an option to turn on their camera. They will be able to leave questions and responses in the event. We ask all participants to respect Squeaky Wheel's community guidelines.
Audiences can view a recording of the event for a period of 24 hours. Squeaky Wheel members will have access to view the event for 72 hours.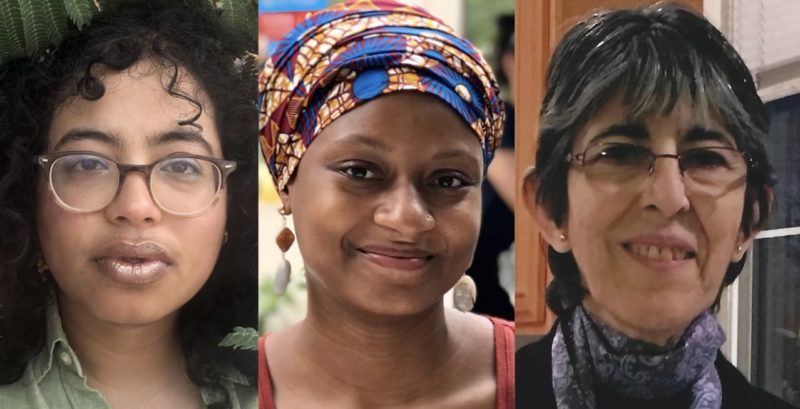 Bios of the artists
Hiba Ali (they/she) is a digital artist, educator, scholar, DJ, experimental music producer and curator based across Chicago, IL, Austin, TX, and Toronto, ON. Their performances and videos concern surveillance, womxn/ womyn of colour, and labour. She studies the geographies of Afro-Indo-Arab communities across the Indian Ocean through music, cloth and ritual. They conduct reading groups addressing digital media and workshops with open-source technology. She is a PhD candidate in Cultural Studies at Queens University, Kingston, Canada. They are an Assistant Professor of Art, New Media Artist/Feminist Art Discourse, College of Design, Art & Techology, University of Oregon, Eugene, OR. She has presented their work in Chicago, Stockholm, Toronto, New York, Istanbul, São Paulo, Detroit, Dubai, Austin, Vancouver, and Portland. They have written for C Magazine, THE SEEN Magazine, Newcity Chicago, Art Dubai, The State, VAM Magazine, ZORA: Medium, RTV Magazine, and Topical Cream Magazine.
Jazmin Graves (she/her) is a Thurgood Marshall Fellow in the African and African American Studies Program at Dartmouth College and a PhD candidate in the Department of South Asian Languages and Civilizations at the University of Chicago. Her dissertation, "Songs to the African Saints of India," studies the African diaspora in western India through the lens of Afro-Indian devotional music and rituals. A Junior Research Fellowship from the American Institute of Indian Studies supported her ethnographic and archival research in India from 2018-2019. In 2018, Jazmin was named one of the MIPAD Global Top 100 Most Influential People of African Descent Under 40.
Beheroze Shroff is a documentary film maker and long time scholar of Sidis. Shroff teaches in the Department of Asian American Studies at the University of California, Irvine. Born in Bombay, Shroff obtained her Master's in English Literature from the University of Bombay and went on to obtain an MFA–Master of Fine Arts Degree in Film Production at the University of California, Los Angeles. She has made five documentaries on contemporary African descended Sidis of Gujarat, their culture and spiritual practice. Shroff was introduced to the spiritual legacy of the Sidis of Gujarat and their ancestral saint Bava Gor, from the age of seven, by her parents who became devotees of Sidi saint Bava Gor. Shroff has published widely in several journals and anthologies on different aspects of contemporary Sidi life, in Gujarat, India. Most recently, in 2020, Shroff has co-edited a three volume publication titled Afro-South Asia in the Global African Diaspora, which explores the ways in which Africans and people of African descent have shaped and been shaped by the histories, cultures, and societies of South Asia. Her documentaries have been shown at the Max Planck Institute in Leipzig, School of Oriental and African Studies in London, Commonwealth Institute London, the Schomburg Library and Museum of Black Culture in New York, the Pan African Film Festivals in Los Angeles and at the Nairobi and Zanzibar International Arts, Music and Film Festivals, among others.
This program is made possible thanks to the generous support of the National Endowment for the Arts and Adobe TakingITGlobal.
Banner image: Hiba Ali, On the language of anti-Blackness and the Indian Ocean.