---

Punctures | Eniola Dawodu and Kite
November 22, 2019 @ 6:00 pm

–

December 21, 2019 @ 9:00 pm

EST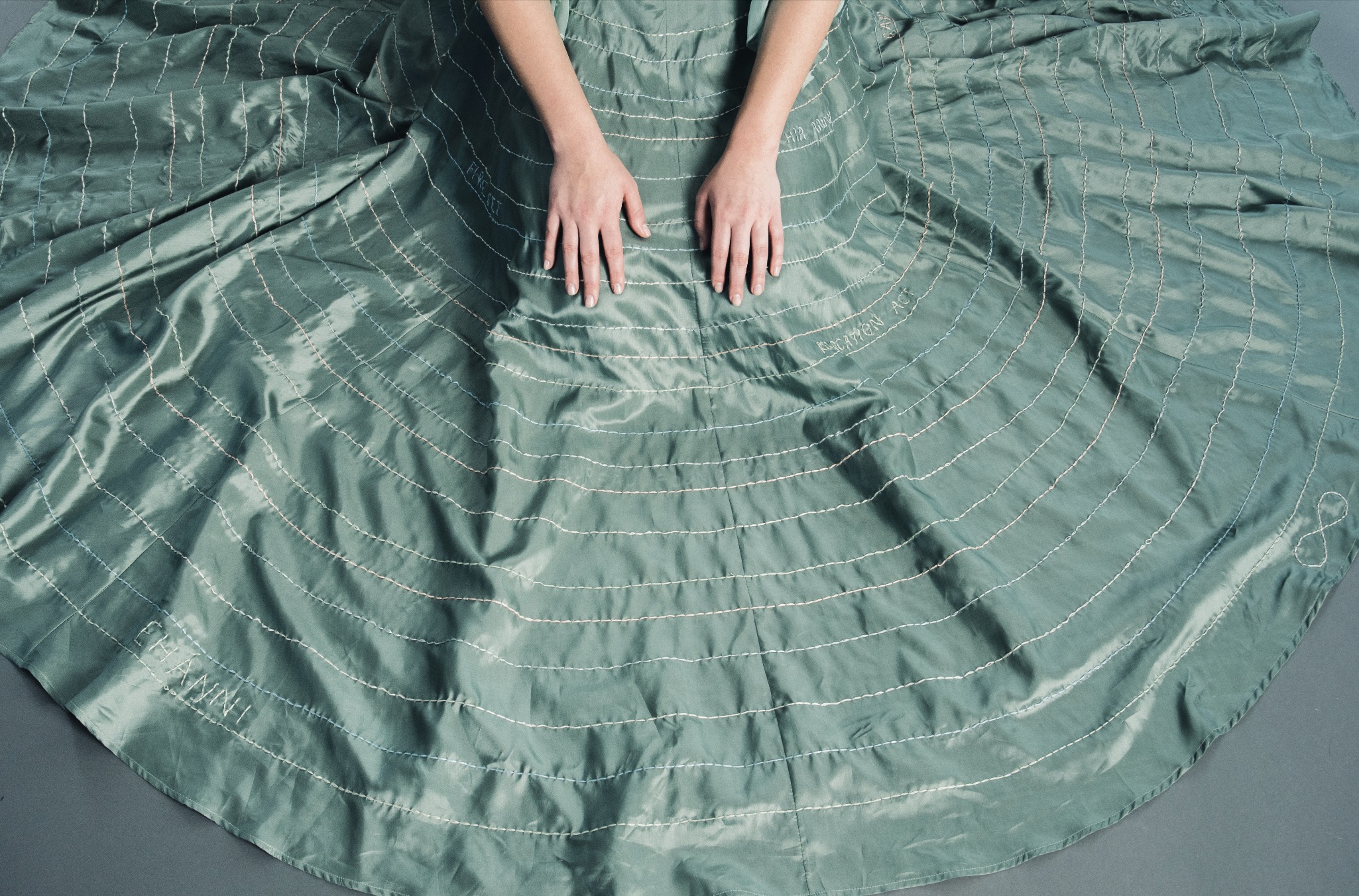 Opening, November 22, 2019, 6–9pm
Artist Talk and Q&A with Eniola Dawodu and Amy Sall at 7:30pm
On view through December 22, 2019
Free and open to the public
The second exhibition of Punctures features two works placed in conversation: Kite's multi-media installation and performance Everything I Say Is True (2017), which considers concepts of truth in relation to Oglala Lakota knowledge systems. Eniola Dawodu's IRAN SI IRAN (2019), funded by the Creative Arts Initiative, is a newly commissioned textile work which reassembles a fragmented chorus of ancestral African women's strategic radical overtures toward autonomy and cultural sovereignty.
Join us for the opening of the exhibition on November 22nd with artist Eniola Dawodu in conversation with Amy Sall (Founder and Editor-in-Chief, SUNU: Journal of African Affairs, Critical Thought + Aesthetics). Artist Kite will be present for a performance of Everything I Say Is True on Saturday, December 7, with a conversation between her and Dr. Jolene Rickard.
Image: Eniola Dawodu, Iran Si Iran (2019). Image by Kaitlyn Lowe.
Eniola Dawodu is a British-born Nigerian based between Dakar, Senegal and Brooklyn, NY. She is engaged in the cultural archiving of memories, methods, and magic concerning West African textiles and aesthetics of style + self-presentation. Her research and creative practice privilege traditional dress practice, its motif and methodology, as potent conduits for cross-generational communication, situated in the liminal and powerfully charged with legacy and history. With reverence to foremothers, Dawodu reimagines garments of power as masques within which space is held for the latent narratives of ancestral African experiences. In alliance with master artisans via ancient techniques, past and present-day collapse into cross-dimensional expression. Woven memoirs unite; a foundation upon which truths are embroidered.
Kite aka Suzanne Kite is an Oglala Lakota performance artist, visual artist, and composer raised in Southern California, with a BFA from CalArts in music composition, an MFA from Bard College's Milton Avery Graduate School, and is a PhD student at Concordia University and Research Assistant for the Initiative for Indigenous Futures. Her research is concerned with contemporary Lakota epistemologies through research-creation, computational media, and performance practice. Recently, Kite has been developing a body interface for movement performances, carbon fiber sculptures, immersive video & sound installations, as well as co-running the experimental electronic imprint, Unheard Records.
A graduate from Columbia University's Graduate School of Arts & Sciences, Amy Sall holds a master's degree in Human Rights Studies, concentrating on the right to development and youth empowerment in Sub-Saharan Africa. She received her BA in 2012 from The New School University in Culture and Media Studies, with a concentration in Cultural Studies and a minor in Journalism.  Sall is Founder and Editor-in-Chief of SUNU: Journal of African Affairs, Critical Thought + Aesthetics (SUNU Journal), a forthcoming publication seeking to amplify emerging voices and perspectives on matters and ideas concerning Africa and the Diaspora. From 2016 to 2017, she was a Part-time Lecturer in the Culture and Media Studies department of The New School University's Eugene Lang College, where she developed and taught two courses: Third Cinema & The Counter Narratives, and The African Gaze: Postcolonial Visual Culture of Africa & The Social Imagination. She is a 2016 Independent Curators International (ICI) + RAW Material Company Fellow.
With a keen interest in cultural studies, African affairs and artistic expression, Amy Sall is interested in the ways in which visual culture, literature, postcolonial and critical theory inform, shape and encourage contemporary discourses surrounding the socioeconomic, political and cultural. She consults for entities engaged in projects, programming, exhibitions, and/or research relating to contemporary African and Afro-diasporic visual culture (specifically photography and cinema). Her consulting also extends to projects and research centered on African/Afro-diasporic theory, literature and social science. Amy Sall is also a collector of vintage vernacular photography and printed matter coming from Africa and the diaspora (ca. 1950s – 1970s). These Pan-African artifacts are housed in her small, but growing private collection, The Sall Collection. The Sall Collection was established with the ideas of cultural preservation and cultural sovereignty in mind. Its existence serves as a means to maintain agency by pushing back against the neocolonial ways of archiving, collecting, and disseminating African/Black artifacts.
This exhibition is part of Punctures: Textiles in Digital and Material Time. Consisting of three exhibitions and public programs that weave into each other, Punctures features artists who are invested in the intersections and history of textile practices, media art, and critical and liberatory politics, including trans fashion and domesticity; gendered and immigrant labor under global racial capitalism; Gelede women's commemoration, protest and power as represented in textile work; speculative future-casting through Oglala Lakota knowledge systems, and more. The exhibition features installations by Betty Yu, Cecilia Vicuña, Charlie Best, Eniola Dawodu, Kite, and Sabrina Gschwandtner, performances by Charlie Best, Jodi Lynn Maracle, and Kite, and screenings of work by Jodie Mack, Pat Ferrero, Sabrina Gschwandtner, and Wang Bing. Punctures design by Kelly Walters.
Eniola Dawodu's exhibition is supported through a residency from the Creative Arts Initiative at the University at Buffalo. Creative Arts Initiative is a university-wide initiative, dedicated to the creation and production of new work upholding the highest artistic standards of excellence and fostering a complementary atmosphere of creative investigation and engagement among students, faculty, visiting artists, and the community.
Banner Image: Kite, Everything I Say Is True (2017). Courtesy of the artist.
Related Events