W. Michelle Harris. Flawless Ladies (2016). VJ set.
June 30–August 26
Opening: July 7, 6–9pm
Events: July 29, August 12, August 25
Featuring work by Morgan Arnett, Jason Bernagozzi, Charlie Best and Jaz Palermo, W. Michelle Harris, Kyla Kegler, Dana McKnight, Przemyslaw Moskal, Van Tran Nguyen, Elisa Peebles and the United Melanin Society, Carl Spartz, Kalpana Subramanian, and Tony Yanick.
How can the shape of a work be a site of resistance? How do collaborative practices inform our ideas of activism in art? What does it mean for resistance to happen in an exhibition context?
Squeaky Wheel's summer group exhibition features a number of artists aiming to take these questions to task, while asking their own. Comprised of installations, performances, single-screen video work, video games, locative sound and media pieces, the exhibition points to strictures and traumas that have roots far preceding our current political moment, while proposing visions, sounds, and networks for a future.
The opening on July 7 includes a screening program, a collaborative performance by Elisa Peebles and the United Melanin Society, and a VJ dance-party set by W. Michelle Harris.
The closing screening on August 25 will feature a 30 minute program with Morgan Arnett's Creature, Jason Bernagozzi I Believe It Is A Signal, Charlie Best and Jaz Palermo's Tale of the Androgyne, Kyla Kegler's Do You Think My Arms Are Too Big, Carl Spartz' CH 13, and Elisa Peebles' Home. The gallery will also be open for those wishing to see the exhibition.
Squeaky Wheel will also be releasing a video series of artist conversations throughout the exhibition.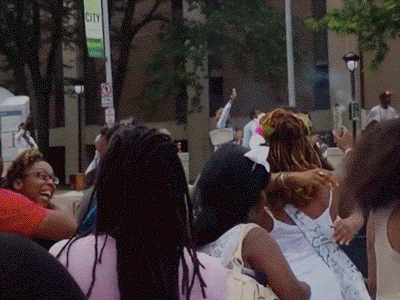 Event Program
Saturday, July 29, 3pm
Dislocations: A Sound Walk with Kalpana Subramanian
Artist Kalpana Subramanian will present a artist talk/screening at Squeaky Wheel, followed by a tour with the audience of the Allentown neighborhood where participants can experience her locative sound work Dislocations.
Saturday, August 12, 3pm
Ad Hoc Mobile Network Workshop with Tony Yanick
Artist Tony Yanick will lead a raspberry pi workshop on how participants can build their own local networks, while exploring how other artists and activists have utilized such structures and systems.
Friday, August 25, 7pm
Shape of a Pocket: Screening
The day preceding the closing of Shape of a Pocket will see a repeat of the screening that accompanies the exhibition, featuring work by Morgan Arnett, Jason Bernagozzi, Charlie Best and Jaz Palermo, Kyla Kegler, and Elisa Peebles.
---
The exhibition and opening reception are free and open to the general public. Squeaky Wheel's public hours are Tuesday–Saturday, 12–5pm.
For more information on our event programs, contact ekrem@squeaky.org or follow us on our website and social media.
Shape of a Pocket is curated by Squeaky Wheel curator Ekrem Serdar, in collaboration with jury members Amber Dennis (curator, The Schoolyard), John Massier (curator, Hallwalls Contemporary Arts Center), and Caitlin Margaret Coder (Squeaky Wheel Spring 2017 Curatorial Intern).
---
Biographies
Morgan Arnett was born in Pensacola, Florida and earned her Bachelor of Fine Arts in 2014 from the University of West Florida with a Presidential Talent Scholarship for Studio Art. She is a member of the College Arts Association, the Phi Kappa Phi Honors Society, and the Golden Key International Honors Society. She has worked collaboratively on a number of projects in her community and recently studied abroad in Beijing, China. She enjoys watching science fiction films, reading as many books as she has time to (especially short stories and horror novels), spending time near or in large bodies of water, and working in a notebook obsessively.
Jason Bernagozzi is a video, sound and new media artist living and working in upstate New York and is the co-founder of the experimental media arts non-profit Signal Culture. His work has been featured nationally and internationally at venues such as the European Media Arts Festival in Osnabruk, Germany, the LOOP Video Art Festival in Barcelona, Spain, the Beyond/In Western NY Biennial in Buffalo, NY, and the Yan Gerber International Arts Festival in Hebei Province, China. His work has received several awards including grants from the New York State Council for the Arts, free103point9 and the ARTS Council for the Southern Finger Lakes.
Jaz Palermo is a performance artist and gender illusionist working in western new york, in the realms of video and sound, and craft. Their work references high camp, theater, childhood, and memory in cathartic re-imaginings of life events and fantastical alter selves. When pressed for comment they said "I have chosen this dimension to spread the message of a future without bounds, museums without walls, and inter-galactic harmony, and you should consider yourself very lucky." Their work exists in the internet under various aliases of Jaz Palermo, Normie Neutro, and Teenie Hams. Charlie Best is a multi media artist from Western New York. They use sculpture, textiles, video, sound, illustration, and printmaking to make work that cannot exist without collaboration. In between spaces and beings become realized, often through performance, object making, and ongoing, interrupted projects. They believe that any act of our lives, if we do it consciously and concentratedly to cultivate a collaborative attitude of listening, is art. This is where the work begins, dynamic and collaborative in nature, balancing in fantasy and quotidian possibility. Their zines, prints, and fabric works are locally known and shared worldwide. Together, Charlie and Jaz form Chaz, a nonlinear, nonscheduled, nonbinary artist amalgamation. Chaz's performative practice involves live video processing, improvisation, the accordion, costume, glitter, poetry words, with the capacity to expand and exclude any material or process needed. Integral to Chaz's creative process is not knowing which bathroom to use. Though small, Chaz will grow up, someday.
W. Michelle Harris is a digital media artist who uses code as a medium for engaging discussions as a Black woman in American culture. Harris creates installations (often interactive) and produces live-mixed visuals for collaborative performances. Her elegant and playful artwork (solo and collaborative) has been shown at such diverse venues as the Rochester Fringe, Baobab Cultural Center, Syracuse Community Folk Art Center, INSTINT, ACM SIGGRAPH, and World Maker Faire. Harris has a computer engineering degree from Carnegie Mellon University and a master's degree from the Interactive Telecommunications Program of NYU's Tisch School of the Arts. She is an associate professor in the School of Interactive Games and Media at Rochester Institute of Technology.
Kyla Kegler: I am an artist currently based in Buffalo. My recent work is notably informed by a long-standing yoga, physical therapy and somatic research practice, a close involvement with the contemporary conceptual dance scene in Berlin, and an urgent relationship to art as my tool for socio-political activism and research. I choreograph artistic encounters that use time-based mediums such as video, sound, performance, instructionals, and installations, to facilitate tactile and sensual interactions.
Dana McKnight is a multidisciplinary Black/Queer Artist, Writer and the President/Founder of Dreamland Arts.
A native of Poland, Przemysław J. (P.J.) Moskal immigrated to the U.S. in 1990. In 2003 he graduated from Interactive Telecommunication Program at Tisch School of the Arts, New York University and began his career as a new media artist and consultant for a variety of non-profit and commercial projects. In 2011, he earned his Ph.D. in Film Art from The Cinematography and Television Production Department at The Lódź Film School in Poland under supervision of Prof. Stanisław Szymański. Dr. Moskal is an Associate Professor and director of the Digital Media Arts Program at Canisius College where he teaches courses in Interaction Design, Game Development and Animation as part of the Game Design concentration. His research and writing focus on design of interaction as a form of procedural rhetoric, procedural expressionism and artistic communication. Moskal's interactive, digital art works, which are both screen based and installations, have been recognized and exhibited in the U.S., France, Brazil, Thailand, Canada, Germany, U.K., Portugal, China and his native Poland. He received grants from New York State Council on the Arts, Lower Manhattan Cultural Council, and his exhibitions were supported by the Polish Ministry of Culture and National Heritage, U.S. Embassy in Warsaw, Adam Mickiewicz Institute, Art and Technology Foundation, New York Dance & Arts Innovations, Canisius College, Warsaw Academy of Fine Arts, New York University, Maria Curie-Skłodowska University in Lublin, among others. You can view Moskal's project on his website at http://www.laksom.com
Van Tran Nguyen is completing her Masters of Fine Arts and Emerging Practices at the State University of New York at Buffalo. She is the first Biological Art teaching assistant at COALESCE Center of Biological art, a facet of the GEM (Genome, Environment and Microbiome) group. She also earned her Bachelor of Art and Biology at the University at Buffalo. In the fall of 2017 she will continue her education at Rensselear Polytechnical Institute as a PhD student in the Philosophy of Electronic Art Program. Tran Nguyen has exhibited throughout New York and had participated in the New York State Summer School of the Arts. She was born in Ho Chi Minh City, Vietnam and her work investigates issues such as national identity and gender.
Elisa Peebles is an artist, activist and producer originally from the East Side of Buffalo, NY. After receiving a B.S. in Media, Culture and Communication Studies from New York University, Elisa has spent the past several years living, working and creating in Buffalo and New York City. Her most recent exhibition, Bodies of Light: Exit Strategy, at the gallery pop up Decolonize This Place, brought artists of color from both cities together around the themes of resistance and perseverance. Prior to this, Elisa created and co-directed the Buffalo Myth Project, and was a producer on the Sundance and SXSW – selected short Actresses, as well as several other independent and commercial short films. A hip-hop performer, Elisa was selected to perform at the Brooklyn Academy of Music's 2015 Everybooty Pride Festival. She uses music, film, audio and other methods of storytelling to contemplate issues around collective memory, urban development, social justice, and the intersection of race, gender and sexuality. Currently, Elisa is a producer of the satirical webseries Dark Justice.
Carl Spartz is a time-based media artist from West Texas currently based in Buffalo, New York. His work values fiction, anachronism, critical theory, and play in order to investigate mechanics of violence, labor, control, and autonomy. In the recent past, he has contributed to Land Arts of the American West, an interdisciplinary field research program through the TTU College of Architecture, as both a participant and assistant in 2011 and 2013. In 2015, he co-curated with Yvette Granata "working title," an exhibition of artists based on Lake Erie at the University at Buffalo Department of Art Gallery. In 2016, he participated in "With and Without the Other," a collaborative study exchange and exhibition with Sun Tianlong of Tsinghua University in Beijing. His solo graduate thesis exhibition, "The name Czolgosz offers a lingual problem to nine-tenths of those who attempt to pronounce it.," reimagined events surrounding the shooting of Pres. William McKinley by Leon Czolgosz at the 1901 Pan-American Exposition through a four chapter multimedia work installed on a vacant floor of a downtown Buffalo warehouse. He received a MFA from the University at Buffalo Department of Art in 2016, and a BFA from Texas Tech University School of Art in 2011.
Kalpana Subramanian is an artist-filmmaker and Ph.D candidate at the Department of Media Study at the State University of New York at Buffalo. Her current work focuses on experimentation with the moving image, and trans-media practices. She was awarded a Fulbright Nehru Academic and Professional Excellence Fellowship to pursue research on Stan Brakhage at the Film Studies Program at University of Colorado Boulder in 2015-16. She worked closely with visionary multimedia artist Ranjit Makkuni at Sacred World Research Laboratory on several interactive exhibits and museums. Her work has been screened and exhibited widely, including at the National Gallery of Modern Art & Prince of Wales Museum (Mumbai), National Museum (New Delhi), the Yamagata International Documentary Film Festival, Interfilm Berlin, Green Film Festival (Korea), the Big Ears Festival (Tennessee), among others. Portrait of Yvonne Lo in Assisi, a video installation won an audience award at the Documentary Festival of History and Archeology in Perugia, Italy in 2015. Subramanian has taught film and communication design at undergraduate level for over 10 years. She is also a published children's book author and western classical vocalist.
Tony Yanick is a philosopher, media-theorist, computer engineer, multimediaartist, and musician from the United States. He holds a Master of Science incomputer engineering with a concentration on mobile robotics and artificialintelligence, as well as an interdisciplinary Master of Arts in philosophy and world literature. He has spoken on philosophy, film, media, and technology internationally, and has his work shown in galleries in Prague, Vienna, New York City and Cleveland. Currently, he is working with internationally acclaimed filmmaker Robert Banks Jr. towards the completion of his very first feature-length film, Paper Shadows. Currently, he is developing an experimental methodology of science-fictional practices, expanding beyond its literary form (including speculative philosophy, "philo-fiction", and design fiction), and investigating the generic capacities of temporal displacement/disturbance, anachronistic temporalities, and narrative framing as a political-aesthetic strategy.
---
Squeaky Wheel Film & Media Art Center has a mission to continue a legacy of innovation in media arts through access, education, and exhibition. We envision a community that uses electronic media and film to celebrate freedom of expression and diversity of voice.