Saturday, March 10th
2pm-5pm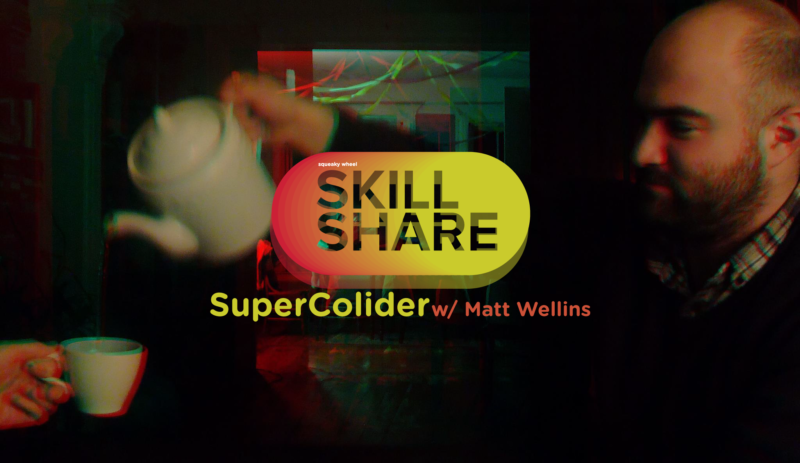 Join us for this Skill Share with Pittsburgh based musician Matt Wellins. Wellins will introduce participants to the open source and free software SuperCollider.
SuperCollider is an object-oriented programming language designed for real-time audio applications, such as algorithmic composition, live performance, and acoustic research. As it enters its 22nd year in existence, SuperCollider uniquely thrives in its strong, supportive internet community and the deep reserve of user-designed resources. Its built-in library gives users instant access to probabilistic forms of organization, unique oscillators and filters, and machine listening.
In this workshop, we will discuss and illustrate several examples of "live coding" – a way of engaging with software in a performative way or as a useful tool for sound-making at home. Students will leave with a comprehensive introduction to the environment, able to begin tackling their own projects, circumventing SuperCollider's somewhat challenging learning curve.
No prior knowledge of code is necessary, though some experience with electronic music is suggested.
Check out these other events Matt Wellins will be doing during his visit here in Buffalo:
Talk: Objects and Electronics
Thursday, March 8, 2018
Time: 12:15-1:15pm
Ciminelli Concert Hall – Rockwell Hall, 3rd Floor
[ Buffalo State College, Music Department, 1300 Elmwood Ave, Buffalo NY 14222 ] Free admission
Live Performance: Matt Wellins @ The Cass Project
Saturday, March 10, 2018
Time: 7-9pm
The Cass Project, in the Boiler Room, Myrtle & Hamburg
[500 Seneca St, Buffalo, NY 14204] Admission: $10-20 Sliding Scale
More information can be found at http://thecassproject.org/events/
This workshop is offered in collaboration with The Cass Project
 For information contact kevin@squeaky.org.