---

Squeaky Wheel has moved to the Tri-Main Center!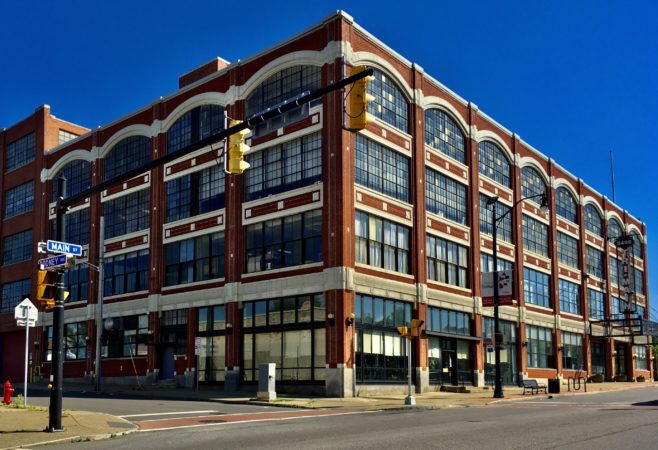 Squeaky Wheel has found a new home at the Tri-Main Center! Our new, larger space offers more flexibility to adapt to communities' needs, new partnerships with neighboring organizations, and greater accessibility for students, artists, and friends. The possibilities are endless!
Stay tuned for our re-opening date, and see our updated visit, transportation, and accessibility information below and on our Visit page.
Squeaky Wheel is located in the Tri-Main Center on 2495 Main Street, Suite 310. You can enter the Tri-Main Center from its main entrance on Halbert Street, parallel to Main Street. We are located in Suite 310, which you can find by taking the elevator in the lobby to the 3rd floor and walking left and following the signage on the walls.
Parking is available for visitors across from the Halbert Street entrance. The Tri-Main Center can be reached by taking the #8 bus, the Filmore-Hertel Bus, #23 Fillmore-Hertel bus, or via rail to the Amherst Station.
The Tri-Main Center has automated doors and lever handles. There is a dedicated lift for wheelchair users on the left when you enter, so you may avoid the stairs and continue to the elevator.
Right outside of Squeaky Wheel's suite are gender-segregated restrooms with accessible stalls. Inside Squeaky Wheel is a gender-inclusive restroom.
Please see individual program pages for additional access information, including virtual attendance options, ASL interpretation, CART, and more.
ArtsAccess Pass holders can gain free entry and request accessible transportation to and from Squeaky Wheel for events. Find out more about the ArtsAccess program, and how you can sign up, by clicking here. Note you must make transportation requests at least two weeks in advance. Click here to request transportation. You can also sign up to be an ArtsAccess pass holder at Squeaky Wheel. ArtsAccess is a program offered by Arts Services Initiative, and Squeaky Wheel is not responsible for the ArtsAccess program.
We expect all visitors, students, artists, instructors, staff, board members, and community members to abide by Squeaky Wheel's Community Guidelines.
Image: Tri-Main Center – fmr Ford Motor Company assembly plant, Trico Plant No. 2 – Buffalo, New York – 20200624 by Andre Carrotflower, licensed under Creative Commons Attribution-Share Alike 4.0 International. A photograph of the Tri-Main Center during the day. You can see four stories with large glass windows on each floor.