---

Worldline ⃝ Timeline
April 5, 2019 @ 7:00 pm

–

9:00 pm

EDT
With filmmaker Bryan Oliver Green in-person, and a live Skype performance by Dana McKnight
Friday, April 5, 7pm
$7 General / $5 Members / Free for ArtsAccess Pass holders
***A limited amount of free tickets for this screening will be set aside for members of the Black and indigenous community. Click here to claim your ticket.***

Squeaky Wheel presents an evening of films and performances that form a constellation of times and spaces outside of colonial thought. The screening features a live science-fiction Skype performance by artist Dana McKnight; Bryan Oliver Green's Recurrence Plot: The Family Circle (2018), adapted from a short story by Black Quantum Futurism's Rasheedah Phillips; Amanda Strong's Mia' (2015), a supernatural stop-motion film of a young Indigenous female street artist who finds ways to root herself within her ancestry; and concluding with John Akomfrah's essential 1996 film, The Last Angel of History, which examines the relationships between Pan-African culture, science fiction, intergalactic travel, and rapidly progressing computer technology. Join us for a special evening traveling through space and time, with visiting filmmaker Bryan Oliver Green in person.
This event is presented as part of the public programming accompanying Black Quantum Futurism: ON THE EDGE OF THE BUSH / A LONG WALK INTO THE UNKNOWN, on view at Squeaky Wheel, Jan 25–April 20, 2019. Special thanks to Vtape and Icarus Films.
Program

Mia' (Salmon)
Amanda Strong
8 min, digital, sound, 2015
A young Indigenous female street artist named Mia' walks through the city streets painting scenes rooted in the supernatural history of her people. Lacking cultural resources and familial connection within the city, she paints these images from intuition and blood memory. She has not heard the stories from her Elders lips, but has found her own methods to re-discover them. The alleyways become her sanctuary and secret gallery, and her art comes to life. Mia' is pulled into her own transformation via the vessel of a salmon. In the struggle to return home, she traverses through polluted waters and skies, witnessing various forms of industrial violence and imprint that have occurred upon the land.
Mia' is a hybrid documentary using animation and sound as a vehicle to tell the story of transformation and re-connection. Indigenous people in Canada experienced displacement once commercial trade turned into settlement. Today the urban population of Native people now outnumbers those living on-reserve. Many struggle being disconnected from their land, rites, and protocol. This film is not an adaptation or a re-telling of a traditional story but is based in the circular time of, and passage of, oral history. Mia' challenges the notions and format of conventional documentaries and presents Indigenous oral traditions as truth and not myth or legend. (Description courtesy of Vtape.)

Recurrence Plot: The Family Circle
Bryan Oliver Green, adapted from a short story by Rasheedah Phillips
16 min, digital, sound, 2018
A crystal, memory-storing bracelet transports a young mother back to the day of her own mother's traumatic death and challenges the notion that time flows in only one direction…
Untitled live skype performance
Dana McKnight
~10 min, 2019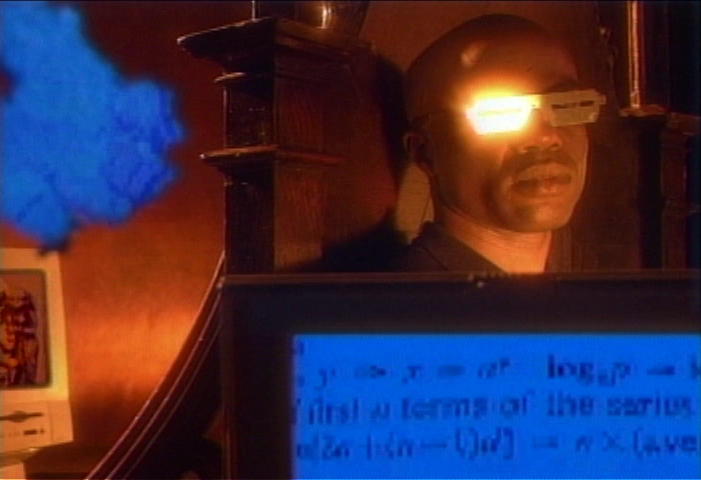 The Last Angel of History
John Akomfrah
45 min, digital, sound, 1996
John Akomfrah, director of Seven Songs of Malcolm X, returns with an engaging and searing examination of the hitherto unexplored relationships between Pan-African culture, science fiction, intergalactic travel, and rapidly progressing computer technology.
This cinematic essay posits science fiction (with tropes such as alien abduction, estrangement, and genetic engineering) as a metaphor for the Pan-African experience of forced displacement, cultural alienation, and otherness.
Akomfrah's analysis is rooted in an exploration of the cultural works of Pan-African artists, such as funkmaster George Clinton and his Mothership Connection, Sun Ra's use of extraterrestrial iconography, and the very explicit connection drawn between these issues in the writings of black science fiction authors Samuel R. Delaney and Octavia Butler.
Included are interviews with black cultural figures, from musicians DJ Spooky, Goldie, and Derek May, who discuss the importance of George Clinton to their own music, to George Clinton himself. Astronaut Dr. Bernard A. Harris Jr. describes his experiences as one of the first African-Americans in space, while Star Trek actress Nichelle Nichols tells of her campaign for a greater role for African-Americans in NASA. Novelist Ismael Reed and cultural critics Greg Tate and Kodwo Eshun tease out the parallels between black life and science fiction, while Delaney and Butler discuss the motivations behind their choice of the genre to express ideas about the black experience.
In keeping with the futuristic tenor of the film, the interviews are intercut with images of Pan-African life from different periods of history, jumping between time and space from the past to the future to the present, not unlike the mode of many rock videos or surfing the Internet.
Banner image: John Akomfrah, The Last Angel of History,1996. Courtesy of Icarus Films.
Related Events