Squeaky Wheel announces Summer Artists in Residence
July 19, 2022
Media Contact: Ekrem Serdar, ekrem@squeaky.org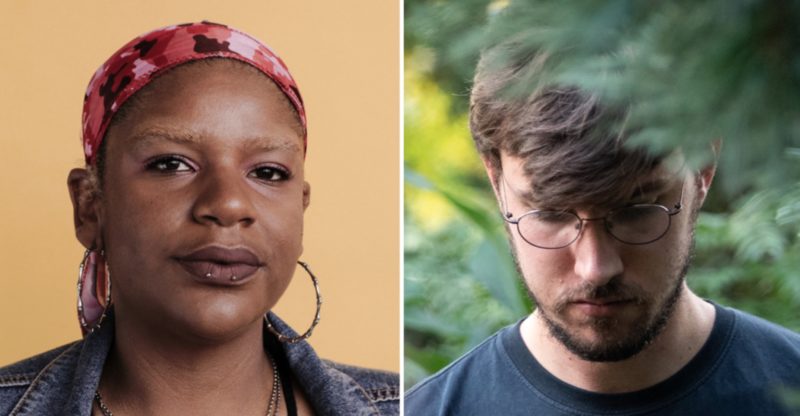 Two photographs side by side. On the left is Muse Dodd, a brown skinned, Black, non-binary person with blonde eyebrows, wears a red camo durag while gazing at the camera and stands in front of a mustard backdrop. Their photograph is by Landon Spears. On the right is a photograph of Rob Cosgrove, looking down surrounded by trees.
Muse Dodd and Robert Cosgrove will receive support for media arts projects and lead public events and workshops.
BUFFALO, NY — Squeaky Wheel is pleased to announce two awardees of the summer 2022 Workspace Residency. From August 13 through September 4, the residency will provide artists Muse Dodd (Atlanta, GA) and Rob Cosgrove (Sunnyside, NY) with a stipend, artist fees, accommodations and along with tailored access to equipment, technical and curatorial consultations towards their work on new and ongoing projects. 
Muse Dodd will be utilizing the facilities of Squeaky Wheel and our Workspace partner The Foundry to build models and sets for their installation and performance work Black in Both Directions that supposes that Black people invented time travel. Their project will utilize projection mapping, draw on Afro-diasporic notions of time using oral testimonies, and images created by the artist and archival video footage. Rob Cosgrove will be utilizing the space and resonance of Silo City to work on Floaters, a networked sonic performance in Silo City Marine A, performed live for the public at the end of his residency. Inspired by the floating grain elevators used in the First Ward of Buffalo, and drawing on the artist's own family history in the area, Cosgrove's work contemplates the shifting networked relationship between the industrial and social communities in one of the city's oldest neighborhoods. Panelists for this session of the residency were Anna Chiaretta Lavatelli, Olivia Ong Evans, and Zainab Saleh. Biographies of the residents and panelists can be found below.
The public will have the opportunity to engage with the residents on four occasions. On Wednesday, August 17, 6 pm, Rob Cosgrove will lead Sonic Links: An Introduction to Networked Performance, a workshop on how to utilize the internet and other networks for sound production. On Friday, August 19, 7 pm, both artists will participate in Meet the Residents where they will present on their past and ongoing projects. On Tuesday, August 23, 6 pm, Muse Dodd will lead (Re)mnants: The Anatomy of Memory, a skill-share to explore Black people's relationship to memory and time focusing on alternative ways of knowing through Dodd's own practice. Finally, on Saturday, September 3, 5– 8 pm at Silo City, Rob Cosgrove will perform Floaters. All events are free and in-person; the Meet the Residents event will also be available virtually. 
Squeaky Wheel's Workspace Residency is a residency open to artists and researchers working in art and technology, and provides support for new or ongoing projects in collaboration with our partners. Workspace Residency is supported by generous support by the Andy Warhol Foundation for the Visual Arts, County of Erie and County Executive Mark Poloncarz, the National Endowment for the Arts, New York State Council on the Arts with the support of the office of governor and the New York State Legislature, and individual members, businesses, and supporters. 
Biographies of the residents
Muse Dodd (They/Them) is an Anti-disciplinary Artist, Curator and DJ from Severn, MD based in Atlanta. Their work centers on the questions, How do you remember and what do you choose to forget? Through the act of remembering, Muse uses their body to map the lived experience of Africans in America. Muse channels trauma to connect with, process and alchemize pain; both personal and collective through movement, ritual and collective dreaming. Muse holds a BA in Film Production from Howard University and studied at the Film Academy in Prague. Muse was a 2020 Corrina Mehiel fellow and a 2019-2020 Leslie Lohman Museum Artist Fellow and was the 2019 DCAC Curatorial Fellow. A former Artist-in-Residence at the Flux Factory, they were also a 2018 Artist-in-Residence at the ARoS Museum in Denmark. Muse video work has been commissioned for performances at The Shed, Mabou Mines Theater, and Dixon Place. Muse has also screened and exhibited work at Lincoln Center, The BWI Marshall Airport, Prince George's African American Museum and Cultural Center, The DC Arts Center, and The Flux Factory. Through their work, Muse hopes to create space for Black bodies to be free, if only for a frame. 
Rob Cosgrove is a percussionist, composer, and artist interested in creating embodied sounding through intermedia installations and performances. His works explore the feeling of a sound as a tactile, visual, and visceral entity by investigating the peripheries of sonic experience and the ways these contexts affect our perception. Rob has exhibited / performed at Pioneer Works (Brooklyn), Harvestworks (Manhattan), Chicago Design Museum (Chicago), National Gallery of Art (Washington D.C.), Coaxial (Los Angeles), Eastern Bloc (Montréal), DOX Centre for Contemporary Art (Prague), and KM28 (Berlin). Rob is a member of Ensemble Decipher and most recently completed residencies at Practice Gallery (Philadelphia) and the Experimental Media and Performing Arts Center (Troy).
Biographies of the panelists
Anna Chiaretta Lavatelli is an artist-filmmaker seeking to unravel established systems of seeing through the gaze, performativity, movement, and stillness. Lavatelli holds a Master of Fine Arts in Visual Arts from the University of California San Diego, and a Bachelor's degree in Media Studies from the University at Buffalo. She attended the Skowhegan School of Painting and Sculpture, and has shown work internationally in screenings and galleries. She also produces short documentaries with and about artists and their practice; and builds inclusive digital experiences to spark new ways of seeing. Anna is proud to serve on the board of Squeaky Wheel.
Olivia Ong Evans (she/her/hers) is an artist living in Western New York on occupied Hodinöhsö:ni' land. Her video art often explores themes of identity construction, migration, connection to land, and Hokkien Indonesian heritage through glitchy, distorted visuals.  As a 2021 Workspace Resident she worked on a video project called Identity Karma which premiered at the 2022 Onion City Experimental Film + Video Festival.
Zainab Saleh is the Executive Director of Squeaky Wheel. She has worked as a writer, curator, and community organizer in and around Buffalo, N.Y. for the past decade. She​ received her BA in English from Mount Holyoke College and MA in Visual and Cultural Studies from the University of Rochester. As a curator and programmer, she has organized visual arts and time-based media exhibitions at the Hartnett Gallery at the University of Rochester, Buffalo Arts Studio, and the Burchfield Penney Art Center. During her graduate studies, she co-founded "On Film," a film series exhibiting rarely-seen work in their original formats. In Buffalo, Saleh has extensive nonprofit experience in both arts and social justice organizations. Through her work at Partnership for the Public Good and Frontline Arts Buffalo, she has been actively involved in the fight for equal opportunity and representational justice for artists of color and those from frontline communities.