Squeaky Wheel Film & Media Art Center is pleased to announce its Workspace Residents for Spring 2020. This March, we will welcome two residents for a two week period during which the artists will be given time and resources to develop works-in-progress and new projects. The residency will provide Caleb Abrams and Saif Alsaegh with a stipend, artist fees, travel and housing support, along with tailored access to equipment, technical consultations, and facilities at Squeaky Wheel.
During their residency, artist resident Caleb Abrams will be working on The Burning of My Coldspring Home, an adaptation of a short story by Seneca Elder Stephen Gordon regarding the forced relocation of the Seneca people following the building of the Kinzua dam along the Allegheny River. Saif Alsaegh will be working on his film Departure, titled after a poem by Arthur Rimbaud, which examines the idea of foreignness as it relates to the filmmakers past as an Baghdad-born filmmaker living in California.
The public will have the opportunity to engage with the residents on three occasions. On March 11, 7pm Caleb Abrams will deliver a workshop and seminar on Representation in Filmmaking, exploring the ethical questions that can arise when producing documentary films; on March 17 and 19, from 4:30–5:30 pm, Saif Alsaegh will lead youth workshops on non-fiction poetics at Just Buffalo Literary Center, drawing from the artists experience as a poet and filmmaker; finally, on March 20, 7 pm, both residents will participate in Meet the Residents, an evening of artist talks where Abrams and Alsaegh will present their ongoing projects. All three events are free to the public.
Workspace Residency is supported by generous support by the County of Erie and County Executive Mark Poloncarz, the National Endowment for the Arts, New York State Council on the Arts with the support of Governor Andrew M. Cuomo and the New York State Legislature, the Andy Warhol Foundation for Visual Arts, and individual members, businesses, and supporters. The Spring 2020 session is presented in collaboration with Just Buffalo Literary Center and sponsored by Hostel Buffalo-Niagara. The Spring 2020 residency was juried by Caitlin Blue, Kalpana Subramanian, and Mark Longolucco. Biographies of the residents, and of the jury can be found below. More information about the program can be found at squeaky.org/workspace.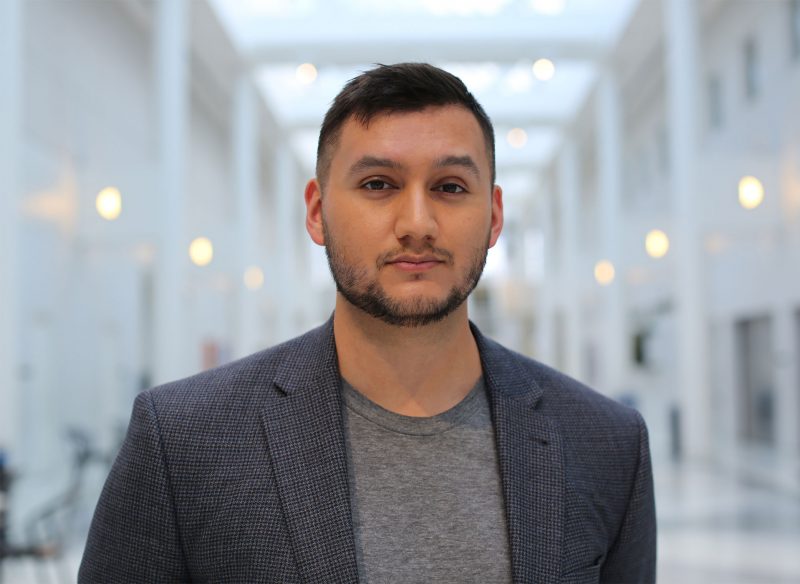 Caleb G. Abrams is an Onöndowa'ga:' (Seneca) filmmaker and multimedia artist based out of what is currently considered Buffalo, New York. Raised on the Seneca's Allegany Territory, much of his work emerges from the social, historical, and cultural background of the Seneca. Abrams has written and produced multiple independent short films and videos for the Seneca Nation, Seneca-Iroquois National Museum/Onöhsagwë:dé Cultural Center, and Odawi Law PLLC. He has also produced work in collaboration with PBS-WNED-TV, Vision Maker Media, Skipping Stone Pictures, and Toward Castle Films. Lake of Betrayal (2017), the award-winning national public television documentary on which Abrams served as the associate producer, examines the impact of the Kinzua Dam on the Seneca Nation – a topic much of his work has explored. Abrams' films have been presented at universities, historical societies, libraries, museums, high schools, and community and cultural resource organizations throughout Haudenosaunee Territory and the Northeast.
Saif Alsaegh is a United States-based filmmaker from Baghdad. Much of Saif's work deals with the contrast between the landscape of his youth in Baghdad growing up as part of the Chaldean minority in the nineties and early 2000s, and the U.S. landscape where he currently lives. His films have screened in many festivals including Cinema du Reel, Kruzfilm Festival Hamburg, Kasseler Dokfest, Onion City Film Festival and in galleries and museums including the Wisconsin Triennial at MMoCA. He earned his MFA in filmmaking at the University of Wisconsin-Milwaukee.
---
Spring 2020 Workspace Jury
As a historian and researcher, Caitlin Blue is focused on making history accessible to the public. Her interests include interactions between Indigenous and Black people during slavery and post-emancipation and the African Diaspora in Early Modern Europe. Caitlin is currently a full-time masters student in the History department at the University at Buffalo. She is also an Arthur Schomburg Fellowship recipient. She hopes to go on to either get her PhD to become a professor or work in a museum setting as a Public Historian.
Kalpana Subramanian is an artist-filmmaker, educator and a Ph.D. candidate at the department of Media Study, University at Buffalo. Her short films have been screened at festivals worldwide and have received various honors. Her recent films include the series Light Mediated: Eyes on Brakhage (2016), Tattva (2018) and Choreography for Disembodiment (2019). She was a Fulbright Nehru Academic and Professional and Excellence Fellow at the University of Boulder Colorado in 2015-16 and a UK Environmental Film Fellow in 2006. www.kalpanasubramanian.com
Mark Longolucco has been the Technical Director at Squeaky Wheel for 8 years, overseeing the equipment rental program, the maintenance of lab facilities, and installation. He instructs various Squeaky Wheel workshops and tutorials, including topics in video production, video editing, and sound recording. He received his BFA from Alfred University in video and sound. Mark continues to make media-based works centered around folk artist storytelling and the elusive nature of the contemporary fact.