Squeaky Wheel Film & Media Arts Center Announces Zainab Saleh As New Executive Director
Media contact:
Carl Lee / cl62@buffalo.edu
Squeaky Wheel President, Board of Directors
(716) 462-3173
For a PDF of this announcement and high-quality images, click here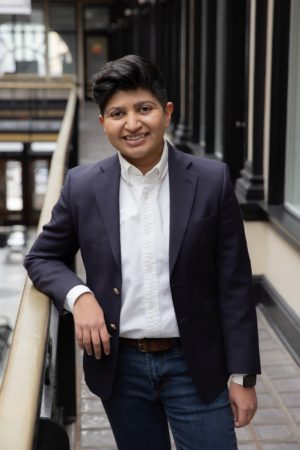 Squeaky Wheel Film & Media Arts Center is excited to announce the appointment of Zainab Saleh as the organization's new executive director. Saleh comes to Squeaky Wheel with a background of scholarship in media history and theory, essential experience in leadership, development, and community-building roles at multiple non-profit arts organizations, and a commitment to social justice that meshes strongly with Squeaky Wheel's mission. Saleh will continue the stellar leadership legacy of outgoing executive director, Maiko Tanaka.
Born in Dubai, Saleh completed her MA in Visual and Cultural Studies at the University of Rochester with a focus on contemporary film and art in the Middle East. During her studies, Saleh co-founded and curated the highly lauded series On Film which ran for 6 years and presented works in their original medium (including 16 and 35mm formats). In 2021 she co-curated the widely acclaimed group exhibition Making Strange at the Burchfield Penney Arts Center which showcased the work of emerging WNY artists and filmmakers and their responses to social and political unrest amidst a continuing pandemic. Additionally, Saleh is currently curating the Shirley Chisholm Commemorative Sculpture at the Forest Lawn Cemetery in Buffalo sponsored by Senator Sean Ryan to be installed late 2022.
Saleh moved to Buffalo to join Buffalo Arts Studio as the Marketing and Community Development Coordinator building strong relationships with artists, administrators, and other arts organizations throughout Western New York. While at Buffalo Arts Studio, she participated in every facet of exhibition management including artist interviews, art installation, guest services, and curatorial writing. Her recent positions at the Partnership for the Public Good as Program Coordinator and at Open Buffalo as Data Specialist provide an excellent foundation upon which to grow Squeaky Wheel's commitment to social justice and equity. Saleh's passion for arts access and equity is also reflected in her work with Frontline Arts Buffalo, a grassroots coalition that advocates for equitable funding for the arts in Buffalo. Through Saleh's concerted efforts, Frontline Arts Buffalo secured a commitment of $2.5 million from the City of Buffalo's share in federal stimulus funding as seed money for frontline artists and arts organizations to build capacity and sustainability.
"Squeaky Wheel continues to have its finger on the pulse of our most pressing cultural and political conversations," says Saleh. "I'm excited to join the organization at such a historic time—we are at once grappling with what the past couple of years have wrought on Buffalo's arts ecosystem while looking to the arts to offer possibility and change. I'm looking forward in particular to working with partners, media artists, and audiences to strengthen community engagement and build authentic relationships."
"We are especially energized by Saleh's outstanding research and advocacy work around arts access and equity, which we see as the cornerstone of Squeaky Wheel's programming and services," says board member and chair of the search committee, Dillon Joseph.
As Saleh begins her stewardship at Squeaky Wheel, she looks forward to reconnecting with Squeaky's creative community in person while also cultivating the new connections made during remote operations. She is excited to expand on Squeaky Wheel's progress at the forefront of media arts access, education, and exhibition in Western New York and to continue the work of building an equitable, diverse, and intergenerational media arts community.
Zainab Saleh's Bio
Zainab Saleh has worked as a writer, curator, and community organizer in and around  Buffalo, N.Y. for the past decade. She​ received her BA in English from Mount Holyoke College and MA in Visual and Cultural Studies from the University of Rochester. As a curator and programmer, she has organized visual arts and time-based media exhibitions at the Hartnett Gallery at the University of Rochester, Buffalo Arts Studio, and the Burchfield Penney Art Center. During her graduate studies, she co-founded "On Film," a film series exhibiting rarely-seen work in their original formats. In Buffalo, Saleh has extensive nonprofit experience in both arts and social justice organizations. Through her work at Partnership for the Public Good and Frontline Arts Buffalo, she has been actively involved in the fight for equal opportunity and representational justice for artists of color and those from frontline communities. Saleh was a Flaherty Seminar Fellow in 2015.
About Squeaky Wheel
Squeaky Wheel Film & Media Art Center has a mission to continue a legacy of innovation in media arts through access, education, and exhibition. We envision a community that uses electronic media and film to celebrate freedom of expression and diversity of voice. Squeaky Wheel is guided by core values including: Creativity & Experimentation: We embrace experimentation as essential to the creative process; Media & Digital Literacy: We engage individuals with technical and critical approaches to film and digital media technologies at every level of need and knowledge; Community Engagement & Collaboration: We connect communities, local and international, as both a leader and a partner with artists, educators, schools, and community groups; Equal Access: We actively remove barriers that can prevent access to our programs by offering programs with free and affordable tuition, free and low-cost admission to events, and work trade/volunteer/internships opportunities. We are the only nonprofit in Western NY with an inclusive roster of education, equipment access, and exhibition programming dedicated to film and digital media arts. For more information, visit squeaky.org.