Past Workspace Residents
Summer 2022 Residents
Panel: Anna Chiaretta Lavatelli, Olivia Ong Evans, and Zainab Saleh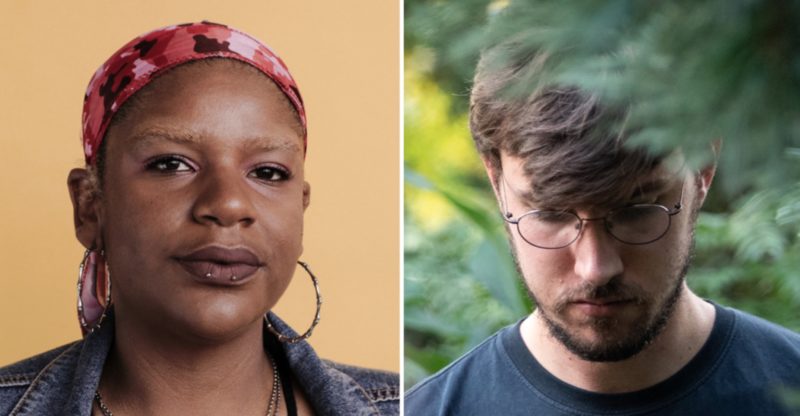 Muse Dodd (They/Them) is an Anti-disciplinary Artist, Curator and DJ from Severn, MD based in Atlanta. Their work centers on the questions, How do you remember and what do you choose to forget? Through the act of remembering, Muse uses their body to map the lived experience of Africans in America. Muse channels trauma to connect with, process and alchemize pain; both personal and collective through movement, ritual and collective dreaming. Muse holds a BA in Film Production from Howard University and studied at the Film Academy in Prague. Muse was a 2020 Corrina Mehiel fellow and a 2019-2020 Leslie Lohman Museum Artist Fellow and was the 2019 DCAC Curatorial Fellow. A former Artist-in-Residence at the Flux Factory, they were also a 2018 Artist-in-Residence at the ARoS Museum in Denmark. Muse video work has been commissioned for performances at The Shed, Mabou Mines Theater, and Dixon Place. Muse has also screened and exhibited work at Lincoln Center, The BWI Marshall Airport, Prince George's African American Museum and Cultural Center, The DC Arts Center, and The Flux Factory. Through their work, Muse hopes to create space for Black bodies to be free, if only for a frame.
Rob Cosgrove is a percussionist, composer, and artist interested in creating embodied sounding through intermedia installations and performances. His works explore the feeling of a sound as a tactile, visual, and visceral entity by investigating the peripheries of sonic experience and the ways these contexts affect our perception. Rob has exhibited / performed at Pioneer Works (Brooklyn), Harvestworks (Manhattan), Chicago Design Museum (Chicago), National Gallery of Art (Washington D.C.), Coaxial (Los Angeles), Eastern Bloc (Montréal), DOX Centre for Contemporary Art (Prague), and KM28 (Berlin). Rob is a member of Ensemble Decipher and most recently completed residencies at Practice Gallery (Philadelphia) and the Experimental Media and Performing Arts Center (Troy).
Spring 2022 Residents
Panel: Dana McKnight, Jenson Leonard, Nyles Moore
Carlos Castellanos is an interdisciplinary artist and researcher with a wide array of interests such as cybernetics, ecology, embodiment, phenomenology, artificial intelligence and transdisciplinary collaboration. His work bridges science, technology, education and the arts, developing a network of creative interaction with living systems, the natural environment and emerging technologies. His artworks have been exhibited at local, national and international events such as the International Symposium of Electronic Art (ISEA), SIGGRAPH & ZERO1 San Jose. Castellanos is Assistant Professor at the School of Interactive Games & Media (IGM), Rochester Institute of Technology. He holds a Ph.D. from the School of Interactive Arts and Technology (SIAT), Simon Fraser University and an MFA from the CADRE Laboratory for New Media, San Jose State University.
Zain Alam is an artist and musician of Indian-Pakistani origin based in Brooklyn, NY. Described as "a unique intersection, merging the cinematic formality of Bollywood and geometric repetition of Islamic art," his recording project Humeysha began during his year working as an oral historian for the 1947 Partition Archive. His work is a project of translation using contemporary pop forms, found sound, and oral history as means of investigating one's position in an outside tradition or community.
Alam's practice extends his sonic vision into video, performance, and writing. His works are braided together by a passion for the borrowed voice, re/de-contextualization, and bricolage — for how a personal mosaic of sound can empower minority and marginalized to engage in self-creation on their own terms. His essays have been published in Miami Rail, Buzzfeed, and The New Yorker, and Humeysha has been covered by the New York Times, Vice, and Village Voice. His performances have been staged at venues including Public Arts, Webster Hall, and the Historical Society of Pennsylvania. Alam has most recently completed fellowships with Bruce High Quality Foundation, Marble House, and South Asian American Digital Archive.
Summer 2021 Residents
Panel: Elizabeth Tannie Lewin, Kyla Gordon, Tabia Lewis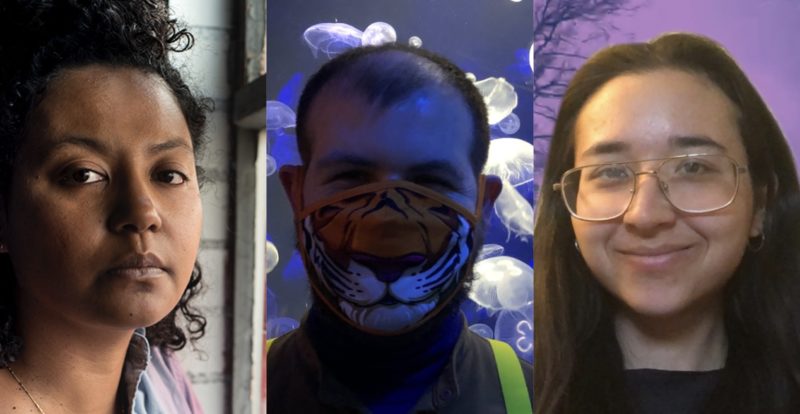 Crystal Z Campbell is a multidisciplinary artist, experimental filmmaker, and writer of Black, Filipino, and Chinese descents. Campbell finds complexity in public secrets—rumored information known by many but undertold or unspoken. Recent works revisit questions of immortality and medical ethics with Henrietta Lacks's "immortal" cell line, ponder the role of a political monument and displacement in a Swedish coastal landscape, and salvage a 35mm film from a demolished Black activist theater in Brooklyn as a relic of gentrification. Campbell is a Harvard Radcliffe Film Study Center & David and Roberta Logie Fellow (2020-2021) living and working in Oklahoma, and founder of archiveacts.com. Campbell was recently named a 2021 Guggenheim Fellow in Fine Arts.
Jordan Lord is a filmmaker, writer, and artist, working primarily in video, text, and performance. Their work addresses the relationships between historical and emotional debts, framing and support, access and documentary. Their video and performance work has been shown internationally at venues including MoMA, ARGOS, Camden Arts Centre, Elizabeth Foundation for the Arts, and Performance Space NY (as part of the festival "I wanna be with you everywhere"). Their exhibition "Prophetic Memory" is currently in-progress online and at various sites via Artists Space (New York, NY). They teach at Hunter College, CUNY (New York).
Olivia Ong Evans (she/her/hers) is a video artist currently living on occupied Haudenosaunee land (Western New York). She uses experimental practices to create glitchy, distorted visuals that explore positionality.  Her work centers on themes of identity construction, migration, connection to land, and Hokkien Indonesian heritage.
Spring 2021 Residents
Panel: Ekrem Serdar, Kyla Gordon, Mark Longolucco
Hanae Utamura is a Japanese visual artist based in Buffalo, New York. Utamura's media include video, performance, installation, and sculpture. Negotiations and conflicts between the human and earth, and how all the varieties of the wills of life manifest, have been the central focus of her practice. She has been awarded Shiseido Art Egg Award, Art Omi residency, the Pola Art Foundation, UNESCO-Aschberg Bursary Award, and Axis/Florence Trust Award. She was a visiting scholar at New York University in 2019-2020, supported by Japanese Ministry of Culture, Japanese government as a part of Japan – United States Exchange Friendship Program in the Art.
Jacob Nelsen-Epstein is a Buffalo based performer, software developer and multi-media artist specializing in works contemplating the intersections of technology, longevity, and consumer culture. He is attending SUNY Buffalo's Library/Information Science graduate program, and has a background in media studies. Jacob has received awards working with the Institute for Aesthetic Modulation, for choreographed performances involving monster costumes made from reclaimed e-waste. Jacob has also won awards for musical submissions to Re/Mixed Media Festival, with media features in Do Androids Dance and Vice Magazine. Other previous works include attempts to physicalize software, by visualizing compiled code as printed images.
Summer 2020 Residents
Panel: Ekrem Serdar, Liz Park, Martina LaVallo
Emily Watlington is assistant editor at Art in America. She writes about contemporary art—primarily video—often through the lenses of feminism and disability justice. A Fulbright scholar with a master's degree from MIT in the history, theory, and criticism of architecture and art, she has held curatorial positions at the MIT List Visual Arts Center and MassArt's Bakalar and Paine Galleries (now the MassArt Art Museum). Her writing has appeared in publications such as Artforum, Mousse, and Frieze, and she has contributed to numerous books and exhibition catalogues, including Before Projection: Video Sculpture 1974–1995 (2018), An Inventory of Shimmers: Objects of Intimacy in Contemporary Art (2017), and Independent Female Filmmakers (Routledge, 2018).
Eric Barry Drasin is a research-based artist exploring the relationship between art and systems of value. Through emerging blockchain technologies, his current research explores "distributed" processes, objects, and organizations that problematize and reprogram fundamental assumptions about how value is constructed and disseminated.
Using contracts and legal frameworks as a platform for enacting collectivity, his work injects cooperation and utopian absurdity into systems designed to consolidate power. The notion of the art object is rematerialized in digital space and expanded to engage notions of cultural production and collective agency. Value is thus performed as a form of disruption, and capitalism itself is the terrain for the refiguration of the economic landscape.
Jenson Leonard
My practice involves the intersection of poetry, conceptual art, and internet memes. Not unlike the earliest forms of oral poetry, memes transmit our cultural memory. I scour the web for these preserves…the copies and reproductions of our collective digital id, dragging and dropping(sculpting) my findings into the Adobe Suite to create a bricolage of text and image that call into question notions of identity and empire. I chart an internet psychogeography that questions the sensorial exhaustiveness of audiovisual capitalism–An art that, in the framework of predictive algorithms and data extractions attempts intervention within the infrastructure of social media.
Johann Diedrick is a Caribbean-American artist who makes installations, performances, and sculptures that allow you to explore the world through your ears. He surfaces vibratory histories of past interactions inscribed in material and embedded in space, peeling back sonic layers to reveal hidden memories and untold stories. He shares his tools and techniques through listening tours, workshops, and open-source hardware/software. He is currently a Spring 2020 technology artist-in-residence at Pioneer Works and a recipient of a 2020 Brooklyn Arts Fund grant from the Brooklyn Arts Council. Along with receiving an Asian Cultural Council grant, his work has been featured in Wire Magazine, Musicworks Magazine, and presented at MoMA PS1 (in collaboration with Jonathan González), Somerset House (London, UK), Social Kitchen (Kyoto, Japan), Common Ground (Berlin, Germany), Recess (Brooklyn, NY), Knockdown Center (Queens, NY), and Pioneer Works (Brooklyn, NY).
Spring 2020 Residents
Panel: Caitlin Blue, Kalpana Subramanian, Mark Longolucco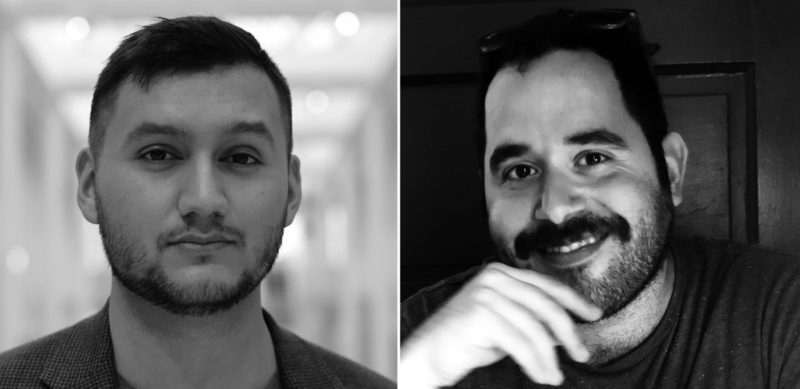 Caleb G. Abrams is an Onöndowa'ga:' (Seneca) filmmaker and multimedia artist based out of what is currently considered Buffalo, New York. Raised on the Seneca's Allegany Territory, much of his work emerges from the social, historical, and cultural background of the Seneca. Abrams has written and produced multiple independent short films and videos for the Seneca Nation, Seneca-Iroquois National Museum/Onöhsagwë:dé Cultural Center, and Odawi Law PLLC. He has also produced work in collaboration with PBS-WNED-TV, Vision Maker Media, Skipping Stone Pictures, and Toward Castle Films. Lake of Betrayal (2017), the award-winning national public television documentary on which Abrams served as the associate producer, examines the impact of the Kinzua Dam on the Seneca Nation – a topic much of his work has explored. Abrams' films have been presented at universities, historical societies, libraries, museums, high schools, and community and cultural resource organizations throughout Haudenosaunee Territory and the Northeast.
Saif Alsaegh is a United States-based filmmaker from Baghdad. Much of Saif's work deals with the contrast between the landscape of his youth in Baghdad growing up as part of the Chaldean minority in the nineties and early 2000s, and the U.S. landscape where he currently lives. His films have screened in many festivals including Cinema du Reel, Kruzfilm Festival Hamburg, Kasseler Dokfest, Onion City Film Festival and in galleries and museums including the Wisconsin Triennial at MMoCA. He earned his MFA in filmmaking at the University of Wisconsin-Milwaukee.
Summer 2019 Residents
Panel: Carl Lee, Jasmina Tumbas, Kevin Kline
Dana T McKnight is a black, queer, multimedia artist currently residing in Austin, TX. Blending formal studies in Cultural Anthropology (Long Island University, 2005) and Sculpture (Minerva Kunst Akademie, Groningen NL) her work lies in a plethora of medium splicing: speculative fiction, sculpture, installation, experimental sound and video, performance art, poetry and painting. At the core of Dana McKnight's work lies a surrealist edge—the real world slowly picked apart through a lens tinted by magical realism and lived experience. Dana McKnight is a founder of Dreamland Art Gallery, an artist-run contemporary arts and performance space in Buffalo, NY, and a Co-Creator for RIQSE (Radical Inclusive Queer Sex Education). In 2016, she was selected as a Living Legacy Artist by the Burchfield Penney Art Center. She is hood-raised, but spent several years living in London, Kyoto, and Groningen (NL) and travels extensively.
Dessane Lopez Cassell is a curator, writer, and film programmer based in New York. She has held curatorial positions at the Studio Museum in Harlem, The Museum of Modern Art, and the Allen Memorial Art Museum. A former US Fulbright fellow, Cassell has organized curatorial projects and screenings for Flaherty NYC, Brooklyn Academy of Music (BAM), MoMA Film, and the Allen. Her writing has been published and is forthcoming in catalogs issued by the Whitney Museum of American Art, the Studio Museum, MoMA, and Experiments in Cinema. Cassell has produced podcast and radio projects for Bay FM and Creative X (both South Africa), and Roskilde Festival (Denmark), and she is a 2019 Advisory Committee member at UnionDocs, in Brooklyn. Her research interests include experimental film, contemporary practices that draw upon the archival, and investigations of race, gender, and representation. Photo credit: Henry Murphy.
Born and raised in what is currently considered Buffalo, NY, Jodi Lynn Maracle is a Kanien'keha:ka mother, artist, teacher and language learner. Jodi utilizes Haudenosaunee material language and techniques, such as hand tanning deer hides, and corn husk twining, in conversation with sound scapes, projections, video, and performance to interrogate questions of place, power, erasure, story making, and responsibility to the land. She has shown her work throughout Dish With One Spoon Territory in site specific installation performances such as the Mush Hole Project at the defunct Mohawk Institute Residential School (home of the Woodland Cultural Centre) in Brantford, ON, as well as the Gardiner Museum in Toronto, ON, Artpark in Lewiston, NY, and Squeaky Wheel Film and Media Art Center, in Buffalo, NY. Her research as a PhD student at the University at Buffalo focuses on Haudenosaunee material culture, language, land and birth practices. Of her accomplishments, she is most proud to hear her son speak his Mohawk language each day.
Spring 2019 Residents
Panel: Caroline Doherty, Maiko Tanaka, Savion "Ineil Quaran" Mingo
Alison Nguyen is a New York-based artist working in video and installation. She received her B.A from Brown University, Providence, RI. Nguyen's work has been screened at Ann Arbor Film Festival, True/False Film Festival, Crossroads presented by SF Cinematheque/SF MoMA, San Diego Underground Film Festival, Microscope Gallery, Tai Kwun Contemporary, Leeds International Film Festival, Unseen Film Festival, L'Alternativa, Marfa Film Festival, San Francisco Art Book Fair at Minnesota Street Projects, Traverse Vidéo, Palace Film Festival, Outpost Artists, and Zumzeig Cine. Her work has been exhibited at Centre Des Arts Actuels Skol, The University of Oklahoma, BOSI Contemporary, and Satellite Art Show, Miami. She has participated in group performances at The Whitney Museum of Art: Dreamlands Expanded, The Parrish Museum, and Mana Contemporary (in collaboration with Optipus). Nguyen has received residencies and fellowships from the International Studio & Curatorial Program, The Institute of Electronic Arts, BRIC, Signal Culture, and Vermont Studio Center. She has been awarded grants from NYSCA and The New York Community Trust.
Summer 2018 Residents
Panel: Nitasha Dhillon, Bryan Lee, Mark Longolucco
Avye Alexandres was born in Athens, Greece, and moved to the United States at the age of six. Her multidisciplinary art practice, which investigates the psychosocial ramifications of structures and space, stems from her background in photography and theatre. Evolving from site-based performances her work now encompasses immersive sculpture, locative media, experimental digital narratives, conceptual works, photography and video, as well as participatory experiences and installations. In 2015, she received her MFA in Art and Emerging Practices from the University at Buffalo, and has exhibited at venues such as the Burchfield Penney Art Center, The Soap Factory, IFP-MN Center for Media Arts, and the Weismann Art Museum.
Devin Hentz is a researcher and writer based in Dakar, Senegal. She recently participated in the second session of the RAW Academie, directed by Chimurenga, at RAW Material Company before working there as a librarian and researcher. She is the founder of the B/Look Club which meets once per month to activate the archive of RAW Base (RAW's Library). Her writings have been published in LESS Magazine and the upcoming issue of Something We Africans Got. Her areas of interests include, Afro/African futures, development narratives in Africa, dress practices, and radical pedagogy.
Emily Martinez is a new media artist, front-end developer, digital strategist, educator, and serial collaborator. She believes in the tactical misuse of technology, and makes artworks that take on the sharing economy, digital labor struggles, algorithmic bias, surveillance capitalism, crypto colonialism, tech bros, and tech culture at large. Emily's art and research has been published in Leonardo Journal (MIT Press), Entreprecariat (Institute of Network Cultures), Temporary Art Review, and Filmmaker Magazine. She has exhibited at The Wrong Biennale, Transmediale, Yerba Buena Center for the Arts, MoMA PS1, V2_ Institute for the Unstable Media, WRO Media Art Biennale, and The Luminary.
Spring 2018 Residents
Panel: Kevin Kline, Laura Kraning, Tina Rivers Ryan
Elizabeth Tannie Lewin is a digital media artist interested in: technology, landscape, identity, disappearance, history, and utopia. Lewin uses various technologies to achieve special effects such as: 3D modeling landscapes, hacking a computer mouse to scan images, and webcameras programmed to initiate, or pause, video playback. Lewin received her BFA from The School of the Art Institute of Chicago (2009) and her MFA from Hunter College (2016).
Dana Tyrrell is an artist, curator and writer living and working in Buffalo, New York. He holds an MFA in Visual Studies from the University at Buffalo (2015), a BA in Drawing & Painting and a BA in Art History, both from the State University of New York at Fredonia (2012). His work has been shown widely throughout Western New York, including solo exhibits with the Castellani Art Museum (2017) and Dreamland Art Gallery (2015). His curatorial practice includes exhibits at Anna Kaplan Contemporary (formerly BT&C Gallery), the Benjaman Gallery, Dreamland Art Gallery, and Sugar City Art Gallery. Photograph courtesy of Julian Montague.
Summer 2017 Residents
Panel: Leah Hamilton, Zainab Saleh, Maiko Tanaka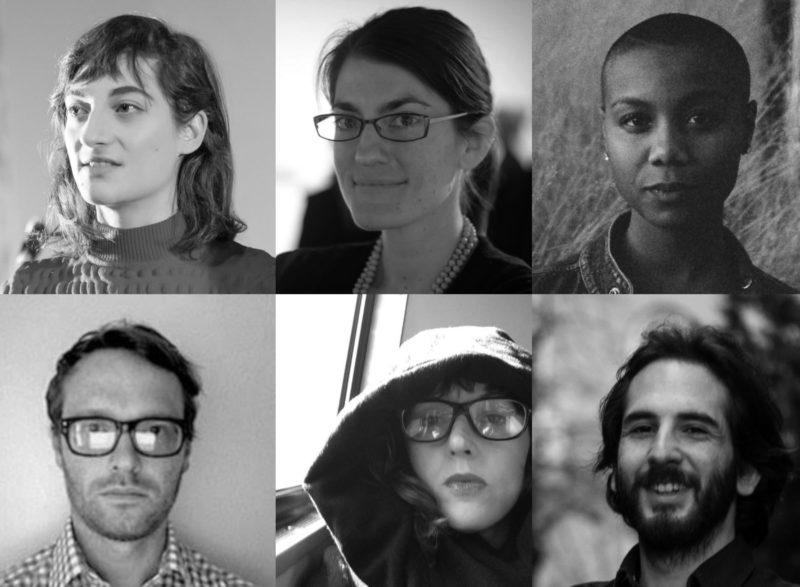 Lea Bertucci is an American composer and performer whose work describes relationships between acoustic phenomena and biological resonance. In addition to her instrumental practice, (alto saxophone and bass clarinet), her work often incorporates multi-channel speaker arrays, electroacoustic feedback, extended instrumental technique and tape collage. Her discography includes a number of solo and collaborative releases on independent labels in the US and Europe, including I Dischi Del Barone, Obsolete Units, Telegraph Harp and Clandestine Compositions. In 2017, she will release All That is Solid Melts Into Air: Works for Strings, on NNA Tapes. She has performed extensively across the US and Europe at venues such as The Kitchen, PS1 MoMA, The Drawing Center, Anthology Film Archives, Abrons Arts, ISSUE Project Room, Pioneer Works, The Queens Museum, Artists' Space,
Caramoor, The High Zero Festival, and Experimental
Intermedia, among many others. She is a 2016 MacDowell Fellow in composition and a 2015 ISSUE Project Room Artist-in- Residence.
Rachael Rakes is a curator, critic, film programmer, and teacher. She was recently a Fellow at Art Center/South Florida, and a Curator-in-Residence in the CPR: Mexico program. Rakes is a Programmer at Large for the Film Society of Lincoln Center, Editor at Large for Verso Books, a and has recently organized exhibitions for Knockdown Center, ISCP, and Malmö Konsthall. Leo Goldsmith is a writer and curator based in New York. He co-edits the film section of The Brooklyn Rail with Rachael Rakes, with whom he is writing a book about the radical filmmaker Peter Watkins. His writing has appeared in Art-Agenda, artforum, Cinema Scope, INCITE, and The Village Voice.
Caroline Doherty is an artist and educator based in Buffalo, NY. She employs multiple mediums – including sculpture, performance, video, and public projects – to engage questions of language, communication, violence, and power. She has exhibited and been a resident artist internationally, most recently at Ontario Place in Toronto, the University of Toronto Missisauga, SOMA in Mexico City, ArtPark in Lewiston, NY, Tsinghua University in Beijing, the Chongjiang Contemporary Art Museum in Chongqing, and CEPA Gallery in Buffalo. Alongside her art practice, Caroline teaches people of many ages and backgrounds how to make and do new things.
Ja'Tovia Gary is a filmmaker and visual artist originally from Dallas, Texas currently living and working in Brooklyn, New York. Gary's work is concerned with constructions of power and how raced and gendered beings navigate popular media. She earned her MFA in Social Documentary Filmmaking from the School of Visual Arts in New York. Her work has screened at festivals, cinemas, and institutions worldwide including Frameline LGBTQ Film Festival, Edinburg International Film Festival, The Whitney Museum, Anthology Film Archives, Atlanta Film Festival, the Schomburg Center, MoMa PS1, Museum of Contemporary Art Los Angeles, New Orleans Film Festival, Ann Arbor Film Festival and elsewhere. She is the recipient of the Sundance Documentary Fund Production Grant and the Jerome Foundation Film and Video Grant. Gary participated in the Terra Foundation of American Art 2016 summer artist fellowship and is the 2017 artist in residence at the Jacob Burns Film Center. (Photo credit: Alexander Bell)
Deniz Tortum is an artist working in film, video, and new media. He is a graduate of MIT Comparative Media Studies and the Open Documentary Lab. His most recent film, If Only There Were Peace (co-directed with Carmine Grimaldi), premiered in 2017 at True/False Film Festival. Currently he is a fellow at Harvard Film Study Center, working on a film about a hospital in Istanbul.
Winter 2016 Residents
Panel: Almudena Escobar Lopez, Stephanie Rothenberg, Ekrem Serdar
Max Bernstein was born and raised in Buffalo, NY where he received his BA in Media Studies from UB. Bernstein also received an MFA from UC Boulder. In addition, he is an associate of the Wooster Group, media designer for Kaki King, media designer for Michelle Ellsworth, a member of The Flinching Eye Collective, a member of Friends Of The TANK, and drummer and video designer of the band Eupana, Bernstein's personal works combine elements of cinema, theater, sculpture, performance, and new media, often exploring contemporary notions of representation and phenomenology through experimental narrative and technology. He currently lives and works in Brooklyn, NY.
Arisleyda Dilone makes film work about her life and her family. Born in Santiago de Los de Caballeros, Dominican Republic, she spent her formative years in a hillside village outside of the city of Santiago. At the age of seven she was brought to New York and raised in a suburb of Long Island. She is the first college graduate in her family. She was a 2012 Jerome Foundation-Travel and Study Grant Fellow, a 2014 UnionDocs Collaborative Fellow and a 2015 Queer Art/Mentorship Fellow, in which she completed this short film: Mami y Yo y Mi Gallito/Mom and Me and My Little Rooster. She was awarded a 2015 Astraea Intersex Fund grant to continue her ongoing documentary work around this topic. Arisleyda is a member of Diverse Filmmakers Alliance and Brooklyn Filmmakers Collective.
Summer 2016 Residents
Panel: Mark Longolucco, Ekrem Serdar

Mary Helena Clark is an artist working in film, video, and installation. Her work has been exhibited and screened widely, including presentations at the Swedish Film Institute (Stockholm), Gene Siskel Film Center (Chicago), Yerba Buena Center for the Arts (San Francisco), Anthology Film Archives (New York), Museum of Contemporary Photography (Chicago), National Gallery of Art (Washington), Wexner Center for the Arts (Columbus, OH), Document Space (Chicago), and at the New York, AFI, Ann Arbor, London and Toronto International Film Festivals. Clark lives and works in Hamilton, New York.
Carl Elsaesser is a film maker from Maine currently residing in Iowa. His short films have screened internationally at festivals such as Antimatter and Ann Arbor where he won the Barbara Aronofsky Latham Award for Emerging Experimental Video Artist. His work is concerned with how images are constructed, encountered and interpreted. While these questions of representation are steeped in that age-old, impossible "art question" of what is real and fantasy, his work is far more interested in what is allowed to be real, and who is allowed to speak for this real.
Stella Marrs is an interdisciplinary artist who creates alternative female narratives and images that circulate in the public sphere. Her work has taken the form of performance, community events, publications, printmaking and video. Her current projects, Big Lady and Disco Deployment Unit, combine large inflatable sculptural forms with multimedia elements and an accompanying social event. She has presented at venues including MIT, Lesley University, University of North Carolina at Chapel Hill, University of Texas, Austin, California College of the Arts and York University (UK) and her work has been written about in Bust, Venus, Time Out NY, Punk Planet, and L.A. Weekly. She attended The Evergreen State College in Olympia, Washington and received her MFA degree in Visual Studies (Emerging Practices) from University at Buffalo. She currently lives and works in Burlington, VT.
Eric Souther is a video and new media artist who creates explores the ritualistic spaces of media and develops interactive systems for real-time manipulation of time-based media. His work has been featured nationally and internationally at venues such as the Museum of Art and Design, NYC, Everson Museum of Art, Syracuse, NY and the ART DATA LAB, Beijing. His work has been screened in The Outcasting: Fourth Wall Festival, Grangetown, UK, Cronosfera Festival, Alessandria, Italy, and the Galerija 12 New Media Hub, Belgrade, Serbia. He received his M.F.A. in Electronic Integrated Arts from Alfred University. Currently he is an Assistant Professor of New Media at Indiana University South Bend.
Banner image: Mary Helena Clark, Delphi Falls (2017)