---

Deniz Tortum's September 1955 and Floodplain
November 11, 2022 @ 6:00 pm

–

November 12, 2022 @ 8:00 pm

EST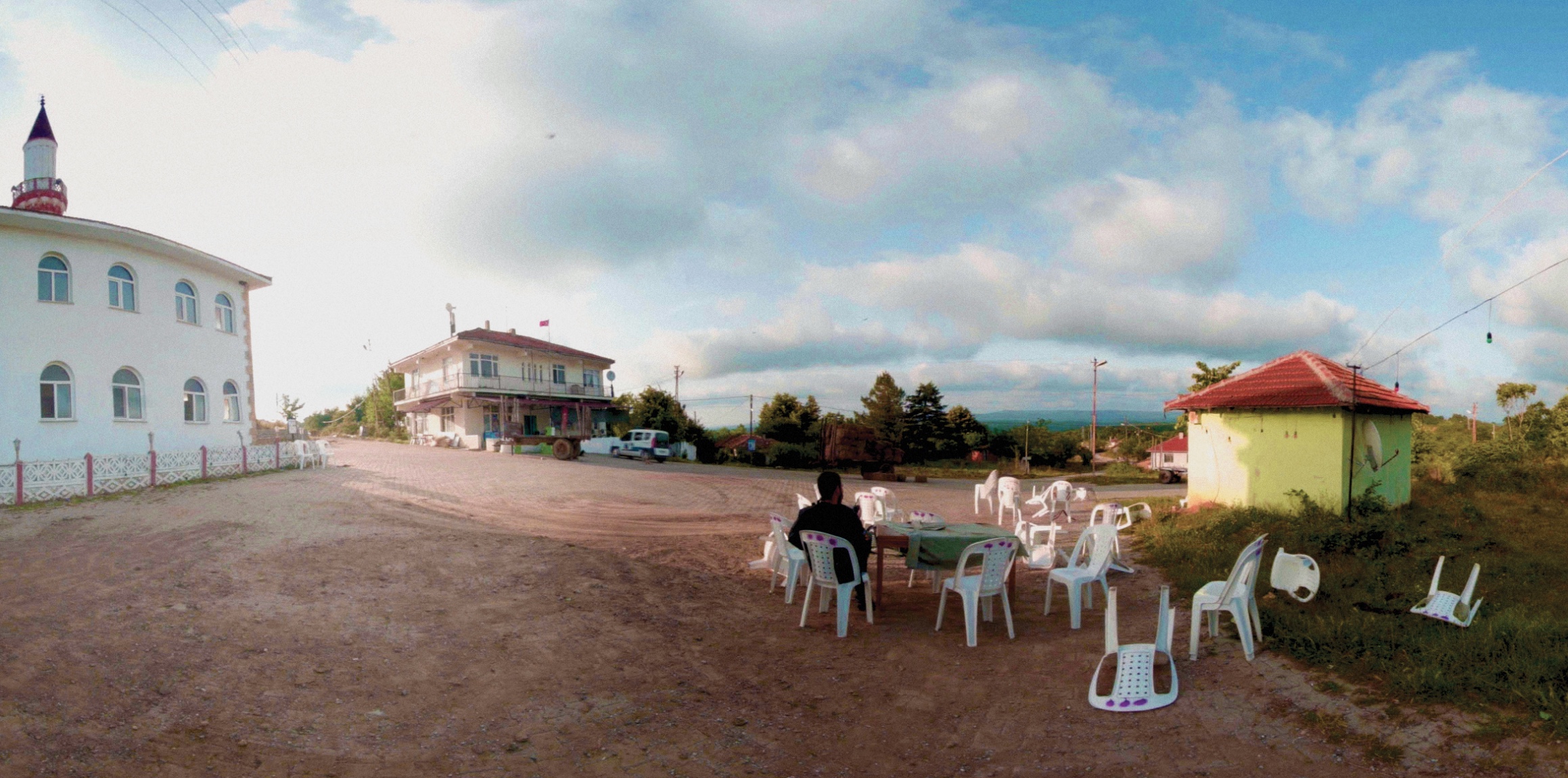 Friday, November 11, 6–8 pm and Saturday, November 12, 2022, 3–5 pm
Free or suggested donation
Reserve a viewing time here or show up!
Squeaky Wheel invites you to a special event for you to experience two virtual reality experience by Deniz Tortum, September 1955 and Floodplain. We are excited to welcome back Tortum, who was a Workspace Resident researching virtual reality documentary practices in 2017, in conjunction with his virtual reality intensive taking place that weekend.  Viewers can sign up at the link above to reserve a viewing time for September 1955.
Deniz Tortum, Floodplain (2018). A wide image taken outdoors on a partially sunny day. A dirt road, plastic chairs, and some houses are visible. Someone is sitting on a chair, their back turned against us. On the left, a minaret is visible.
Deniz Tortum, Floodplain
Virtual reality on Oculus Rift, 15 min, 2018
A mysterious tree watches over a forest while humans traverse its paths, planning construction zones and searching for a lost person. As civilization slowly unravels, quiet new dynamics emerge.
Floodplain is set against a man-made environmental crisis and explores our relationships to each other at the end of nature. If we can no longer be what we were, can we really become something new? Can we be a forest, or a stone; can we be a multitude of organisms; can we be nothing? Can we be something that we don't know we can be yet?
Deniz Tortum, September 1955 (2016). A sun dappled room with a cabinet full of photography film. Two pictures are hanging on the wall; one of a person with a camera, the other of a soccer team lined up. A coat and fedora hang in the corner by a comfortable chair.
Deniz Tortum with Çağrı Hakkı Zaman & Nil Tuzcu, September 1955
Virtual Reality on Vive, 8 min, 2016
The 8-minute virtual-reality documentary depicts the Istanbul Pogrom, a government-initiated organized attack on the minorities of Istanbul that took place on September 6-7, 1955. This interactive installation places the viewer in a reconstructed photography studio in the midst of the pogrom, allowing one to witness the events from the perspective of a local shop-owner.
Drawing on the photographic archive of Maryam Şahinyan (1911-1996) and Osep Minasoğlu (1929-2013), Armenian photographers who lived in Istanbul at the time, the installation materializes an extinct space. The wall in the virtual studio that exhibits Sahinyan's photos is transformed into a documentation of the raids and their aftermath in the physical space; by overlapping the layouts of the two spaces the project experiments with the transition from a virtual to physical experience. The experience of the space induced by participating in the mundane activities of the photography studio aims to generate unique historical narratives that are reproduced and enacted by the viewer.
Biography of the artist
Deniz Tortum works in film and immersive media. His work has screened internationally, including at the Venice Film Festival, SxSW, IFFR, IDFA, Sheffield Doc/Fest, Hot Docs, True/False and Dokufest. His latest short Our Ark (2021, co-dir Kathryn Hamilton) has premiered at IDFA 2021 and won Best Short Film award at Istanbul Film Festival. His latest feature film Phases of Matter (2020) premiered at International Film Festival Rotterdam in 2020 and received the Best Documentary awards at Istanbul and Antalya Film Festivals. He has worked as a researcher at the MIT Open Documentary Lab and MIT Transmedia Storytelling Initiative, where his research focused on immersive media. In 2019, he was featured in Filmmaker Magazine's 25 New Faces of Independent Film.
This event is presented in partnership with ASI and the Arts Council for Wyoming County, and made possible with funds from the NYSCA in Partnership with Wave Farm: Immersive Art & Technology Initiative, with the support of the Office of the Governor and the New York State Legislature. Special thank you to Çağrı Hakkı Zaman.
Banner image: Deniz Tortum, Floodplain (2018).