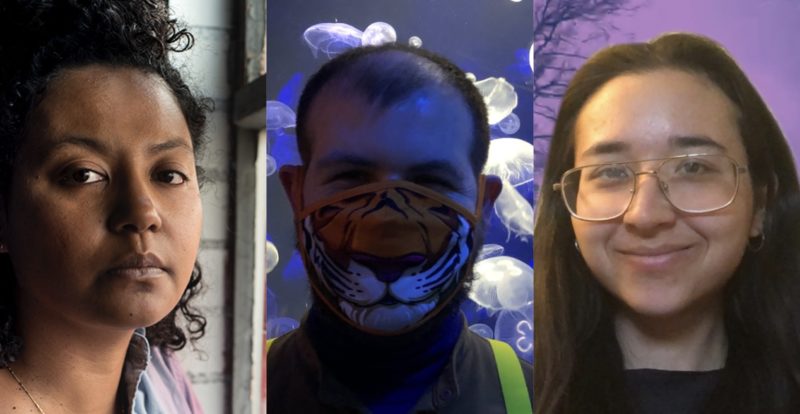 Thursday, August 26, 2021, 7 pm ET
Free or pay what you can
Click here to register
Access information: TBA. If you encounter any issues, please send us a text message at 716-427-4125.
Squeaky Wheel is pleased to present this artist talk with our three Summer 2021 artist residents, Crystal Z Campbell (Oklahoma City, OK), Jordan Lord (New York, NY), and Olivia Ong Evans (Tonawanda, NY). The three artists will be presenting and speaking to their previous and current projects, and engaging in a conversation with curator Ekrem Serdar.
Crystal Z Campbell will be working on SLICK, an experimental feature film considering the longstanding reverberations of the 1921 Tulsa Race Massacre on the city of Tulsa and beyond. Jordan Lord is working on editing an essay film with their grandmother, Prophetic Memory, which examines the stakes in re-animating personal and collective history. Olivia Ong Evans will be working on Identity Karma, an experimental video that explores the connections between identity construction and social structures.
The event will be available to register and view for 24 hours. SW members will have access to the event for 72 hours.
To find out more about the Workspace Residency, click here.
Biographies of the residents
Crystal Z Campbell is a multidisciplinary artist, experimental filmmaker, and writer of Black, Filipino, and Chinese descents. Campbell finds complexity in public secrets—rumored information known by many but undertold or unspoken. Recent works revisit questions of immortality and medical ethics with Henrietta Lacks's "immortal" cell line, ponder the role of a political monument and displacement in a Swedish coastal landscape, and salvage a 35mm film from a demolished Black activist theater in Brooklyn as a relic of gentrification. Campbell is a Harvard Radcliffe Film Study Center & David and Roberta Logie Fellow (2020-2021) living and working in Oklahoma, and founder of archiveacts.com. Campbell was recently named a 2021 Guggenheim Fellow in Fine Arts.
Jordan Lord is a filmmaker, writer, and artist, working primarily in video, text, and performance. Their work addresses the relationships between historical and emotional debts, framing and support, access and documentary. Their video and performance work has been shown internationally at venues including MoMA, ARGOS, Camden Arts Centre, Elizabeth Foundation for the Arts, and Performance Space NY (as part of the festival "I wanna be with you everywhere"). Their exhibition "Prophetic Memory" is currently in-progress online and at various sites via Artists Space (New York, NY). They teach at Hunter College, CUNY (New York).
Olivia Ong Evans (she/her/hers) is a video artist currently living on occupied Haudenosaunee land (Western New York). She uses experimental practices to create glitchy, distorted visuals that explore positionality.  Her work centers on themes of identity construction, migration, connection to land, and Hokkien Indonesian heritage.