---

Presentations by Workspace Residents
August 24, 2017 @ 3:00 pm

–

5:00 pm

EDT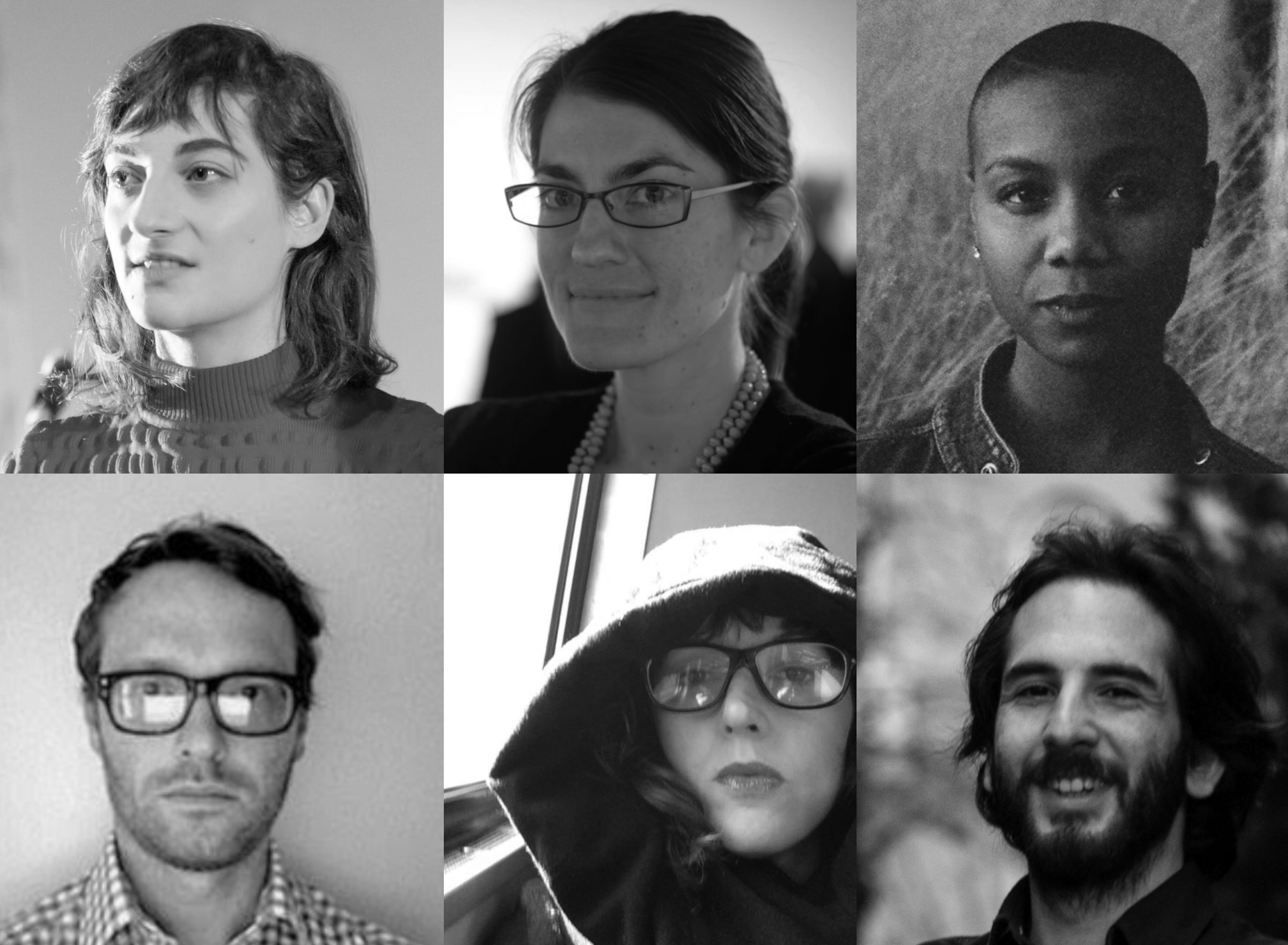 Presentations by Workspace Residents
Thursday, August 24th, 2017
7pm
Free and open to the general public
Join us at as our Summer 2017 Workspace Residents give brief presentations about their work. Every resident will give a 15 minute artist talk on the projects and research they've undertaken in their three week residency at Squeaky Wheel. Summer 2017 residents include Lea Bertucci, Caroline Doherty, Ja'Tovia Gary, Rachael Rakes & Leo Goldsmith, and Deniz Tortum. Come join us to see and listen to a tremendously exciting group of artists and researchers! Check out their bios and project proposals below.
Workspace Residency is a unique artist residency that supports local, regional and national media artists and researchers who are working on projects in film, video, audio, interactive media and emerging technologies in any stage of production. Initiated in 2016 by Squeaky Wheel Film and Media Art Center in Buffalo, New York, in collaboration with local partners Buffalo Game Space, Buffalo Lab, and Silo City, the residency provides support through equipment, facilities, and technical support for artists experimenting across a range of old and new technologies, such as video, sound, digital platforms, interactivity, virtual reality, and 3D printing. Community outreach and public engagement components include presentation and education activities.
—
SILO CITY RESIDENT

Lea Bertucci is an American composer and performer whose work describes relationships between acoustic phenomena and biological resonance. In addition to her instrumental practice, (alto saxophone and bass clarinet), her work often incorporates multi-channel speaker arrays, electroacoustic feedback, extended instrumental technique and tape collage. Her discography includes a number of solo and collaborative releases on independent labels in the US and Europe, including I Dischi Del Barone, Obsolete Units, Telegraph Harp and Clandestine Compositions. In 2017, she will release All That is Solid Melts Into Air: Works for Strings, on NNA Tapes. She has performed extensively across the US and Europe at venues such as The Kitchen, PS1 MoMA, The Drawing Center, Anthology Film Archives, Abrons Arts, ISSUE Project Room, Pioneer Works, The Queens Museum, Artists' Space,
Caramoor, The High Zero Festival, and Experimental
Intermedia, among many others. She is a 2016 MacDowell Fellow in composition and a 2015 ISSUE Project Room Artist-in- Residence.
Project:
The artist will create the first in a two-part suite of compositions for electroacoustic saxophone quartet. This new site-specific work would be developed, premiered and documented within the uniquely resonant space of Silo City's grain elevators. Drawing from the Buffalo area's community of creative musicians, the artist would collaborate with three other saxophonists to develop this work. Aural phenomena will play a pivotal role in the development of this composition – gesturally, structurally and timbrally. The process will begin by narrowing down a vocabulary of extended instrumental techniques for Saxophone, dictated by in-depth explorations of psychoacoustic phenomena in the space.
The second part of the project will use electronic processing techniques informed by explorations at Silo City. An essential component of the time the time the artist will spend on the site will be taking acoustic response tests of the interior of the grain elevators and creating customized reverberation modeling patches that are based on the characteristics of the Silos. This and other elements such as field recordings will inform the second part of the suite, and will be continued into 2018.
The culmination of this residency will be a public premiere of the composition at Silo City on August 26, 2017.
RESEARCH RESIDENTS
Rachael Rakes is a curator, critic, film programmer, and teacher. She was recently a Fellow at Art Center/South Florida, and a Curator-in-Residence in the CPR: Mexico program. Rakes is a Programmer at Large for the Film Society of Lincoln Center, Editor at Large for Verso Books, a and has recently organized exhibitions for Knockdown Center, ISCP, and Malmö Konsthall. Leo Goldsmith is a writer and curator based in New York. He co-edits the film section of The Brooklyn Rail with Rachael Rakes, with whom he is writing a book about the radical filmmaker Peter Watkins. His writing has appeared in Art-Agenda, artforum, Cinema Scope, INCITE, and The Village Voice.
Project:
"Distant Present" is a book that argues that Peter Watkins's work is an essential precursor to the recent interest in moving-image documentary works in contemporary art. Since the late 1950s, Watkins has engineered a unique form of moving image practice: hybrid non fiction as interventionist art. His films, including The War Game, Edvard Munch, Punishment Park, and La Commune, are at once hyperpolitical, sophisticated, and reflexive works on social struggle and the mediation of history. This book will provide a critical analysis of Watkins's filmmaking and writing, situating his unorthodox methodologies of collective filmmaking within a narrative of their often fraught production, distribution, and reception histories, and within their wider intellectual and political contexts.
ARTIST RESIDENTS
Caroline Doherty is an artist and educator based in Buffalo, NY. She employs multiple mediums – including sculpture, performance, video, and public projects – to engage questions of language, communication, violence, and power. She has exhibited and been a resident artist internationally, most recently at Ontario Place in Toronto, the University of Toronto Missisauga, SOMA in Mexico City, ArtPark in Lewiston, NY, Tsinghua University in Beijing, the Chongjiang Contemporary Art Museum in Chongqing, and CEPA Gallery in Buffalo. Alongside her art practice, Caroline teaches people of many ages and backgrounds how to make and do new things.
Project:
The artist will work on production of a multi-channel video that is based on their recent major installation and performance project, Basic Furnishings for Unequal Spaces. Drawing from their experiences as a student, teacher, and worker, the work explores the effects – blatant and invisible- of systems of power, gender, labor, and competition in bureaucratic and institutional spaces by focusing on the archetypal objects found in those spaces. Referencing environments like offices, waiting rooms, and lecture halls, the sculptural furniture and related objects double as set and props, shifting meaning and utility based on the actions of five female performers. The actions were devised through improvisation exercises with the performers, and then complied into a mutable score for live public performances. This new iteration translates the actions into scenes staged for a new video. The props and furniture sculptures will be used again, with the addition of new objects. The resulting work will more deeply explore the strange, uncanny, surreal, or violent aspects of the performance.
Ja'Tovia Gary is a filmmaker and visual artist originally from Dallas, Texas currently living and working in Brooklyn, New York. Gary's work is concerned with constructions of power and how raced and gendered beings navigate popular media. She earned her MFA in Social Documentary Filmmaking from the School of Visual Arts in New York. Her work has screened at festivals, cinemas, and institutions worldwide including Frameline LGBTQ Film Festival, Edinburg International Film Festival, The Whitney Museum, Anthology Film Archives, Atlanta Film Festival, the Schomburg Center, MoMa PS1, Museum of Contemporary Art Los Angeles, New Orleans Film Festival, Ann Arbor Film Festival and elsewhere. She is the recipient of the Sundance Documentary Fund Production Grant and the Jerome Foundation Film and Video Grant. Gary participated in the Terra Foundation of American Art 2016 summer artist fellowship and is the 2017 artist in residence at the Jacob Burns Film Center. (Photo credit: Alexander Bell)
Project:
The Giverny Diptych is comprised of two separate yet related experimental video pieces, each filmed in Giverny, France in and around Claude Monet's famed gardens and residence. The work is concerned with ancestral memory, Black womanist philosophy, captivity and fugitivity, the history of western imperialism, and the presence of the Black feminine figure within the western fine art canon. During her time at the Workspace Residency the artist will complete the post production phase of Giverny I and Giverny II.
The artist will also experiment with the mounting of an installation titled On Attachment that features a short 16mm experimental animation as its centerpiece.
Deniz Tortum is an artist working in film, video, and new media. He is a graduate of MIT Comparative Media Studies and the Open Documentary Lab. His most recent film, If Only There Were Peace (co-directed with Carmine Grimaldi), premiered in 2017 at True/False Film Festival. Currently he is a fellow at Harvard Film Study Center, working on a film about a hospital in Istanbul.
Project:
An increasingly prominent, but insistently opaque technology, blockchain is a distributed database that maintains a continuously growing list of transactions. All transactions are confirmed by the thousands of users in the system. This results in both a highly detailed and transparent record of all actions, as well as a decentralized yet secure system. This is in contrast to existing organizations we use for similar tasks, like banks or server farms. Cryptocurrencies such as Bitcoin and Ethereum are built using this blockchain technology. Blockchain-evangelists believe that this technology can lead to major changes in bureaucratic and economic structures, disrupting global power relations. Critics, like media theorist Ian Bogost and journalist Izabella Kaminska argue that these technologies will usher in an emergent form of techno-authoritarianism.
During the residency, the artist will develop a conceptual framework for blockchain-based artwork. The artist will research artworks that have conceptual ties with transience, autonomy, or governance, along with current efforts of using blockchain as an artistic medium. The residency would lead to a critical work on the future themes & possibilities for blockchain art.
This project is a collaboration between the artist, Ainsley Sutherland, a designer with particular interest in blockchain and Ulya Soley, assistant curator at Pera Museum in Istanbul.