Opening: Friday, January 10, 6–9pm
Conversation with Betty Yu and Jasmina Tumbas at 7:30pm
Free and open to the public
On view January 10–February 7, 2020

The final exhibition of Punctures brings together two artists in collective considerations of gendered and immigrant work. Betty Yu's The Garment Worker (2014) is an interactive installation that focuses on the daily life of a garment worker and the hardships they encounter working in a sweatshop, through the integration of a sewing machine, video, audio, and ephemera. Sabrina Gschwandtner's Hands at Work (for Pat Ferrero) and Hands at Work (for Pat Ferrero) II consist of two of her acclaimed film quilts–gorgeous 16mm film strips sewn, installed on lightboxes, and depicting hands at work.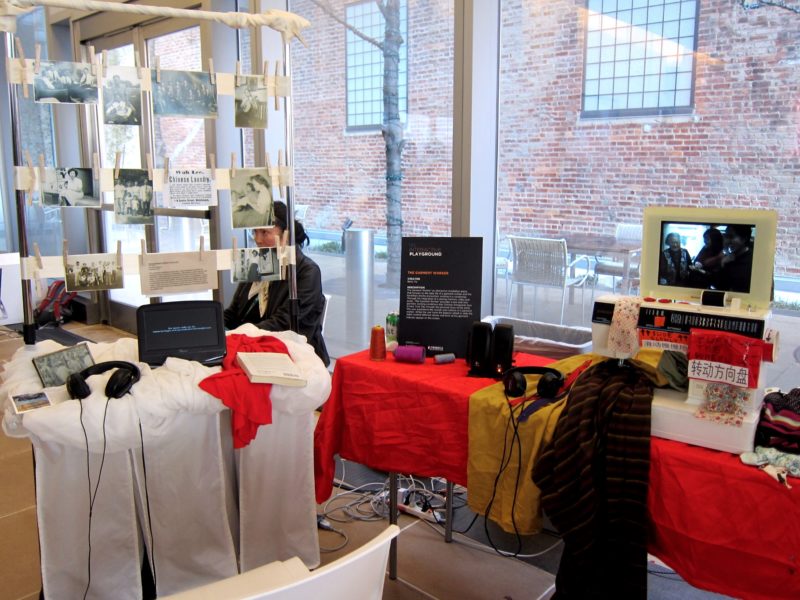 Betty Yu, The Garment Worker (2014)
Sabrina Gschwandtner, Hands at Work (for Pat Ferrero), 2017. Documentation by Joshua White.
---
Betty Yu is a multimedia artist, filmmaker, educator and activist born and raised in NYC to Chinese immigrant parents. Ms. Yu is a socially engaged multimedia artist integrating documentary film, new media platforms and community-infused approaches into her practice. Her community-based arts projects have fused together video, photography, interactive mapping, new media, installation, augmented reality, 3-D elements and live projections. Ms. Yu's documentary Resilience about her garment worker mother fighting sweatshop conditions screened at national and international film festivals including the Margaret Mead Film and Video Festival. Yu's multi-media installation, The Garment Worker was featured at Tribeca Film Institute's Interactive. She worked with housing activists and artists to co-create People's Monument to Anti-Displacement Organizing that was featured in the Agitprop! show at Brooklyn Museum. Betty was a 2012 Public Artist-in-Resident and received the 2016 SOAPBOX Artist Award from Laundromat Project. In 2017, Ms. Yu has been awarded several artist residencies from institutions such as the International Studio & Curatorial Program, Skidmore College's Documentary Studies Collaborative and SPACE at Ryder Farm. In 2015, Betty co-founded Chinatown Art Brigade, a cultural collective using art to advance anti-gentrification organizing. Betty won the 2017 Aronson Journalism for Social Justice Award for her film Three Tours about U.S. veterans returning home from war in Iraq and their journey to overcome their PTSD. Ms. Yu is a 2017-18 fellow of the Intercultural Leadership Institute. Betty recently had her first solo exhibition, "(DIs)Placed in Sunset Park" at Open Source Gallery in September 2018 in New York City. This work was also included in 2019 BRIC's Biennial where her project received an honorable mention in the New York Times.
Sabrina Gschwandtner's artwork has been exhibited in the United States as well as internationally at institutions including the Smithsonian American Art Museum in Washington DC; the Museum of Arts and Design in New York; and the Victoria and Albert Museum in London. Her work has been featured and reviewed in the New York Times, Artforum, Modern Painters, Frieze, Photograph, Cabinet, the Los Angeles Times, the Washington Post, Der Standard, INCITE Journal of Experimental Media, and on NPR, among other media outlets and scholarly publications. She has been awarded residencies at Wave Hill (2012), the International Artists Studio Program in Sweden (IASPIS, 2009), the Museum of Arts and Design (2009), and the MacDowell Colony (2004, 2007, and 2016). She recently received a 2019 City of Los Angeles (COLA) Individual Artist Fellowship. Her work is held in the permanent collections of the Smithsonian American Art Museum; the Museum of Fine Arts, Boston; the Mint Museum; Philbrook Museum of Art; Boise Art Museum; Alfond Collection of Contemporary Art at Rollins College; Carl and Marilynn Thoma Foundation, and the RISD Museum, where a series of 12 film quilts is currently on permanent display. In 2015 she was awarded a NY Public Art Project commission for her first public art project, a large scale photographic collage printed on glass, which was installed permanently at an elementary school in the Bronx in 2017. She was born in Washington D.C. in 1977 to an Austrian father and American mother. She received a BA with honors in art/semiotics from Brown University. She studied video with VALIE EXPORT in Salzburg, Austria, and received her MFA from Bard College. She lived in New York City from 2000 – 2015, and currently live in Los Angeles, CA, where she is represented by Shoshana Wayne Gallery.
Jasmina Tumbas (PhD, Art History, Duke University) is an Assistant Professor of Contemporary Art History & Performance Studies in the Department of Global Gender and Sexuality Studies at the University at Buffalo. Her teaching and research fields focus on modern and contemporary art history and theory, histories and theories of performance, body and conceptual art, art and activism, feminist art, critical theory, and contemporary East European art history. She is currently finishing her first book, "I Am Jugoslovenka!" Feminist Performance Politics During & After Yugoslav Socialism, and is also working on a second manuscript, On Gender Violence and Nationalism In Europe: Feminist Art and Resistance Beyond Citizenship. Her research has appeared inArtMargins, Camera Obscura: Feminism, Culture, and Media Studies, Art Monthly, Art in America, ASAP Journal, and Art and Documentation, and in the anthologies Shifting Corporealities in Contemporary Performance, Performance Art in the Second Public Sphere, Making Another World Possible – 10 Creative Time Summits, and Aktionskunst jenseits des Eisernen Vorhangs. Künstlerische Kritik in Zeiten politischer Repression.
This exhibition is part of Punctures: Textiles in Digital and Material Time. Consisting of three exhibitions and public programs that weave into each other, Punctures features artists who are invested in the intersections and history of textile practices, media art, and critical and liberatory politics, including trans fashion and domesticity; gendered and immigrant labor under global racial capitalism; Gelede women's commemoration, protest and power as represented in textile work; speculative future-casting through Oglala Lakota knowledge systems, and more. The exhibition features installations by Betty Yu, Cecilia Vicuña, Charlie Best, Eniola Dawodu, Kite, and Sabrina Gschwandtner, performances by Charlie Best, Jodi Lynn Maracle, and Kite, and screenings of work by Jodie Mack, Pat Ferrero, Sabrina Gschwandtner, and Wang Bing. Punctures design by Kelly Walters.