---

Threading Roots with Augmented Reality
January 11, 2020 @ 12:00 pm

–

2:00 pm

EST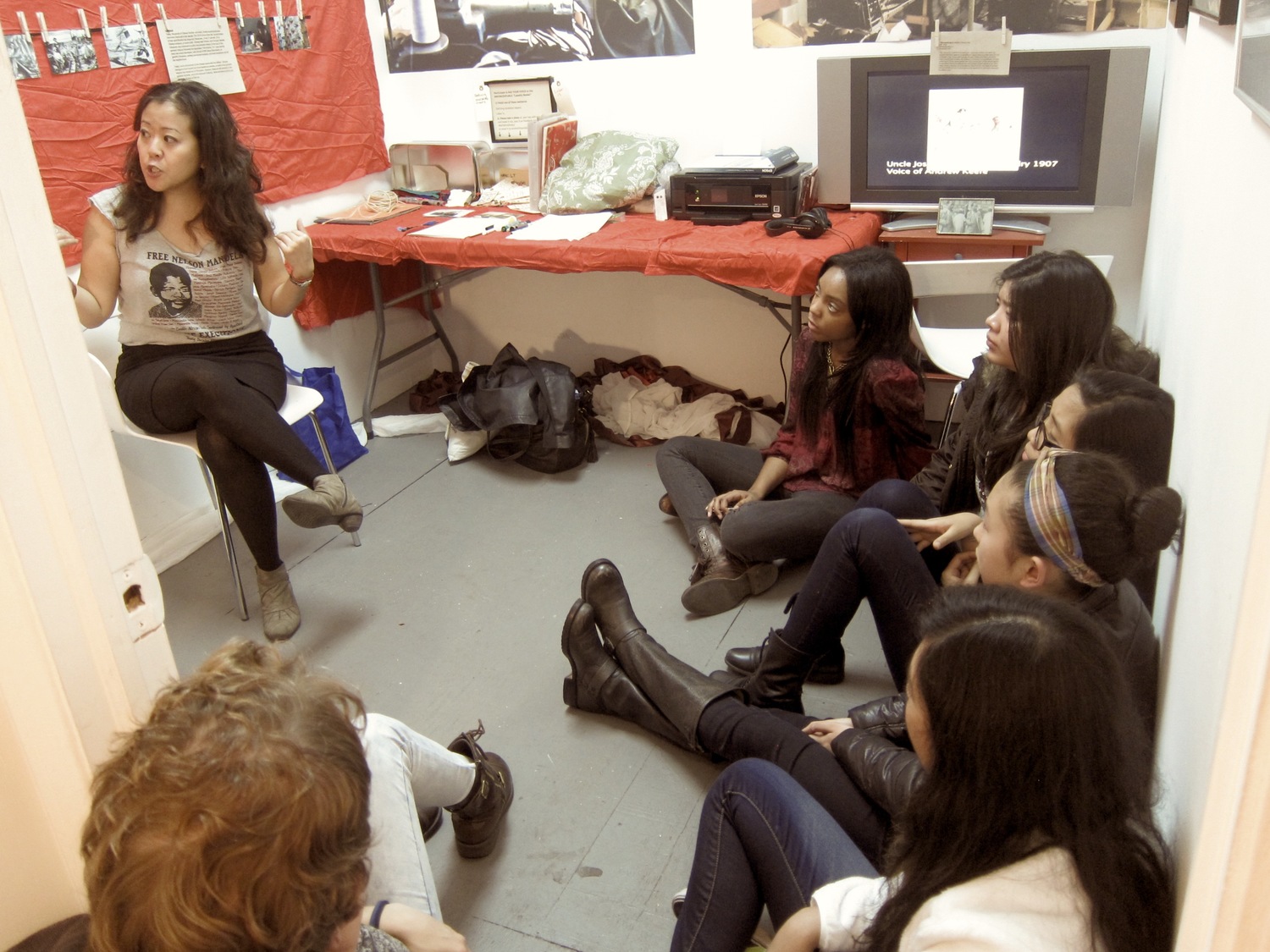 January 11, 12–2 pm
Open to youth ages 14+
This special youth workshop with visiting artist Betty Yu will encourage the exploration of personal stories and roots in a collective story-telling circle. Participants will learn how to use augmented reality to animate those stories, and will have the choice to have their works be part of her work, The Garment Worker, in the exhibition Punctures: Textiles in Digital and Material Time that is on view at Squeaky Wheel through February 7, 2020. A limited number of iPad's will be available, and we ask that participants bring a smartphone if they have one.
---
Betty Yu is a multimedia artist, filmmaker, educator and activist born and raised in NYC to Chinese immigrant parents. Ms. Yu is a socially engaged multimedia artist integrating documentary film, new media platforms and community-infused approaches into her practice. Her community-based arts projects have fused together video, photography, interactive mapping, new media, installation, augmented reality, 3-D elements and live projections. Ms. Yu's documentary Resilience about her garment worker mother fighting sweatshop conditions screened at national and international film festivals including the Margaret Mead Film and Video Festival. Yu's multi-media installation, The Garment Worker was featured at Tribeca Film Institute's Interactive. She worked with housing activists and artists to co-create People's Monument to Anti-Displacement Organizing that was featured in the Agitprop! show at Brooklyn Museum. Betty was a 2012 Public Artist-in-Resident and received the 2016 SOAPBOX Artist Award from Laundromat Project. In 2017, Ms. Yu has been awarded several artist residencies from institutions such as the International Studio & Curatorial Program, Skidmore College's Documentary Studies Collaborative and SPACE at Ryder Farm. In 2015, Betty co-founded Chinatown Art Brigade, a cultural collective using art to advance anti-gentrification organizing. Betty won the 2017 Aronson Journalism for Social Justice Award for her film Three Tours about U.S. veterans returning home from war in Iraq and their journey to overcome their PTSD. Ms. Yu is a 2017-18 fellow of the Intercultural Leadership Institute. Betty recently had her first solo exhibition, "(DIs)Placed in Sunset Park" at Open Source Gallery in September 2018 in New York City. This work was also included in 2019 BRIC's Biennial where her project received an honorable mention in the New York Times.
This event is part of Punctures: Textiles in Digital and Material Time. Consisting of three exhibitions and public programs that weave into each other, Punctures features artists who are invested in the intersections and history of textile practices, media art, and critical and liberatory politics, including trans fashion and domesticity; gendered and immigrant labor under global racial capitalism; Gelede women's commemoration, protest and power as represented in textile work; speculative future-casting through Oglala Lakota knowledge systems, and more. The exhibition features installations by Betty Yu, Cecilia Vicuña, Charlie Best, Eniola Dawodu, Kite, and Sabrina Gschwandtner, performances by Charlie Best, Jodi Lynn Maracle, and Kite, and screenings of work by Jodie Mack, Pat Ferrero, Sabrina Gschwandtner, and Wang Bing. Punctures design by Kelly Walters.
Related Events