Signal > Simulacrum
April 30th – May 6th
Jason Bernagozzi, Cheryl Jackson, Carolyn Tennant & J.T. Rinker
As part of Squeaky@x0
The works included in this week's exhibition focus on the signal – analog and digital video in various incarnations – works committed to magnets and pixels. Cheryl Jackson's Tan Can, shot on everyone's favorite toy-camera the Pixelvision, captures footage of the then newer technology of tanning beds. Carolyn Tennant and J.T. Rinker's LOVE/RUNNER is a music video featuring reprocessed footage from Blade Runner, the films iconic land and color scapes pixelized into abstract essentials. Finally, Jason Bernagozzi Simulacrum is a portrait of mediation remediated, as footage of people taking picture on their cellphones are reprocessed.
Both LOVE/RUNNER and Simulacrum highlight the ties Squeaky Wheel has had and continues to have with two valuable institutions in Owego, NY: LOVE/RUNNER was produced at the now defunct Experimental Television Center, while Jason Bernagozzi, along with his partner Debora Bernagozzi and Hank Rudolph, lead the currently thriving Signal Culture. Squeaky Wheel has always tried to forge a greater connection with our surroundings, and we continue to cherish the rich presence of like-minded organizations in our state. – ES
SIGNAL > SIMULACRUM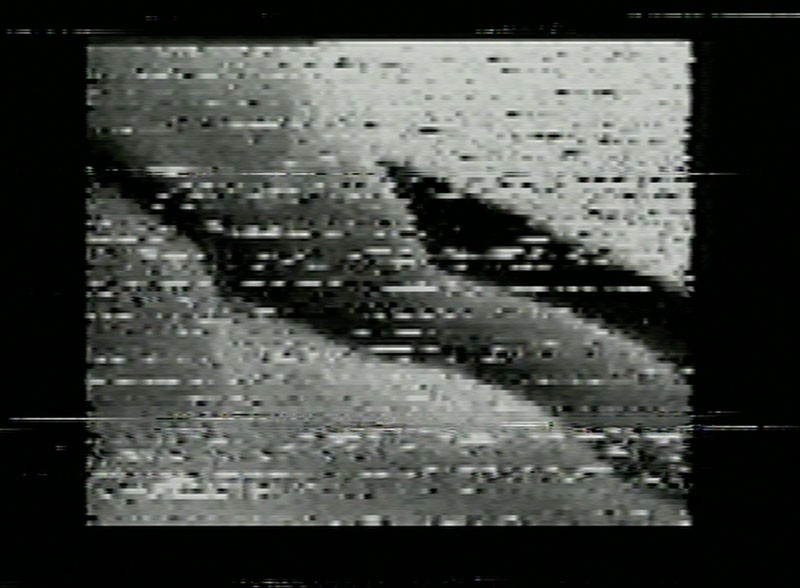 Tan Can
Cheryl Jackson
7 min, Pixelvision to DV, USA, 1988
Tan Can is an experimental video shot on the Fisher Price PixelVision 2000 camera, during the early years of the "tanning" beds & booths. In those days, one could not point a video camera, which consisted of cathode ray tubes, directly at a light source, so this little "toy" camera proved perfect for what I wanted to do and say. At that time, I was surprised that people were willing to subject their bodies to this new technology, all the while arguing about it's relative safety and cost, to achieve a level of beauty (well-tanned) that had been ramping up since the 60's and it's "fun/action" TV-film mass media buy-in. As an artist, I was also exploring a performative aspect in my work (the spoken voice in this tape) exploring the multiple views that were, truthfully, going through my own head then (having just moved from Arizona to Buffalo). Visually, I was thrilled that the images were so strange and electric, dissolving & morphing on their own, which was purely a result of the experimentation. – CJ
Simulacrum
Jason Bernagozzi
14:30 min, HDV, USA, 2014
Simulacrum is a single channel video that documents people using electronic media as soft memory, electronic bodies flickering though simulated experience. Behind a screen, recording the act of being behind a screen, recording.
LOVE/RUNNER
Carolyn Tennant & J.T. Rinker
8:41 min, DV, USA, 2011
LOVE/RUNNER is a work by Carolyn Tennant and long-time collaborator J.T. Rinker that sets video to the album Loveless (1991) by the Irish alternative rock band My Bloody Valentine. The footage was produced by the duo during an artist residency at the Experimental Television Center in the summer of 2011, just before the artist-run space in Owego, New York closed it's studio doors after over 40 years. At the ETC the couple processed a found-copy of Ridley Scott's 1982 classic Blade Runner (Director's Cut, 1992) using analog and digital equipment unique to the studio.  A few months after their residency, a major flood severely damaged the Southern Tier and especially Owego; Tennant and Rinker staged a happening to raise funds for the town, for which they produced LOVE/RUNNER, an extended music video. Excerpted from the larger work, this video features "Soon," the final song off the album.