---

SILENT | SOUND: Noveller + arc
August 12, 2016 @ 5:30 pm
EDT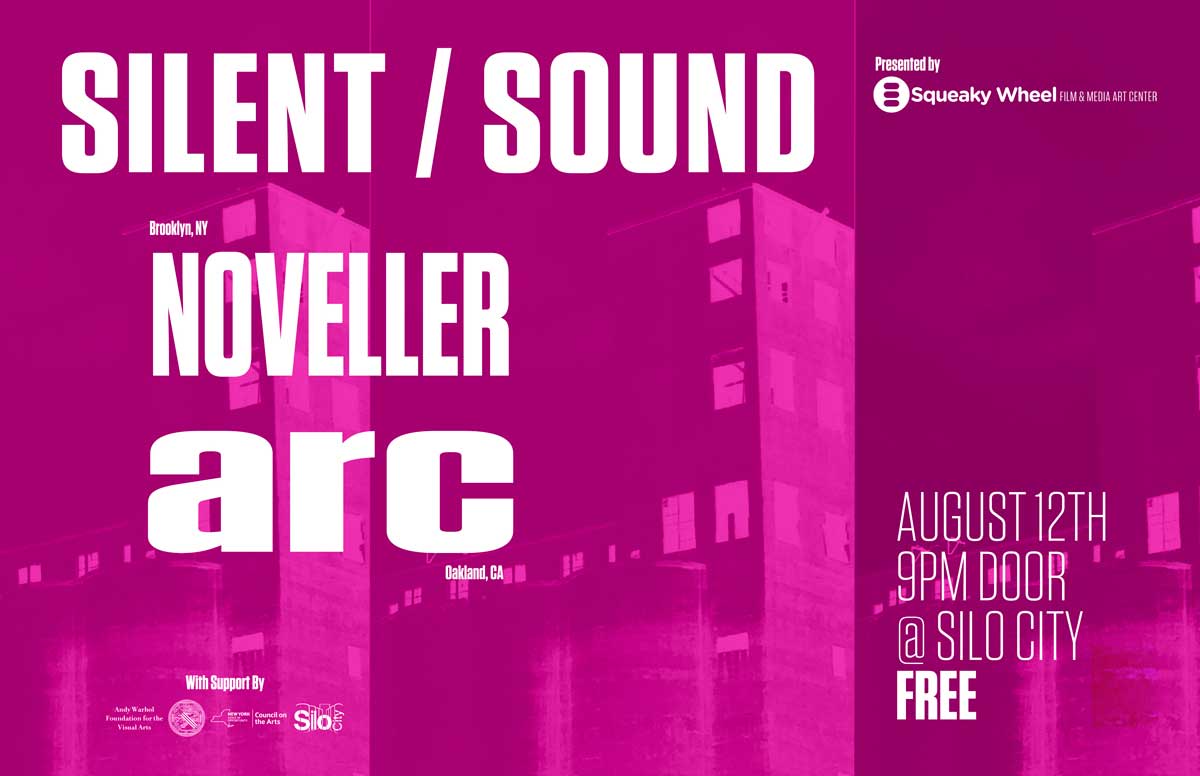 August 12th, 2016
9:30pm
@ Silo City
Free!
Squeaky Wheel's signature series SILENT | SOUND returns with a double bill featuring the guitar-drones of Noveller (Brooklyn) and the 16mm projections of arc (Oakland)!
Noveller is the solo electric guitar project of Brooklyn-based composer and filmmaker Sarah Lipstate. Handling the guitar as her muse, Lipstate summons a sonic palette so rich as to challenge the listener to conceive of how it's housed in a single instrument manipulated by a solitary performer.
In 2014, Lipstate announced her signing with Fire Records. Fire released Noveller's latest full-length 'Fantastic Planet' in January 2015 and also re-issued Noveller's critically acclaimed albums 'No Dreams' and 'Glacial Glow' in early 2016. She's previously released records on No Fun Productions, Important Records, Weird Forest, Taiga, and her own imprint Saffron Recordings.
Noveller has toured with Iggy Pop, St. Vincent, Radiolab, Xiu Xiu, the Jesus Lizard, U.S. Girls, & Aidan Baker. Lipstate has collaborated with several renowned musicians, including JG Thirlwell (Foetus, Manorexia), Carla Bozulich (Evangelista, The Geraldine Fibbers), David Wm. Sims (the Jesus Lizard, Scratch Acid), Lee Ranaldo (Sonic Youth).
She has previously performed as a member of Cold Cave, Parts & Labor, and One Umbrella. Lipstate has also participated in Rhys Chatham's Guitar Army, Ben Frost's "Music for 6 Guitars" Ensemble, and Glenn Branca's 100 guitar ensemble.
arc is usually initiated by tooth, an artist living in Oakland who has operated the microcinema/archive black hole cinematheque since 2009. their work has been presented locally and internationally at Other Cinema, ATA, San Francisco Cinematheque, The Lab, Shapeshifters Cinema, Berkeley Art Museum and Pacific Film Archive, San Francisco Museum of Modern Art, The Nightingale (Chicago), Massart Film Society (Boston), NDSM Treehouse (Amsterdam), and the Ann Arbor Film Festival, among others.