Squeaky Wheel's Excellent Adventure is a family-friendly social media scavenger hunt taking place city-wide on September 8th, 2018. This exciting day-long event offers our community a chance to participate in a fun and media infused social activity and win prizes! Encouraging media literacy and cultural awareness, participants will use social media to practice their creativity and interact with Buffalo's many treasures.
Funds raised at this event will support the free and low-cost media equipment access, education programs, and art exhibitions that Squeaky Wheel offers to Western New Yorker's of all ages and backgrounds every day.
Fact Sheet: Squeaky Wheel's Excellent Adventure 
What: City-wide social media scavenger hunt
When: Saturday September 8, 2018
8-11am: Team sign-in at Squeaky Wheel
9am: Head Start @ Squeaky Wheel; List of tasks unveiled
9am–5:30pm: Embark on your adventure!
5:30-8pm: Photo Finish Event @ EXPO Market
6:30pm: Winners announced!
Where: Head Start at Squeaky Wheel, 617 Main St. #107, Buffalo, NY 14203; Photo Finish at Expo Market, 617 Main St. #200, Buffalo, NY 14203
Who: Individuals and teams of up to 4
Prizes: Weekend extravaganza package including access to unique activities in the city (to be announced!)
Why: To enjoy a fun-filled day of adventure and raise funds to support media literacy, arts, and education in Western NY
How: Assemble your team and sign up by clicking the PURCHASE TICKET button on this page.
Register by Friday September 7th and save!
Purchase your tickets by September 7th at 5pm for $25/person; $25/person for groups up to 3; and $20/person for groups of 4. After that, all ticket prices (including tickets for teams of 4) are raised to $30/person. 
---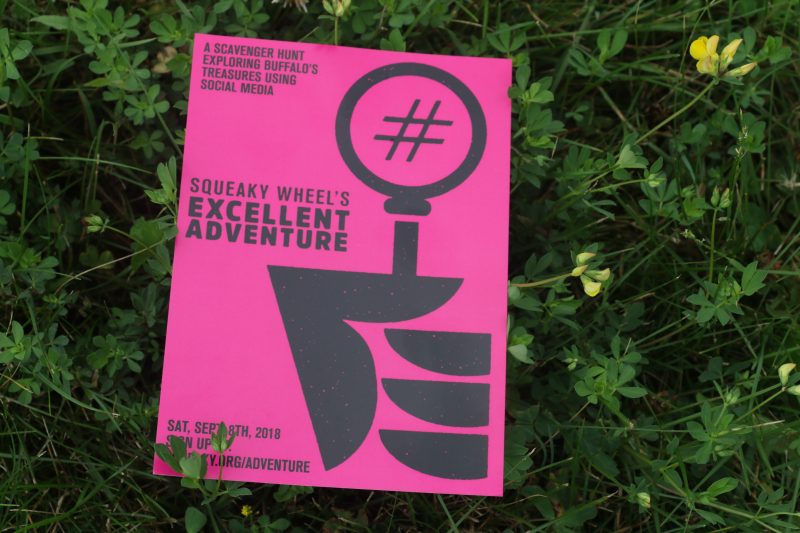 How the Excellent Adventure works:
Traveling by foot, bicycle, vehicle or assistive device, participants will race to document the tasks in photos or videos, and upload them with the hashtag #squeakyadventure. Thanks to Reddy Bikeshare, participants will also have access to 50% off bicycle share passes for the day. For those new to Instagram or are in need of technical support, a tech-help desk will be available at Squeaky Wheel for the duration of the event.
Excellent Adventure tasks will be revealed in-person at Squeaky Wheel (617 Main St. #107) at 9 a.m. at the "Head Start" event, where coffee and energizing breakfast snacks will be on hand. Rack up bonus points with special Head Start task opportunities. Late risers can still play by picking up the task list until 11:00 a.m.
A panel of judges will review the uploaded imagery in real-time, assigning points for completion of tasks, with bonus points for creativity. Teams who make it to the finish line by 5:30 p.m. will collect bonus points at the spectacular "Photo Finish" after-party at the Expo Market (617 Main Street, #200), where they can view all teams' media submissions, enjoy delicious platters (courtesy of Expo Market) and find out who the winners are!
The Grand Prize winning team will be announced with additional prizes awarded to those completing tasks with humor, innovation, media savvy, and other special categories. Top prizes include a weekend entertainment extravaganza package that contains accommodations, special event tickets, meals and access to fun and unique activities in the city that can be used individually, in pairs, or groups of four!
Be sure to follow us on Facebook, Instagram and Twitter @SqueakyBuffalo for updates.
---

Prize Packages
Grand Prize Package – Weekend Adventure on the Town Value $1000 +
1 Night at Hotel Henry (2 double beds in room)
1 Night at The Mansion on Delaware (2 double beds in room)
$150 gift card for 100 Acres at Hotel Henry
4 tickets to the Kavinoky Theater
Buffalo Audubon Owl Prowl for 10 at Buffalo Audubon Preserve
(or Owl Outreach Program for 20 people at location of choice)
1 Year Membership to Reddy Bike Share
4 tickets to Yelp Elite Events
2nd Prize – Not Your Ordinary Weekend – $500 Value
$100 Dinosaur BBQ
4 tickets to Torn Space Theater
1 Hello Buffalo Urban Hikes and Bikes Gift Certificate for Private Hike for 8 People for a hike and/or bike tour of choice
3rd Prize – Cozy Weekend – $200
$50 gift card to Daddio's Pizza
4 Tickets to Torn Space Theater
$50 Delta Sonic
Spa Gift Card
Team Spirit Prize
4 tickets to Darien Lake
Most Creative 
$100 gift card to Pineapple Company
$40 gift card + 4 x Memberships at El Museo
Merchandise + Membership to Western New York Book Arts Center
Media Savvy
4 $50 gift cards at B&H Photo Video
4 Squeaky Wheel Memberships
---
Sponsors and Support
Funds raised at this event will support Squeaky Wheel Film & Media Art Center's programs in access, education, and exhibition. The event could not be possible without the generous support of our event sponsors: Catholic Health, Eleven Twenty Projects, Rigidized Metals, Buffalo Spree, The Challenger, Allen Street Consulting, Hodgson Russ, Larkin Square, Putman Insurance Agency, Lumiflux Media, Buffalo Copy, Expo Market, Reddy Bikeshare, Inspired Buffalo, and John McKendry. A big thank you to our prize sponsors to date: Hotel Henry, 100 Acres at Hotel Henry, The Mansion on Delaware, B&H Photo Video, Buffalo Audubon Society, Pine Apple Company, Reddy Bikeshare, Hello Buffalo! Urban Hikes & Bikes, Torn Space Theater, Kavinoky Theater, Daddio's Pizza, El Museo, Western New York Book Art Center, Yelp Buffalo, and others!