March 12th – March 18th
With work by Alexandros Anas, Fred Bacher & Richard Wicka, Mike Kuchar, Brian Milbrand, and Ruth Sergel
As part of Squeaky@x0
While Squeaky Wheel's roots lay in the alternative, the experimental, the avant-garde, and the activist, its history has also played host to a number of artists and works that either showcase narrative ambitions or play on its conventions. The four works collected this week all share these qualities, and come together to create portraits of fantasy and desire, by turns exuberant and disturbing.
Starting the program in amusing mystery, Fred Bacher and Richard Wicka's Two Men with Beards, Part 1, overlays footage of the two artists with music from the Perry Mason television show. The music from the legal drama serves as a preamble for a more disturbing line of questioning in A Night to Remember, made by former Squeaky Wheel intern Alexandros Anas. Dark events are implied as the two friends argument over their relationship takes a violent turns. A similar violence emerges in Brian Milbrand's Claire I: Rape, as a light-hearted interview with Claire – acted out by Brian Milbrand – brings about alarming revelations. Made as part 1 of a cycle of works, and functioning as a kind of interpretation/re-enactment of the filmmakers dreams, Claire I leads us to the decidedly delightful Hush-A-Bye Baby by Mike Kuchar. A Squeaky Wheel resident in the early 2000s, and half of the legendary duo with his brother George, Mike Kuchar's video is, decidedly, classic Kuchar. Starring the Kuchar's longtime muse, Linda Martinez, and with her eyebrows as arched as ever, Hush-A-Bye Baby starts by the echoing line "Romantic desires are a mirage". A lush melodramatic score brings us into the picture as Martinez, dressed in  upscale clothes and a wig, talks over the phone to Martinez, naked in a bathtub, about "their" desires, a parrot named Henry, and other topics. A fantasy, late in the film, leads us into the final film in the program, Magic Lantern by Ruth Sergel. Made as part of a participatory installation during a residency at Squeaky Wheel, Magic Lantern uses contemporary tools to fashion the stars and moons of George Melies, the dreams and desires from cinema's toddler age reaching us today. – Ekrem Serdar
Program
This 31-minute program contains nudity.
Two Men with Beards, Part 1
Fred Bacher / Richard Wicka
1 min, ¾ U-Matic tape to DV, USA, 1987
Two Men with Beards, Part 1  is a short film, with lighting similar to a film noire style, features two men who take turns posing dramatically for the camera while the theme music of the Perry Mason television show plays in the background.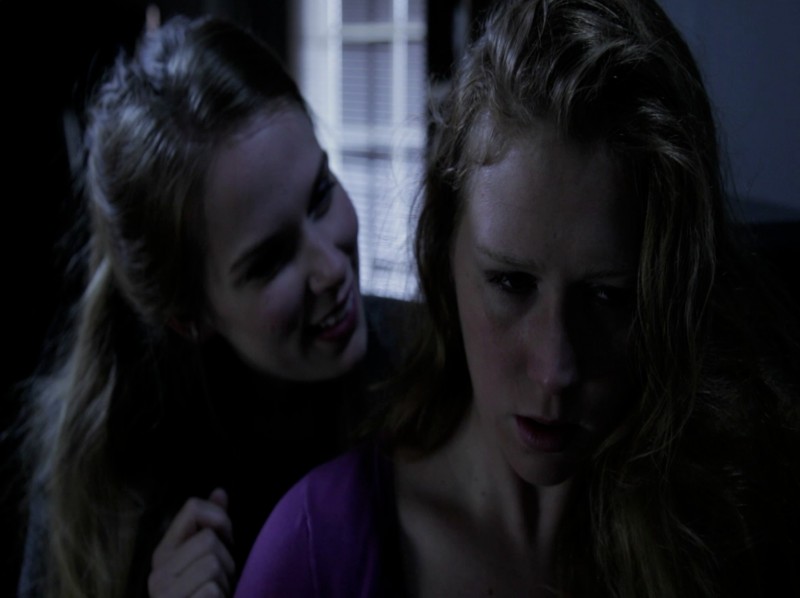 A Night to Remember
Alexandros Anas
10 min, HDV, USA, 2009
This short dramatic film explores the nature of friendships and the often uncomfortable and rarely addressed tensions that can build between two people.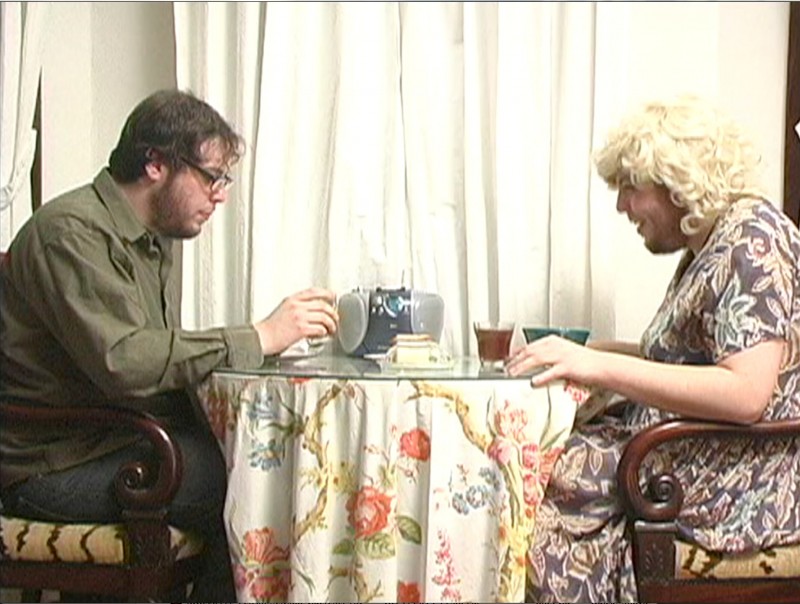 Claire I: Rape
Brian Milbrand
5 min, DV, USA, 2003
The Claire Cycle is a four part film series created by Buffalo-based artist Brian Milbrand. Each film in The Claire Cycle stars Milbrand as Claire and her male antagonist, including a date rapist, an abortion doctor and a priest. This series addresses Jungian archetypes in genre films ranging from documentary to horror. Claire is a representation of the Anima, the Jungian archetype that is the dream representation of the feminine aspects of the male psyche. Each film in the cycle is an interpretation of the filmmaker's dreams, and can be seen as an inner struggle between masculinity and femininity. The masculine characters can be read as different Jungian archetypes. The abortion doctor in There's Nothing Harder than an Abortion represents The Wise Man archetype and the killer in The Killer represents The Shadow archetype. The first film, Claire I: Rape (2003), begins with a light interview with Claire that turns dark as she recounts a recent encounter with a romantic interest.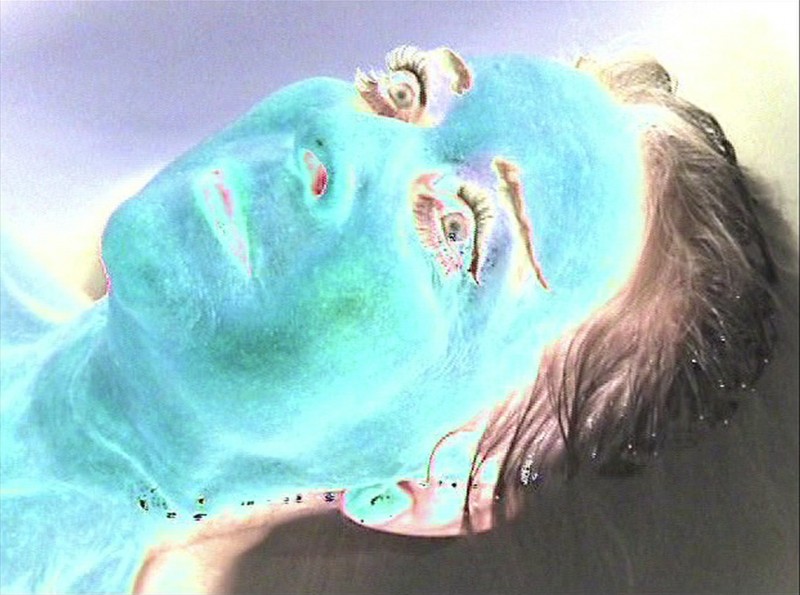 Hush-A-Bye Baby
Mike Kuchar
13 min, DV, USA, 2006
"Love and 'sex' are proven to be two separate issues in this brazen world where a woman can be 'Nude' but never 'Naked'." – Video Data Bank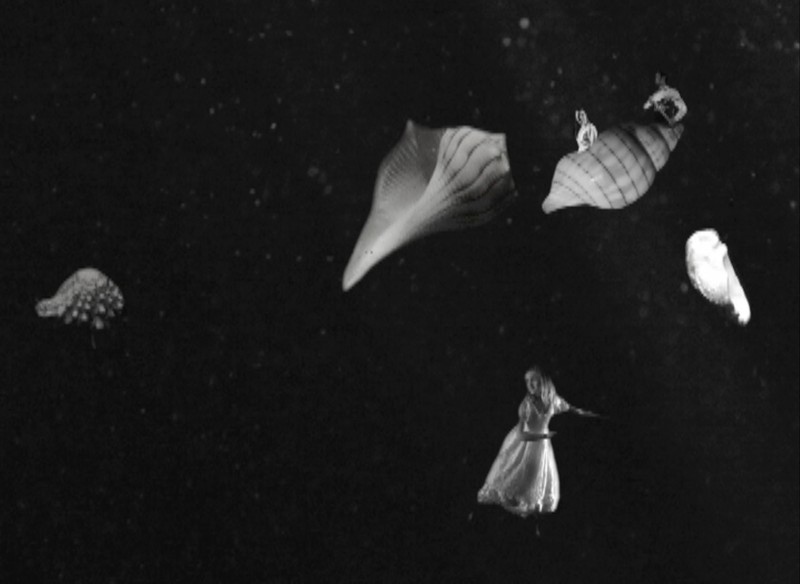 Magic Lantern
Ruth Sergel
5 min, DV, USA, 2010
Magic Lantern is part of a larger work, Alchemy of Light, which melds 19th century illusionism with new media. The piece used live performers to guide the audience through a series of magic tricks, live and virtual encounters to depict the life of legendary magician Torrini as a parable from a time when our lives first became mediated by machines.