---

Taraneh Fazeli on Sick Time, Sleepy Time, Crip Time
December 9, 2020 @ 7:00 pm

–

9:00 pm

EST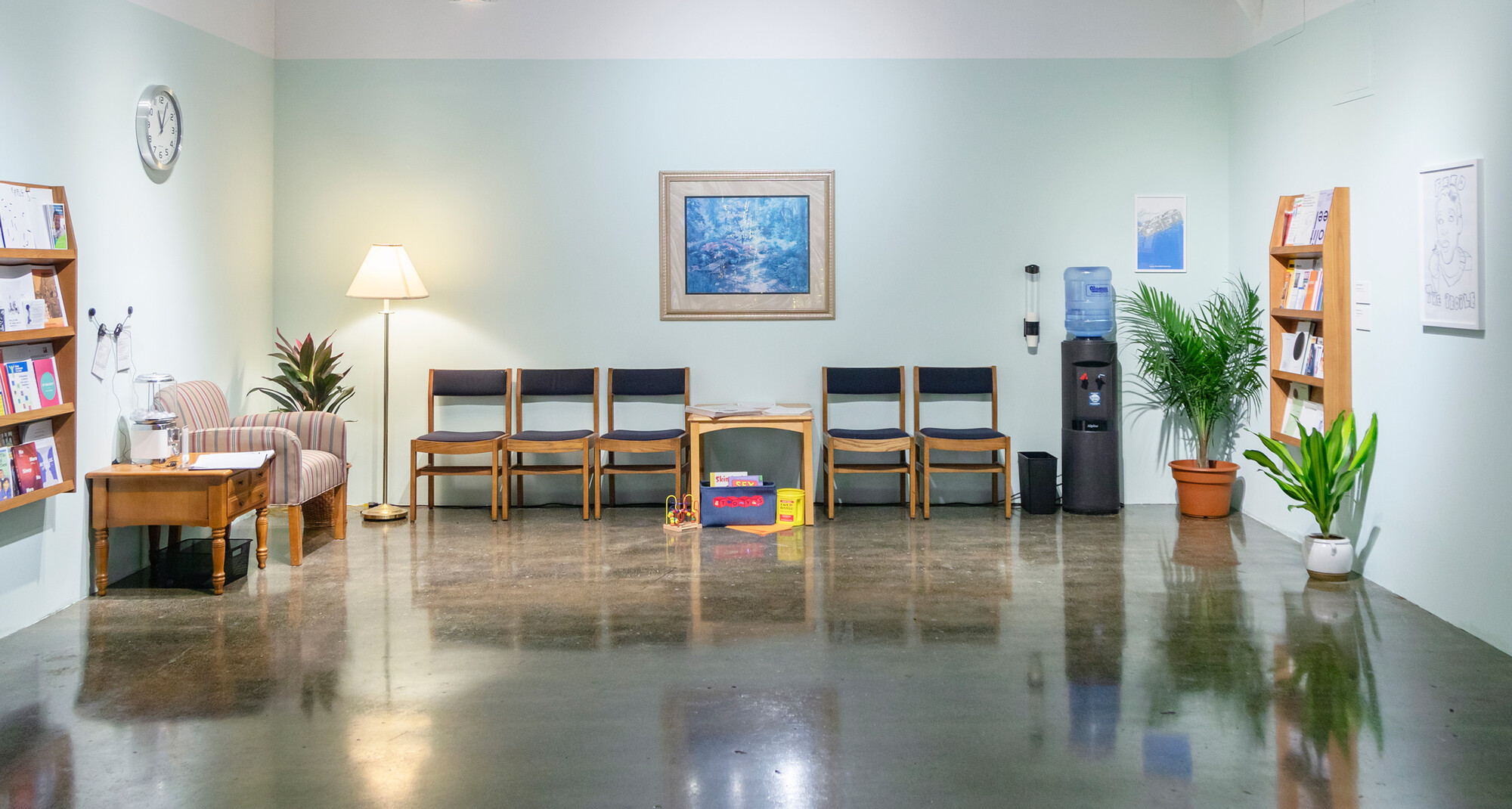 Wednesday, December 9, 2020, 7–8:30 pm ET
Free or suggested donation
Registration required. Click here to register.
Access information: The presentation and conversation will feature automated open captions and ASL interpretation. The Google Doc Q&A features screen reader and screen magnification support. The Google Doc Q&A will also contain full text of the presentation and image descriptions in advance of the event. If you encounter any issues, please send us a text message at 716-427-4125.

Watch the event with Taraneh Fazeli and Amalle Dublon above. Click here to access a Google Doc of image descriptions by Taraneh Fazeli made for the presentation. Accessibility features in the Google Doc have been turned on.
Squeaky Wheel presents a presentation and conversation with curator and educator Taraneh Fazeli on their ongoing and peripatetic exhibition project Sick Time, Sleepy Time, Crip Time: Against Capitalism's Temporal Bullying which addresses the politics of health, disability, and care (Note: "Crip" is a political reclaiming of the derogatory label "cripple" by disability activists.). Based in an ethic of care emerging from disability justice that values interdependencies and dependencies, the artworks in the exhibition counter the over-valorization of independence in American society, and examine how racialized global capitalism has produced debility in many populations while, at the same time, creating bureaucratic infrastructures that support very few people.
Fazeli will present on her exhibition project, which proposes that better incorporation of the states of debility, disability, and rest into society (particularly their temporalities) could be resistive to forms of oppression and provide possibilities for rethinking collectivity. Dragging on, circling back, with no regard for the stricture of the work week or compulsory ablebodiness, the time that this multi-prong curatorial project investigates is non-compliant. It refuses a fantasy of normalcy measured by either-in-or-out thresholds and demands care that exceeds that which the nuclear family unit can provide.
Following the presentation, the curator will be present for a conversation and Q&A with Amalle Dublon. Audiences will be able to leave reactions, comments, and questions through a shared Google Doc. Instructions for how to view and participate in the event will be communicated via email. The event will be available to view for 24 hours after the event and SW members will have access for 72 hours.
Sick Time, Sleepy Time, Crip Time: Against Capitalism's Temporal Bullying took place at various arts organizations across the United States between 2017-2020 including Red Bull Arts Detroit (Detroit, Michigan), Bemis Center for the Arts (Omaha, Nebraska), The Luminary (St. Louis, MO), Elizabeth Foundation for the Arts Project Space (New York), Lawndale Art Center and Project Row Houses (Houston, Texas), as well as numerous social service organizations. The artists involved were Navild Acosta and Fannie Sosa, Ava Ansari + Poetic Societies, Fia Backström, Berlin Feminist Healthcare Research Group, Canaries, Jesse Cohen, Danilo Correale, Wayne Curtis, Carolyn Lazard, Jen Liu, Jordan Lord, Park McArthur, Zavé Martohardjono, Sondra Perry, Will See, Carrie Schneider, Will See, Katya Tepper, Cassie Thornton, and Constantina Zavitsanos.
This event is part of Timeline(s) of Care. Comprising five single-night screenings, artist talks, and interactive events taking place throughout Fall 2020, the series focuses on illness, disability, and care work across generations, crisscrossing timelines, and the minutiae of personal, social, political, and institutional life. These works acknowledge the lives and work of those who came before us to create different tomorrows.
Bios
Taraneh Fazeli is an art curator and educator living between Brooklyn and Detroit. Her mother is from New York and father is from Tehran. Her practice engages art as a site to interrogate the techniques of representation and dream more just ways of being together. After a decade at NYC-based arts organizations, such as e-flux, Artforum, Triple Canopy, and the New Museum of Contemporary Art, Fazeli has worked as an independent curator. Fazeli's recent peripatetic exhibition Sick Time, Sleepy Time, Crip Time: Against Capitalism's Temporal Bullying addresses the politics of health, care, and disability while I let them in. Conditional Hospitality and the Stranger. used hospitality as a lens to deconstruct how "white benevolence" operates.
Amalle Dublon received a PhD in Literature from Duke University, where their dissertation brought questions of sound and aurality to bear on queer and feminist thought. Amalle's writing has appeared in GLQ: A Journal of Lesbian and Gay Studies and TDR: The Drama Review, among other publications. They helped to organize I Wanna Be with You Everywhere, a gathering of disabled artists and writers at Performance Space and the Whitney Museum, in 2019. Amalle teaches at the New School.