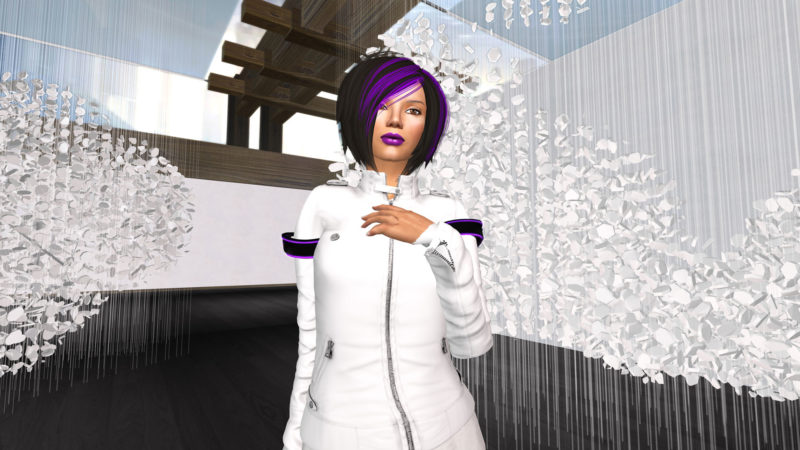 Sunday, February 12
5pm
@ Squeaky Wheel
General $7 | Free for Squeaky Wheel Members
Presentation followed by a live Q&A with the artist
Montreal based artist Skawennati will present her award-winning transmedia artwork TimeTraveller™ (2008–2013) at Squeaky Wheel. Created and shot in the virtual world of Second Life, this award-winning machinima video series re-imagines the history of colonization from the point of view of native peoples in a science-fiction future. Co-presented with PLASMA at the Department of Media Study.
Skawennati makes art that addresses history, the future, and change. Her pioneering new media projects include the online gallery/chat-space and mixed-reality event, CyberPowWow (1997-2004); a paper doll/time-travel journal, Imagining Indians in the 25th Century (2001); and TimeTraveller™ (2008-2013), a multi-platform project featuring nine machinima episodes. These have been widely presented across North America in major exhibitions such as "Now? Now!" at the Biennale of the Americas; and "Looking Forward (L'Avenir)" at the Montreal Biennale. She has been honored to win imagineNative's 2009 Best New Media Award as well as a 2011 Eiteljorg Contemporary Art Fellowship. Her work in is included in both public and private collections.
Born in Kahnawake Mohawk Territory, Skawennati holds a BFA from Concordia University in Montreal, where she is based. She is Co-Director, with Jason E. Lewis, of Aboriginal Territories in Cyberspace (AbTeC), a research network of artists, academics and technologists investigating, creating and critiquing Indigenous virtual environments. She also co-directs their workshops in Aboriginal Storytelling and Digital Media. Skins, This year, AbTeC launched IIF, the Initiative for Indigenous Futures; Skawennati is its Partnership Coordinator.