Saturday Cafe members testing projection mapping concepts in preparation for a project. 
Saturday Cafe is a no-cost experimental advanced-track youth media education project, that provides students from our core community programs with challenging and engaging professional development and learning opportunities. Collaborative in nature, this student-lead educational experience is co-created with the program's primary mentors. Together they talk, work, create and experiment with technology and find new strategies to engage their surrounding communities with media art. Saturday Cafe is a keystone in our educational ecosystem, allowing young makers from multiple communities to collaborate in an equity-driven space of collaboration and community engagement.
The program consists of select students from our core educational programs Buffalo Youth Media Institute (est 2005), Tech Arts for Girls (est 1999), and West Side Studios (est 2015). Members are nominated by lead teaching artists or fellow peers based on their ability to add to a respectful and collaborative environment. Members are encouraged to be vocal, present, and willing to experiment with ideas and share them in respectful and generative ways. 
For more information about Saturday Cafe please contact Martina LaVallo at martina@squeaky.org
---
Call for Applications: 
Call for Applications from Youth: 
Saturday Cafe, Fall 2020
Squeaky Wheel's Advance Track Youth Media Art Program:
(Youth, ages 13-19)
Link to the application below
Squeaky Wheel is looking for enthusiastic and driven young makers interested in art and technology to join our Saturday Cafe program. Students will explore the potential of virtual spaces to create work and learn new media and technology skills with an experimental focus.
Students will participate in our weekly meetings facilitated by Lead Mentors from Squeaky Wheel staff, and work with a series of visiting designers, media artists, and collectives, to create experimental virtual studios in Mozilla Spoke. Students will make and present new and ongoing work in virtually built environments. Classes are conducted in English.
Saturday Cafe is an experimental advanced track youth media education project, that provides students with artistic mentorship, professional development, and learning opportunities for young makers 13-19 based in Buffalo, NY. You can see previous work by Saturday Cafe here.
Indigenous people, people of color, women, 2SLGBQTIA+ individuals, and young artists who face systemic and structural barriers are highly encouraged to apply. We welcome questions regarding the types of access we can provide to youth with disabilities: please contact the Director of Education.
Why should I apply? 
-Do you want to express yourself through making videos, gifs, and abstract virtual environments? 
-Do you love tinkering with programs and pushing the limits of how apps are "supposed to" function?  
-Are you excited about teaming up with cool artists who can show you all the tips, tricks, and trappings in making a real space inside a virtual universe? 
Then this program is for you!
Saturday Cafe Schedule
Saturday's 12:30–3:30 pm EST,
September 26–December 19, 2020
Support Offered
$200 project stipend

$160 internet access waiver

A free headset with microphone for video conferencing

Access to Squeaky Wheel technology and support
Expectations
Participants are expected to attend all meetings. The program runs on Saturdays, September 26–December 19, 2020, from 12:30–3:30 pm ET for a total of 45 contact hours. 

A collaborative spirit for group projects with fellow members and mentors. Collaborate with their fellow members and mentors in the program. 

Will agree to adhere to

Squeaky Wheel's Community Guidelines

to foster a positive and safe environment for everyone.

Enthusiasm and some previous experience working with digital or media arts.
Eligibility
Applicants must be between 13-19 at the time of applying. 

If you reside outside of the United States and are interested in being part of the program, please contact

martina@squeaky.org.
Jurying Process
Application materials will be be reviewed by a panel of Saturday Cafe mentors based on three criteria, on a 1-5 scale:
Artistic Quality of work sample(s) (may submit up to 3 samples)

Inventiveness

Demonstration of willingness to collaborate
If you have questions about the application or process, please contact Martina LaVallo at martina@squeaky.org
The application form can be found here. 
Current Exhibition Project: SIMULATION: A virtual exhibition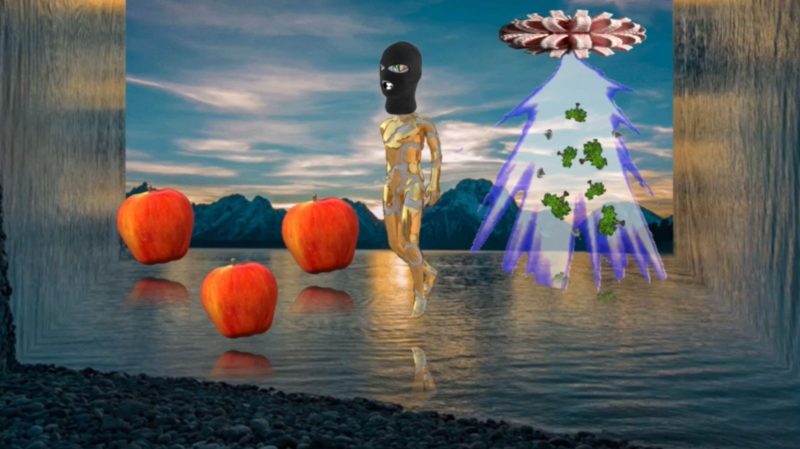 Image: Raymarri Hugh, SIMULATION (2020)
Past Exhibitions
RUIN'D  an Exhibition of Systems of Failure- July 12 – August 10, 2019

---
Saturday Cafe is funded by the National Endowment for the Arts.  Squeaky Wheel's Youth Arts Education Programming is also supported in part by grants and awards from the Wendy Pierce Simple Gifts Fund, Cameron & Jane Baird Foundation, Children's Foundation of Erie County, City of Buffalo Cultural Funding, New York State Council on the Arts (NYSCA), Regional Economic Development Council, and The Margaret L. Wendt Foundation, as well as venue and exhibition support by Burchfield Penney Art Center.  We thank all our sponsors for their generosity.