---

Squeaky@x0: Ear + Eye Control
May 6, 2016

–

May 13, 2016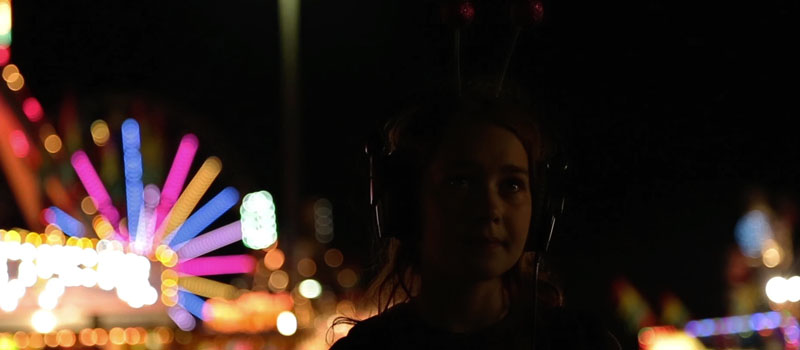 Ear + Eye Control
May 7th – May 13th
Patrick Cain, Flatsitter (Jax Deluca & Kyle Marler), HK, Al Larsen, Barbara Lattanzi
As part of Squeaky@x0
Some of the first forays into abstract light work, like color organs from the 18th century and onwards, were attempts to give shape and volume to sounds and tunes that continue to enchant us. The works collected this week focus on sound and music. Barbara Lattanzi's Storming C and Patrick Cain's Untitled 4b both offer interpretations of Terry Riley's classic composition In C. Cain's Untitled 4b uses 16mm footage reinterpreted through various video processers to remake a piece originally made to accompany In C, while Lattanzi's Storming C offers a logical extension of Riley's ideas to the moving image. The mysterious artist HK's On the Move teases colors and shapes out of the natural world through the use of analog video processing for the abstract composition underneath. A tune-in of a different kind happens in Flatsitter's //LADYBUG. A narrative emerges through the use of sound as a young girl finds connections in the world through secretly planted audio surveillance devices. Finally, Al Larson's Empty Feeling posits a different attempt at connection: cardboard figures are placed on a spinning record, their arms reaching for each other. As a beat bangs through the soundtrack, and disco lights flash through the frame, the figures spin and spin, always reaching for each other, but never reaching each other – the singer repeatedly exclaiming "I got that empty feeling." It's a similar, ecstatically stated empty feeling that has us try to give weight and shape to the sounds and tunes that affect our lives. – ES
Ear + Eye Control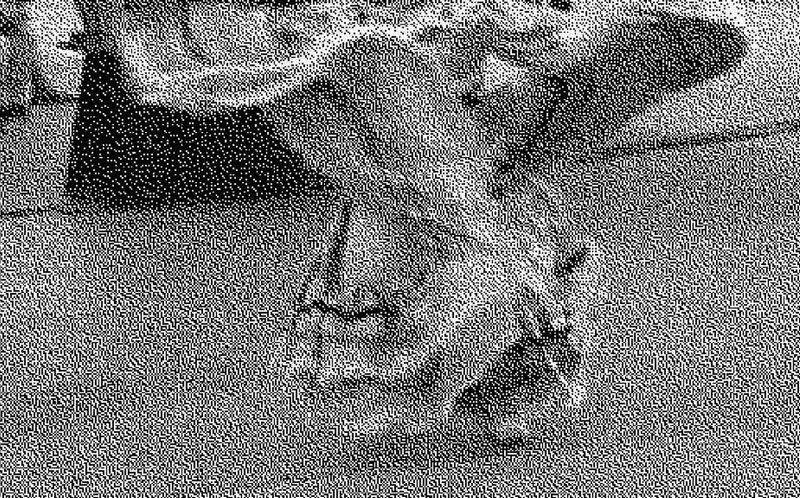 Storming C
Barbara Lattanzi
10 min, HDV, USA, 2012
Storming C was made with Optical De-dramatization Engine (original software) applied to prepared visual samples of a youtube tourist recording.
CREDITS:
Soundtrack is from "In C" by Terry Riley. This excerpt is performed by Ensemble Percussion Ricerca (posted on YouTube by inlandempires, and accessed June 2012).
Mariachi performance is by an unidentified child. Video is by an unidentified tourist (posted on YouTube by cruceslive, and accessed June 2012). – BL
Untitled 4b
Patrick Cain
7 min, 16mm to DV, USA, 2012
Untitled 4b is a reworking of a 16mm film created in 2012 for the Silent Sound Series presentation of In C by Terry Riley at the Burchfield Penney Art Center. The film was first processed in an analog environment at Signal Culture in Owego, NY and then again in a digital environment using a Scan Offset Luma Synth developed by Jason Bernagozzi. Through the use of these tools i have tried to link an evolution of processes in abstract film and video creation.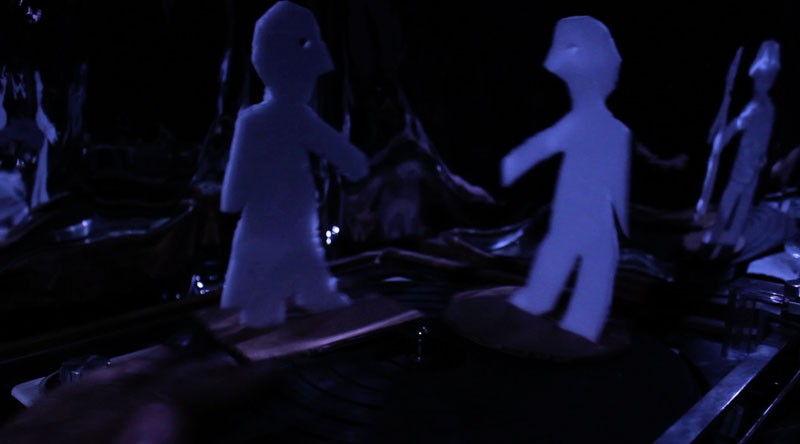 Empty Feeling
Al Larsen
4:24 min, HDV, USA, 2015
Empty Feeling is part of an ongoing body of work exploring popular music aesthetics, practices of reception and production technologies. No matter the medium I am working in, I continually return to popular music for inspiration, for context, for subject matter and for models of how to approach media technologies creatively. A sampling of recurring touchstones might include Biz Markie's lyrical flow, Fugazi's radical approach to DIY self-sufficiency, Poly Styrene's critique of consumer culture and Britney Spears's work ethic. Popular music is the well from which I draw.
Empty Feeling was shot as a continuous take, looking in on the dance floor of the legendary Disco at the End of the World.  To the auto-tuned refrain of "I got that empty feeling" two styrofoam figures spin madly atop a stereo turntable without making any progress on coming together.
I composed and performed the song. Listening to it now, it seems to be set in a near future where everyone takes some kind of performance enhancing drug. When people are on it, which pretty much everybody is, they can multitask like bandits. At work people do two or three jobs at once. The barista would be making coffee, doing data analysis and piloting a drone, all at the same time. People carry on multiple conversations, and they even learn to speak in several voices at once. They work all day and then they go out in the evening and the bar scene is crazy because everyone is literally talking to everyone else.
The thing is, people are really productive but they are not in touch with themselves at all. The protagonist of the song is somehow aware of this, but, like everybody else, he is so enmeshed in the system he can't see a way out. In a world where humans have been instrumentalized, it is actually the voice of some kind of artificial intelligence software agent that provides guidance – prompting him to get outside and into an embodied and experiential relationship with nature and the unquantifiable. –AL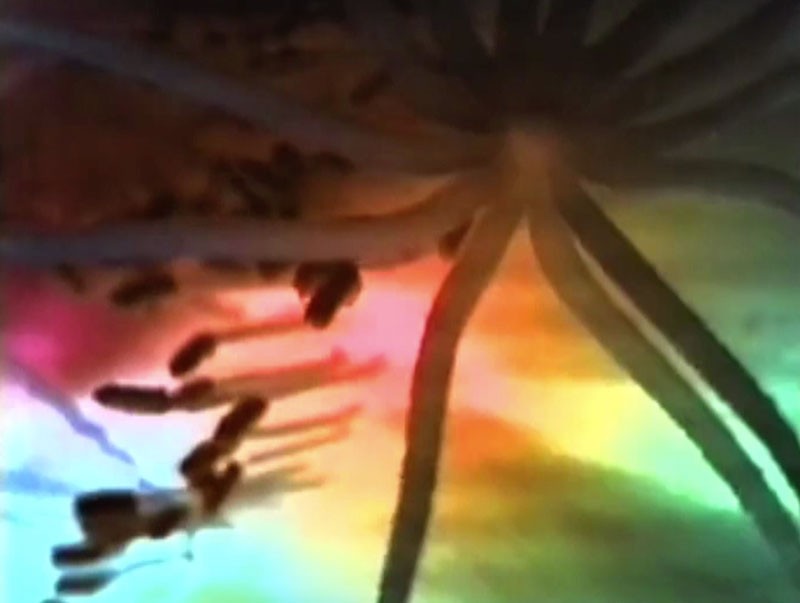 On the Move
HK
7 min, DV, USA, 2011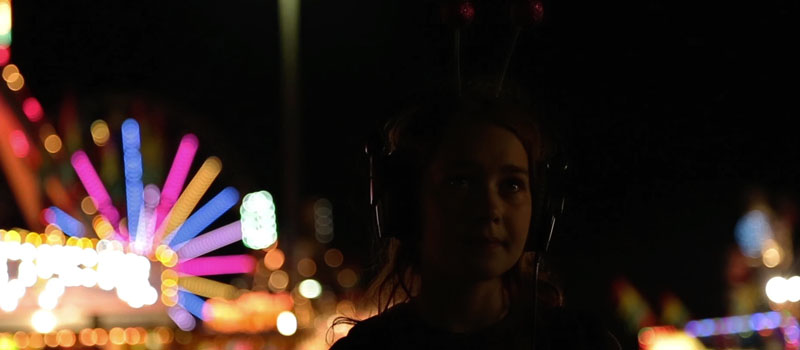 //LADYBUG
Flatsitter (Jax Deluca & Kyle Marler)
10:32 min, HDV, USA, 2015
Flatsitter's debut short film, //LADYBUG, premiered at the 53rd Ann Arbor Film Festival (MI) and the Atlanta Film Festival (GA). The film features first-time actress, Ruby Soudant, as a young introvert tuning into the world around her using DIY audio surveillance devices surreptitiously planted inside of plush owls. The story unfolds through a sound-based narrative that reflects the main character's search for vicarious connectivity.
//LADYBUG was shot in Summer 2014 on location at the Erie County Fair in Hamburg, NY. The soundtrack was recorded and produced by Flatsitter during an artist residency at the Institute for Electronic Arts (Alfred University).
Related Events