---

Squeaky Wheel's 30th Anniversary Closing Celebration and Conference
May 13, 2016 @ 4:30 pm

–

May 15, 2016 @ 10:00 am

EDT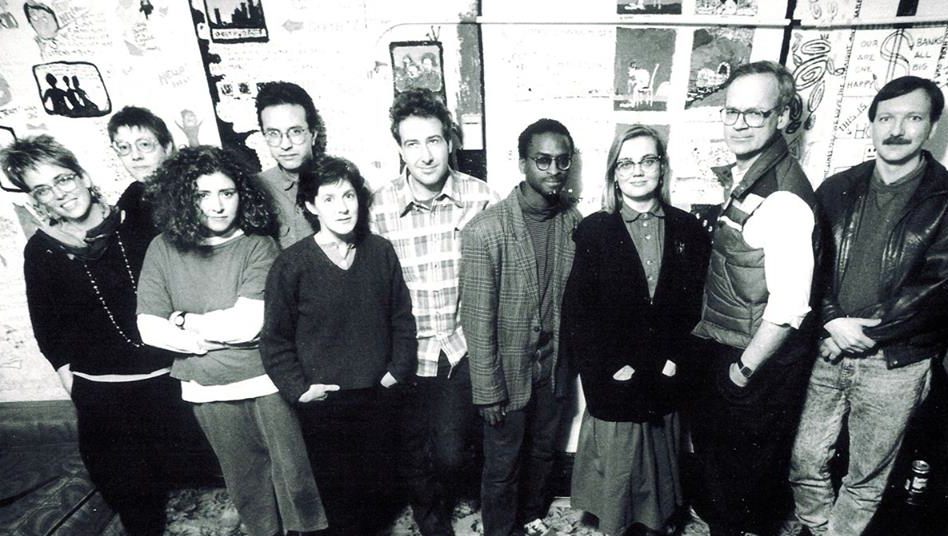 Squeaky Wheel's 30th Anniversary Closing Celebration is a multi-day, multi-media conference celebrating Squeaky Wheel's former and current programs, artists, scholars, and community members. The public is invited to participate in a series of free events exploring media art and its makers in Western New York.
Friday, May 13th
8:30 – 10:30pm
A cocktail party will be held at Squeaky Wheel Film & Media Art Center in the Market Arcade building in downtown Buffalo.  Our squeaky@x0 spotlight series will feature a collection of video works from Buffalo buffalo Buffalo buffalo buffalo buffalo Buffalo buffalo installed in the gallery and in the micro-cinema. Live music will be provided by Juini Booth and some surprise guests.
Saturday, May 14th
11am – 5pm
A conference will be held in the auditorium at the Burchfield Penney Art Center featuring live music and multi-media panel presentations examining the role of community media art centers in society.  Panels include: Art & Labor, Making & Maintaining Media Archives, and Media Dialects & Stages of Access. Panelists include: Julia Dzwonkoski, Ron Ehmke, Liz Flyntz, Chris Hill, Sherry Miller Hocking, Caroline Koebel, Barbara Lattanzi, Stella Marrs, Laura McGough, Carolyn Tennant and Maria Venuto.
Saturday, May 14th
8pm
Ron Ehmke will host Lost Particles of Light: Celebrating the Life & Art of Fred Bacher at Hallwalls Contemporary Art Center.  This event features video, music, and literary selections by Fred and his many collaborators, and invites the audience to share their stories about the man, the myth, and the legend. Presenters include: John Bacher, Alan Bigelow, Tony Billoni, Edmund Cardoni, Marten Clibbens, Julia Dzwonkoski, Chris Hill, Todd Lesmeister, Elizabeth Licata, Laura McGough, Dana Ranke, and Richard Wicka.
Sunday, May 15th
11am – 2pm
The conference will conclude in the second floor reception room at the Burchfield Penney Art Center with live music and panel presentations on Media Activism and Community Engagement. Panelists include: Karima Amin, Dorothea Braemer, Ghen Dennis, Ruth Goldman, Cheryl Jackson, Kevin Kline, Meg Knowles, Brian Milbrand, Paige Sarlin and Julie Zando.
We hope that you'll join us in celebrating a 30-year legacy of innovation in the media arts through access, education, and exhibition!