Opening Friday, November 13, 2020 @ Squeaky Wheel's window gallery. On view through April 2, 2021.
Opening event: virtual cooking show with Immony Mèn and Patricio Dávila at on November 13, 6:00 pm ET.

Passing through the Heart is a multi-media installation and series of virtual events by Public Visualization Studio that focus on immigrant and refugee family and knowledge-sharing through cooking. Members of Public Visualization Studio (PVS) cook recipes from their heritage that are recorded through traditional and emergent technologies. Non-optical motion capture, photogrammetry, videography, and audio recording come together to create a dialogue about migration, community, political conflicts, mourning, healing, and transformation.
Installed as a synchronized multi-screen work in Squeaky Wheel's window gallery, Passing Through the Heart features four interactive, virtual, multi-media cooking shows, with members of PVS cooking traditional recipes provided by local and international guests, who will be in dialogue through the event. Playing on traditional cooking show tropes, the events are documented through a seven-screen set-up in PVS' studios. The conversations in the cooking show prompt how we can acknowledge the formation of transnational identities within North America while asking critical questions on data visualization. What are the recipes that preserve our stories through generations and migration? What does it mean for these gestures to be so precisely captured through data visualization? How do our stories live where we are?
Audiences are invited to view the installation in Squeaky Wheel's window gallery in downtown Buffalo through February 27 and join the monthly cooking shows hosted by the artists (and are encouraged to cook together.) Recipes and shopping lists will be provided in advance. The cooking shows will be made available on our website for those who miss the live events.
Virtual events as part of this exhibition
Click on the links to find out more and view the individual episodes. Information about upcoming episodes TBA.
November 13, 2020, 6 pm ET
Episode 1 with Immony Mén and Patricio Dávila

December 11, 2020, 6 pm ET
Episode 2 with Kalpana Subramanian
February 26, 2021, 5 pm ET
Episode 3 with Bryan Lee
March 10, 2021, 6 pm ET
Episode 4 with Alexandra Gelis & Jorge Lozano (Postponed: We will share a new date soon.)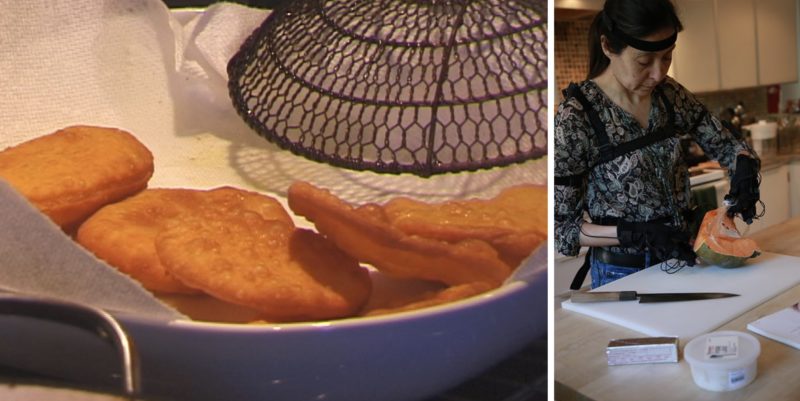 Bio
Public Visualization Studio
 is a design collective whose members are designers, artists, creative technologists and researchers. The collective creates projects as a means to pursue inquiries into the political and conceptual aspects of interaction, space and media. Its members attempt to investigate how specific technologies of vision, communication and gesture support our experiences in participatory spaces. Members of the collective have exhibited nationally and internationally, and have worked in a variety of areas including public projection, media architecture, locative media, video installation, exhibition design, interaction, communication design and media scholarship. PVS works in collaboration with the Public Visualization Lab, a university-based lab in Toronto. PVS members are Patricio Dávila, Dave Colangelo, Immony Mèn, Jay Irizawa, Maggie Chan, Preethi Jagadeesh, David Schnitman, Robert Tu, Symon Oliver, Bohdan Anderson, David Czarnowski, Alexis Mavrogiannis, Tim Macleod, Tati Petkovic, and Jeff McArthur. PVS is located in Toronto, Canada.
Images provided by the artists.